Prosciutto-Wrapped Grilled Figs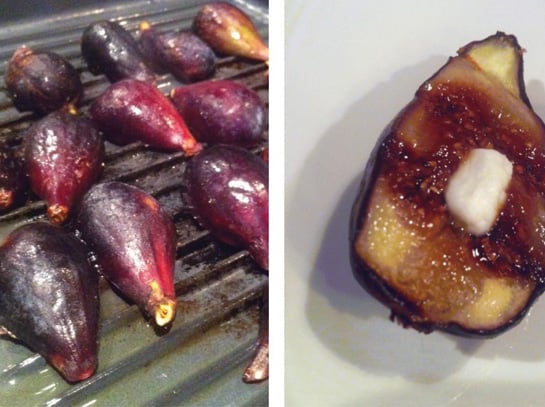 There is nothing better than the 4th of July!  I absolutely love this patriotic holiday.  It's one of our busiest weekends of the year in the produce industry.  Everyone is complaining this year because it is on a Wednesday.  We're not complaining – that makes for 2 great weekends of sales as everyone is rushing to the grocery store to get their BBQ essentials!
While I certainly think you should eat watermelon, corn on the cob & potato salad…. I want you to think outside the box for your pitch-in contribution.  Everyone has seen the cake with strawberries & blueberries that looks like an American flag.  Plus, everyone brings dessert.  Consider impressing your family & friends with this elegant take on Red, White & Blue.
Ingredients
prosciutto di parma

sliced thin

fig

black mission variety preferred

goat cheese

crumbled

balsamic glaze

olive oil
Instructions
Pre-heat a grill pan & using a pastry brush, coat with olive oil.

Slice figs in half lengthwise & lay on grill, sliced side down. Allow figs to grill over medium-high heat for approx 4 minutes – they will get a nice caramelization.

Remove figs from grill. Top with a cheese crumble & wrap with a thin slice of Prosciutto. Drizzle balsamic glaze over the top & serve warm.
Happy 4th of July!