Porcini Mushroom and Broccoli Rabe Risotto
Nov 15, 2019, Updated May 21, 2021
Looking for something different to make tonight for dinner? Porcini Mushroom and Broccoli Rabe Risotto is a brightly colored and richly flavored dish that you'll crave over and over again!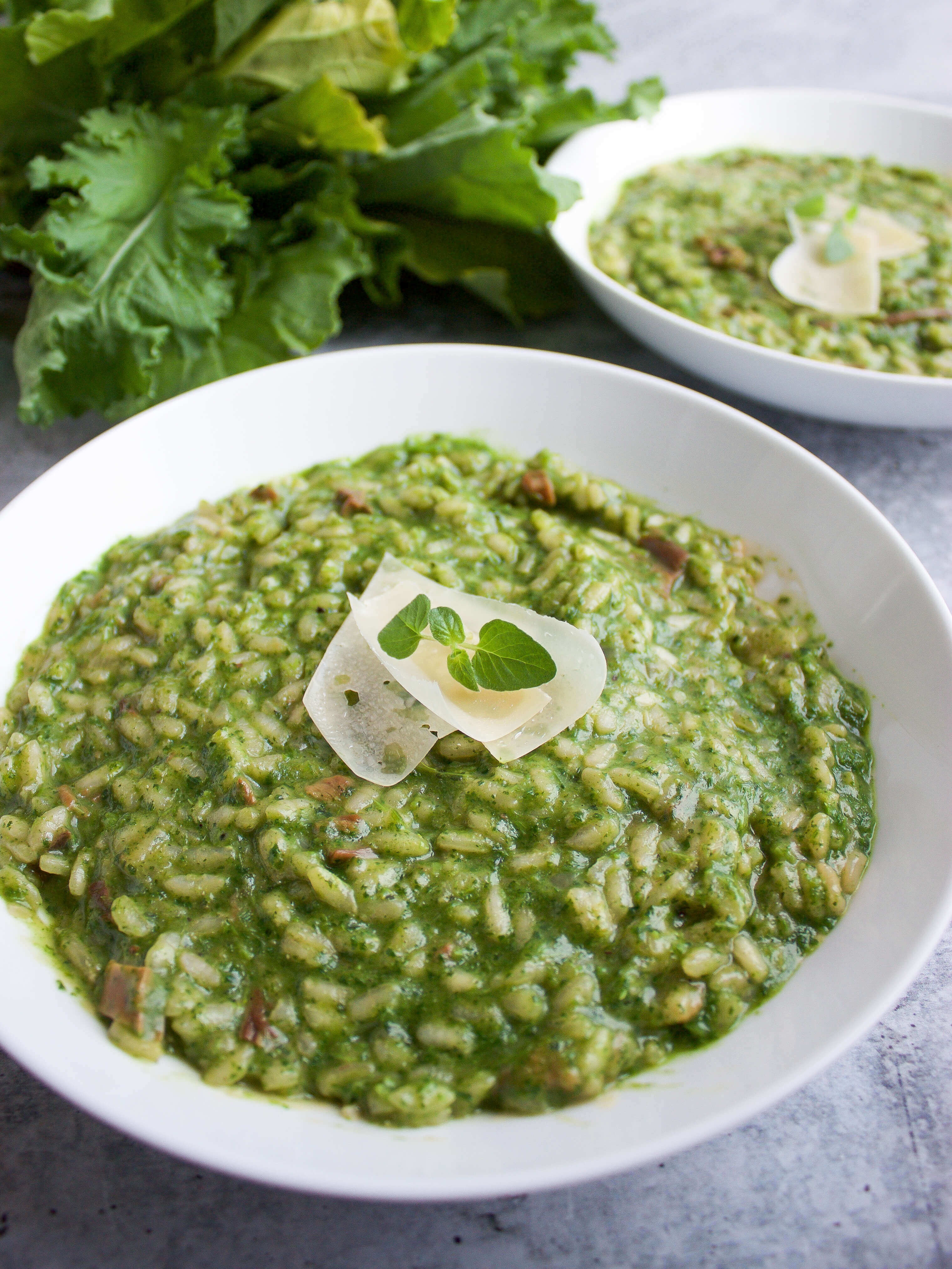 What is broccoli rabe?
Broccoli rabe (pronounced "rob") is also called rapini. Although it has buds that are similar in appearance to broccoli florets, this veggie is actually more closely related to turnips than it is broccoli.
Broccoli rabe has robust, bold flavors which make it well-matched for dishes with heavy sauces or fatty proteins. You'll commonly find it used in Italian dishes for this reason. The bitterness of broccoli rabe brings balance to rich dishes and offers more complex and interesting flavors.
How do you cook broccoli rabe?
Don't be scared off by its untamed appearance! Broccoli rabe is actually quite easy to prepare. It can be cooked many different ways, including: blanching, steaming, sautéing, grilling, or puréeing.
Trim broccoli rabe before cooking. Cut off any discolored tips from the bottom. Then, use a pairing knife to peel the skin off thicker stems and cut away the stems from the tops.
Check out the Andy Boy® website for more broccoli rabe cooking techniques and recipes. 
Broccoli rabe nutritional benefits
Just 3.5 ounces of broccoli rabe contains over 50% of your daily intake of vitamins A and C. Each cup contains 2 grams of fiber — insoluble and soluble — and 200% of your daily vitamin K intake recommendation.
Broccoli rabe also contains lutein which helps support eye health and sulfur which helps detoxify the liver. Anti-inflammatory nutrients, including folate and vitamin C, are also contained within this superfood.
Porcini Mushroom and Broccoli Rabe Risotto
Risotto is a creamy Italian dish which is perfectly suited for broccoli rabe. This recipe is still warm and comforting like traditional risotto, but the addition of a broccoli rabe purée makes the flavors brighter and more complex.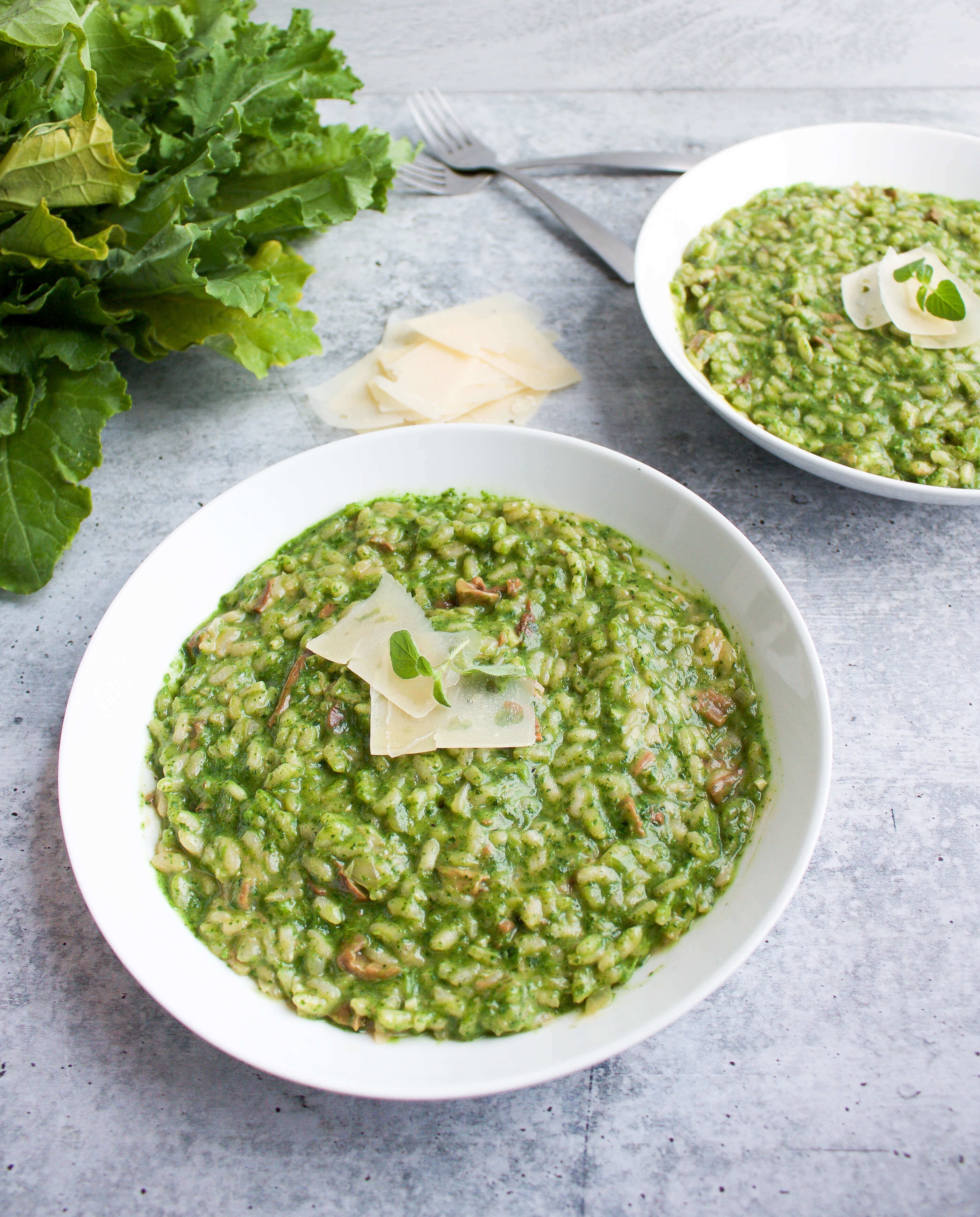 Serve this dish to your friends and family and they'll think you're a gourmet cook! We'll keep it our little secret that it's actually very easy to make.
Porcini Mushroom and Broccoli Rabe Risotto is vegetarian and gluten-free.
Porcini Mushroom and Broccoli Rabe Risotto
Ingredients
Risotto
5

cups

vegetable broth

1

tbsp

olive oil

2

cloves

garlic

minced

1

yellow onion

minced

1

cup

porcini mushrooms

diced

2

cups

Arborio rice

1/2

cup

sherry

4

tbsp

butter

1

cup

Parmesan cheese

shredded

salt and pepper

to taste
Broccoli Rabe Purée
1

bunch

broccoli rabe

blanched

1/2

cup

fresh parsley

2

tbsp

fresh oregeno

1/4

cup

olive oil

salt and pepper

to taste
Instructions
Warm vegetable broth in a medium saucepan over medium-low heat. Keep warm.

While the vegetable broth is warming, heat olive oil over medium heat in a large sauté pan. Add onions and garlic and cook until fragrant. Add mushrooms and cook for 1-2 minutes. Add arborio rice and cook for 1-2 minutes. You should notice a nutty aroma. Add sherry to sauté pan and cook until it is mostly absorbed.

Add warm vegetable broth to the sauté pan one cup at a time. Stir and allow the broth to mostly absorb into the rice between each cup.

After the last cup of broth is added and absorbed, add butter and stir vigorously. Once the butter has melted, repeat with the cheese. The mixture should be creamy. Add salt and pepper to taste. Cover and keep warm.

Make the broccoli rabe purée by combining all purée ingredients in a blender. Blend until smooth.

Add the purée to the risotto and stir to combine. Garnish with shaved parmesan cheese and fresh oregano and serve warm.
Nutrition information is automatically calculated, so should only be used as an approximation.
Like this? Leave a comment below!
Add broccoli rabe and porcini mushrooms to your grocery list and give this recipe a try for dinner this week. Let us know what you think on Facebook or tag us on Instagram @theproducemoms.
Have you ever tried broccoli rabe? How was it prepared? Share in the comments below.