No-Bake Raspberry & Dark Chocolate Energy Bites
Aug 23, 2019, Updated May 21, 2021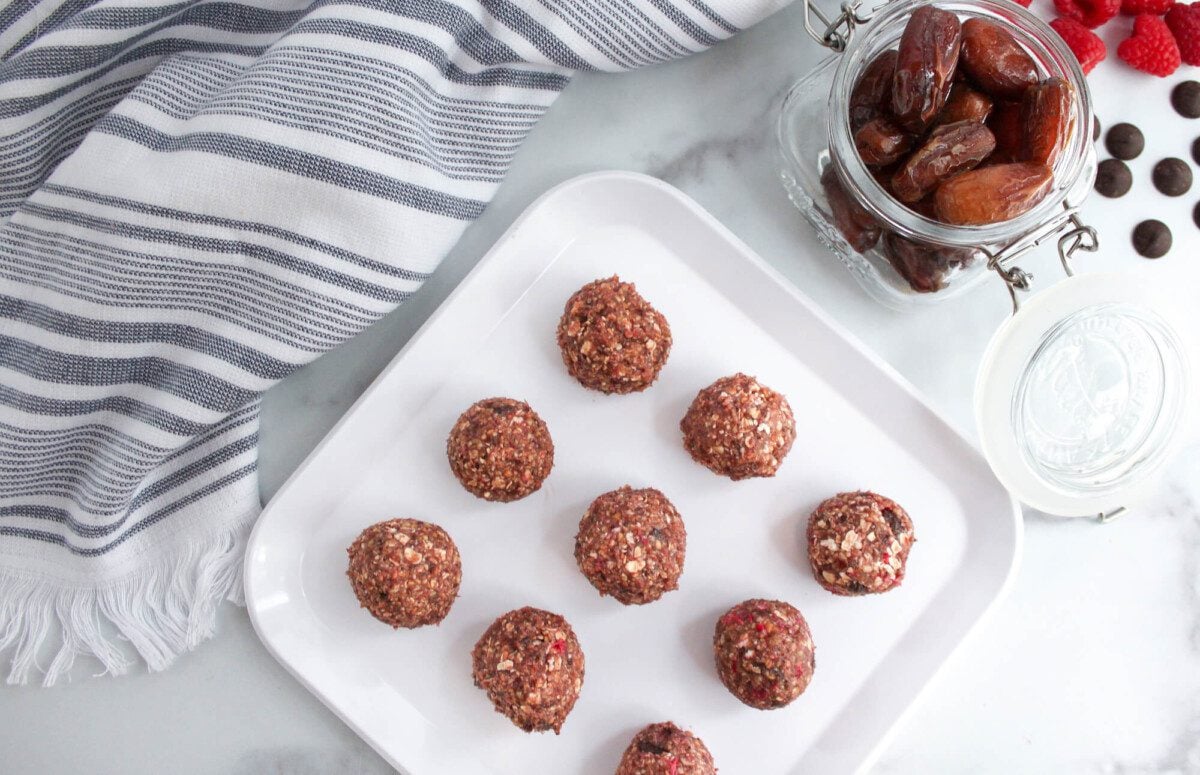 5 ingredients & 10 minutes of prep is all it takes to make these No-Bake Energy Bites!
Need a quick pick-me-up to get through the rest of your day? Raspberry and Dark Chocolate Energy Bites are the answer! Made with just five ingredients — cashews, dates, oats, raspberries, and dark chocolate chips — these mighty little treats can help you re-fuel, re-charge, and reclaim the day!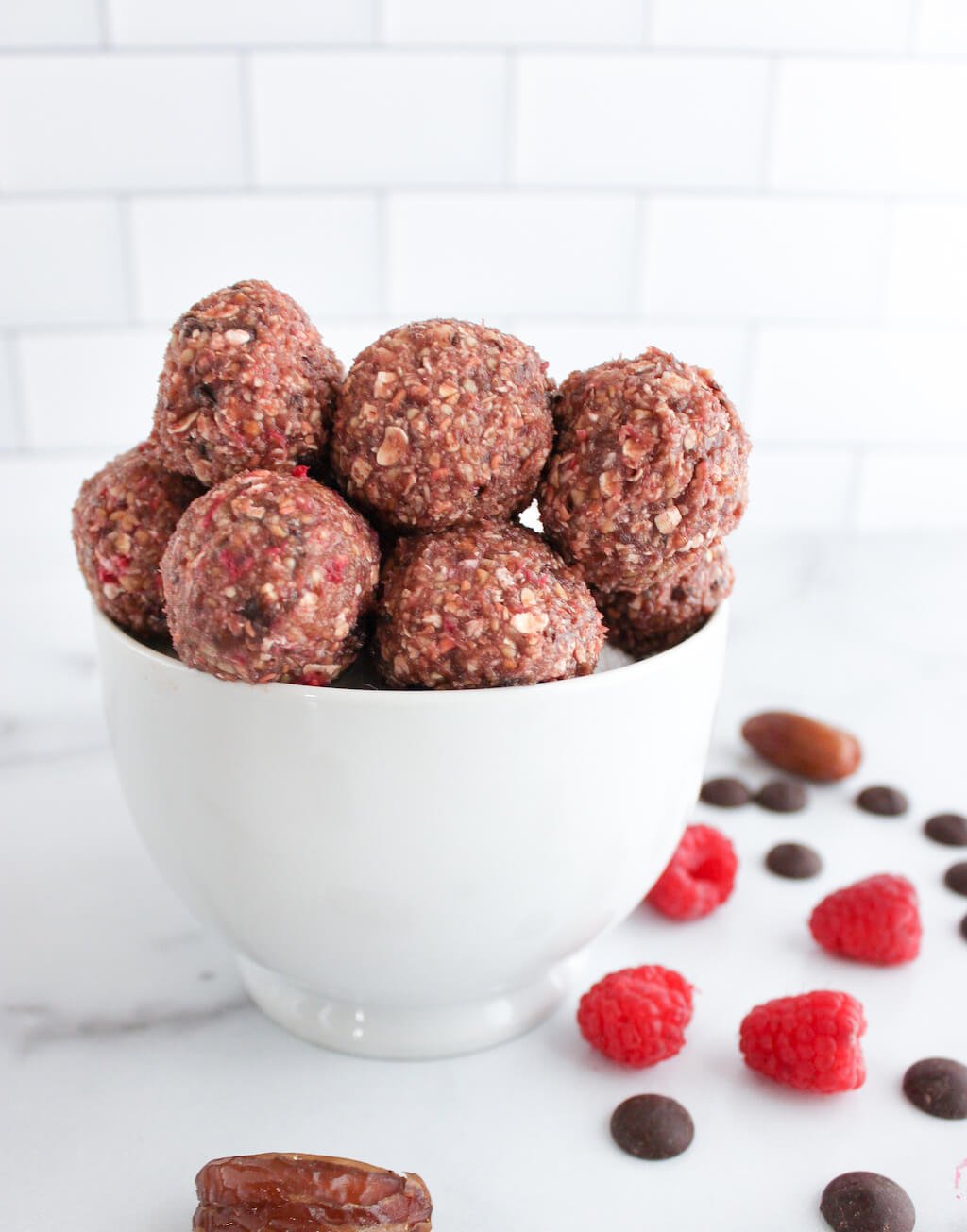 Let's take a closer look at the ingredients…
Raspberries are rich in antioxidants, including vitamin C, and anti-inflammatory phytonutrients. They are also high in fiber.
Cashews are one of the healthiest nuts on earth. They are high in healthy fats, protein-rich, and a great source of minerals including vitamin K, cooper, and magnesium.
Dates may be best known for their chewy texture and extra sweet taste, but they pack in the nutrition too! In addition to being high in fiber and antioxidant-rich, the natural sugar (fructose) and carbohydrates in dates can provide an energy boost.
Oats may be best known for keeping energy levels up and hunger down. They're a good source of whole grains and contain fiber, B vitamins, vitamin E, healthy fats, and antioxidants. And did you know that oats are gluten-free?
Dark Chocolate is the chocolate to reach for! It contains less sugar than milk chocolate but is rich in antioxidants. It also provides a small hit of caffeine. In limited quantities, dark chocolate can be a healthy treat.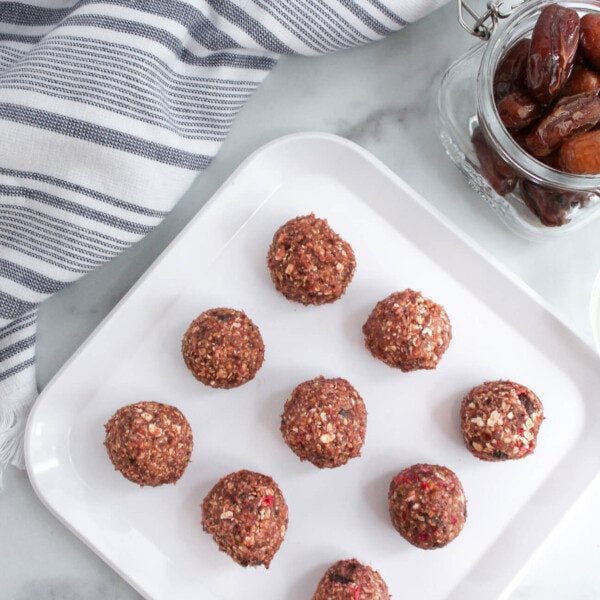 Raspberry & Dark Chocolate Energy Bites
Ingredients
3/4

cup

cashews

1

cup

dates

1/2

cup

oats

1/3

cup

raspberries

1/4

cup

dark chocolate chips
Instructions
Add cashews, dates, and oats into a food processor and process until a paste-like dough is formed. (It should be crumbly but stick together when pressed together).

Add in raspberries and dark chocolate chips and process until just incorporated.

Form dough into ping-pong sized balls. Let the balls rest in the refrigerator for 1 hour before serving. Store covered in the refrigerator covered for up to 1 week.
Notes
*Almonds can be substituted for cashews.
**Resting in the refrigerator is not necessary, but helps the bites firm up and keep their shape.
Nutrition information is automatically calculated, so should only be used as an approximation.
Like this? Leave a comment below!
Enjoy these No-Bake Energy Bites whenever you need a boost of energy… before a workout, during an afternoon slump, or as an on-the-go breakfast. Kids love them too and they make an excellent after-school snack.
Add these 5 ingredients to your grocery list: raspberries, cashews, dates, oats, and dark chocolate chips and make your own no-bake energy bites. Take a photo and tag @theproducemoms on Instagram with your review!