Mexican Power Blend Salad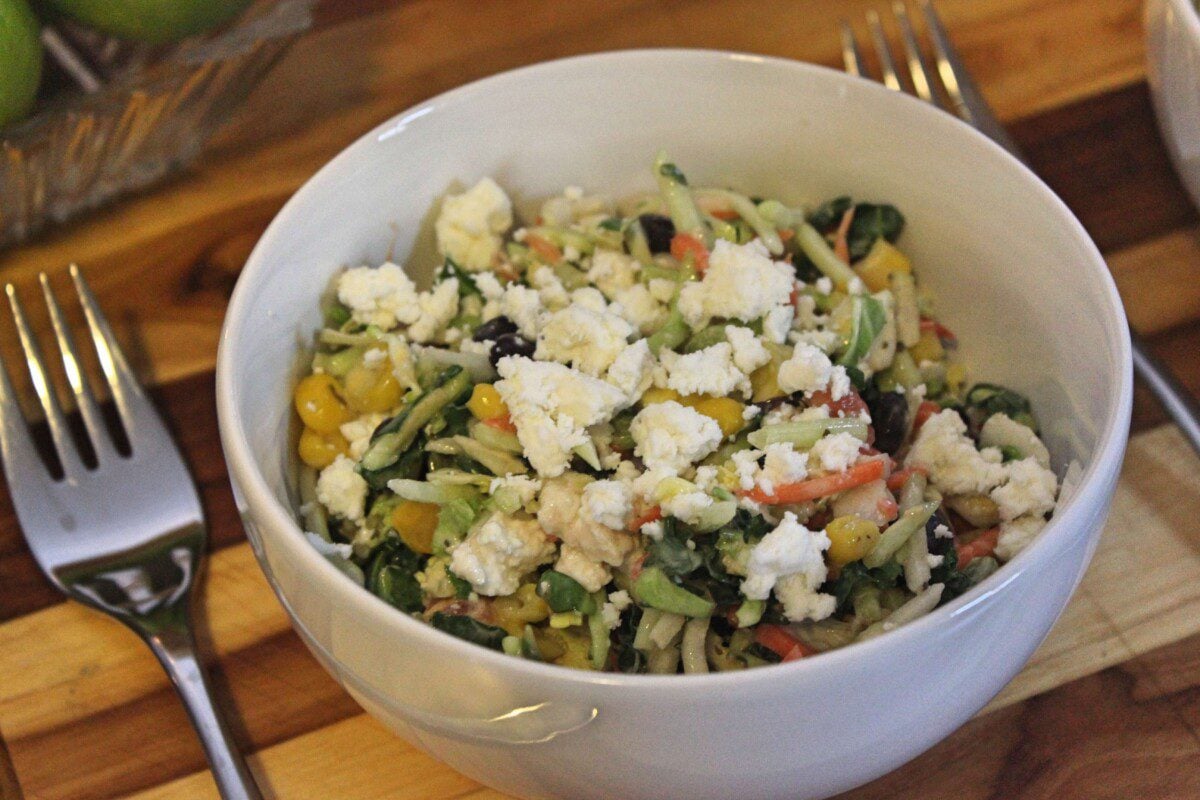 This post is sponsored by Mann's
Mexican night just got easier in my house!  I can't lie…I can eat Mexican food every night of the week, and I don't get sick of it!  However, I like to find new and creative ways to eat my favorite food!  And like every other mom out there, my after-school routine leads to chaos and very little time for dinner preparation.  This Mexican Power Blend Salad featuring Mann's Power Blend Veggie Slaw only took me 10 minutes to make, so it checks all my "mom" boxes when it comes to making dinner for my family!
✔ Easy to make
✔ Healthy
✔ Delicious
About Mann's Power Blend Veggie Slaw
Power Blend contains multiple "super food" ingredients, such as kale, kohlrabi, Brussels sprouts, Napa cabbage, carrots and broccoli.  These veggies all have a high content of vitamins, minerals and antioxidants.  These veggies are shredded, prewashed and packed into one convenient bag.  You can find them in the grab-and-go section of the produce department.  The best part about this recipe is that you can also use any of the other Mann's Veggie Slaw Blends for the base. Broccoli Cole Slaw, Kale Beet Blend or Rainbow Salad would all be just as convenient and delicious!
The Ingredients
We already know that the base is Mann's Power Blend Blend Veggie Slaw.  What else do you need?  I like to add corn into all of my Mexican dishes…mostly because I have an obsession with Mexican Street Corn and the Mexican flavor of this salad brings up that nostalgia.  I also like to add black beans because they are a great source of protein and fiber.  Plus, beans and corn make the best of friends in terms of flavor pairing.
Next, I like to add diced tomatoes and diced bell peppers.  For convenience, I always look for pre-diced or fresh-cut veggies.  It cuts down on my time in the kitchen without skipping on the freshness!  It's a win-win for everyone!  I was lucky to find freshly diced bell peppers with all four colors which adds to the vibrant colors of this salad.
I like to add a small amount of lite sour cream mixed with taco seasoning to give it that "slaw" texture.  I also like to add fresh lime juice for that real authentic taste and to enhance the flavor profile of all the other veggies.  For this specific salad, I used an Avocado Lime Cilantro Dressing.  If you have something that you prefer, I am sure that it would still be amazing!
And because I don't think a salad is complete without cheese, I added Cotija cheese.  What's that?  It's a Hispanic-style cheese made mostly from cow's milk.  Cotija is very salty and strongly flavored.  It is firm, so you can grate it or use crumbles.  If you cannot find Cotija cheese or it doesn't sound like something you would like, you can use any other cheese of your choice!

Making the Salad
The best part about this salad (besides eating it) is that it is easy to assemble…even the kids can help!  First, you will pour the Mann's Power Blend bag into a medium-sized bowl.  In a small bowl, mix the sour cream with taco seasoning. Once that is mixed, you can add the sour cream to the veggie slaw and mix.
From here it is pretty easy.  You can simply add and mix the black beans, corn, bell peppers and tomatoes as you wish!  Once you have added all of the veggies, you can squeeze the fresh lemon juice and mix your salad as you go.  You will then mix in the salad dressing.
Your final step is to place your salad into individual bowls, or you can add the salad to flour tortillas,  taco shells or place it on tortas for an additional flair!  If you want to add more protein, grilled shrimp or chicken would be a perfect touch.  And most importantly, don't be afraid to make this salad your own –  explore different veggie toppings, dressings or cheeses!  Create what makes your taste buds jump for joy!
For more information on Mann's, including where to find their products, visit veggiesmadeeasy.com. And for more recipes and ideas, stay connected through any of their social media channels including Facebook, Twitter and Instagram.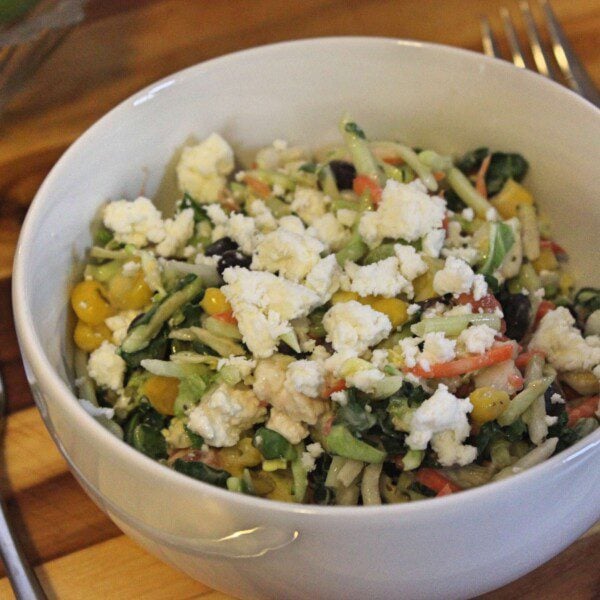 Ingredients
1

package

Mann's Power Blend Veggie Slaw Bag

1/2

cup

Lite Sour Cream

1

cup

corn

1

cup

black beans

Rinsed and Drained

1

cup

Tomatoes

Finely Chopped

1

cup

bell peppers

Finely Chopped

1

lime

1/4

cup

Taco Seasoning

1

Bottle

Avocado Lime Cilantro Dressing

1

cup

cotija cheese
Instructions
In a small bowl, mix taco seasoning and sour cream.

In a medium bowl, combine sour cream mix and Mann's Power Blend Veggie Slaw.

Mix in corn, black beans, tomatoes and bell peppers.

Top with lime juice, Cotija cheese and dressing. Combine and serve.
Notes
Salad dressing - Don't be afraid to try your favorite dressing with this recipe.
Add protein to this salad with chicken, shrimp or ground turkey.
You can eat this recipe as a salad, or you can make them in taco shells and/or corn or flour tortillas.