Jalapeno Blueberry Jam
This recipe is sponsored by our brand partners at Covilli.
Sweet and spicy – a match made in flavor heaven! These two sensations may be on opposite ends of the spectrum, but when properly paired they come together in a spectacular way.
This Jalapeno Blueberry Jam will delight your taste buds with its unique blend of peppery heat and juicy sweetness. Using fresh ingredients, you can whip up a surprisingly simple jam your friends and family will ask for again and again.
Making Fresh Jalapeno Blueberry Jam
This is the perfect recipe to spice things up at your next meal or get-together. It also makes a thoughtful homemade gift.
After a bite of Jalapeno Blueberry Jam spread on a cracker or a piece of toast, your friends will be jelly of your jam-making skills. And when they find out how easy it is to make, they'll be eager to try making it themselves!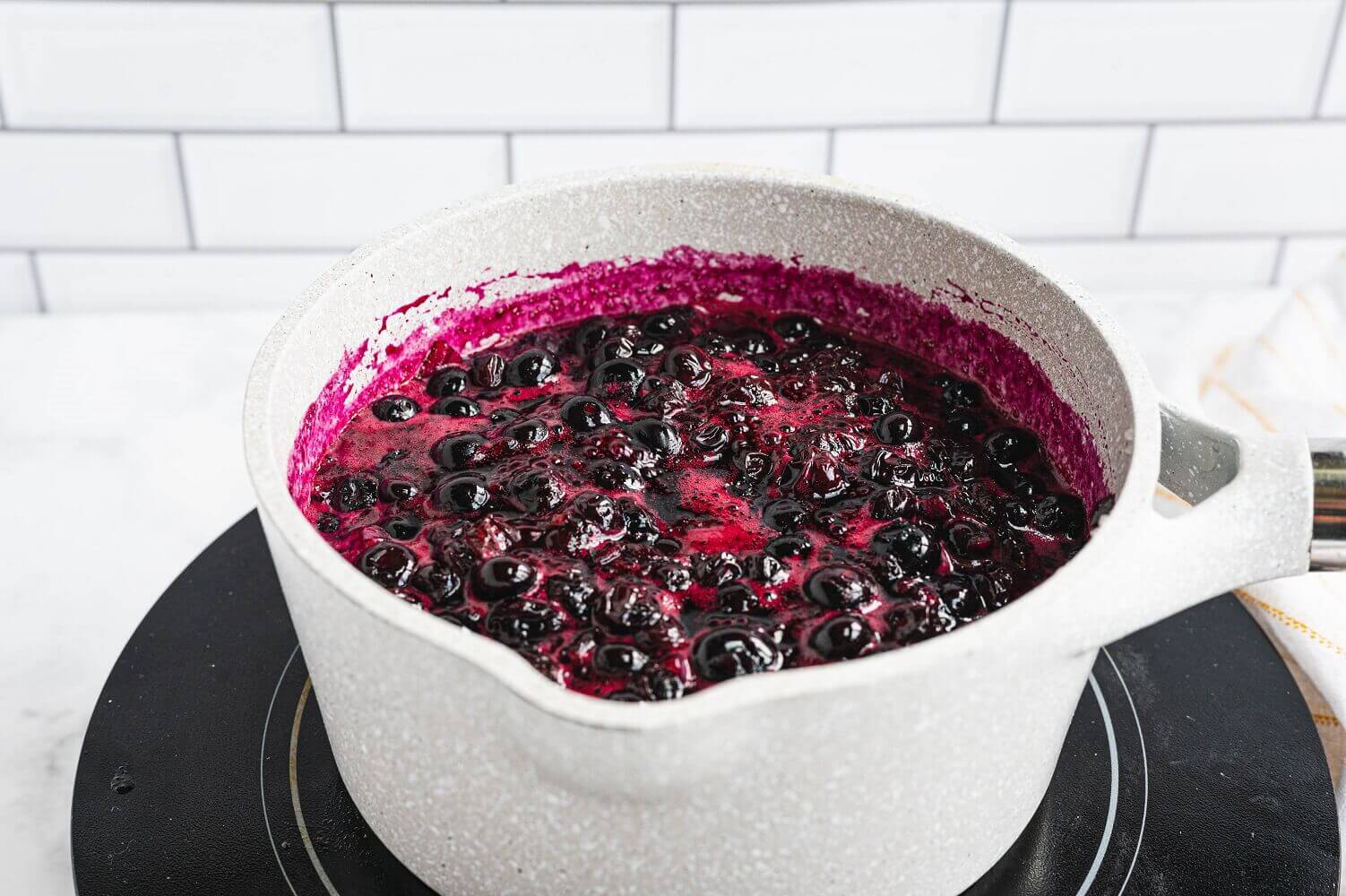 Lots of blueberries, a couple of minced jalapenos, and a bit of sweet onion form a smooth, juicy jam with the help of sugar and lemon juice. All you need to do is cook the mixture on the stove, let it cool, and refrigerate it.
Once it's chilled, your jam is ready to eat! Enjoy it on crackers, English muffins, toast, and bagels. But this is the kind of flavor that rewards creativity – what will you top with tasty Jalapeno Blueberry Jam?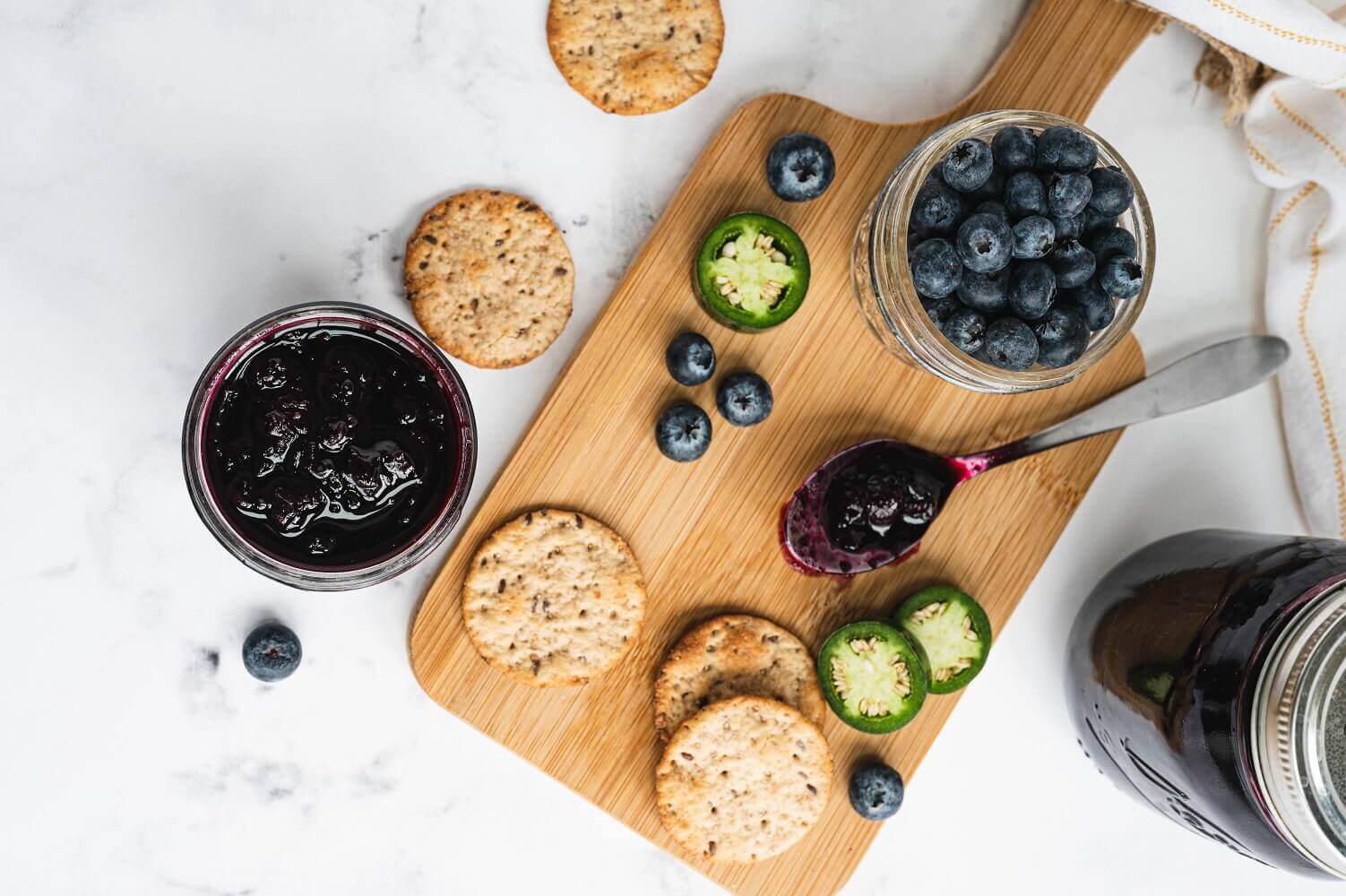 Ingredients
4

cups

blueberries

2/3

cup

granulated sugar

2

tbsp

fresh lemon juice

2

medium

jalapeño peppers

seeds and membranes removed, finely minced

3

tbsp

sweet onion

finely minced
Instructions
In a small saucepan, combine all ingredients and bring to a boil over medium heat. Reduce heat to medium low and continue a low boil, stirring occasionally, for 12-15 minutes or until jam starts to thicken.

Remove from heat and let cool.

Store in refrigerator for 2-3 weeks.
Popping Peppers with Covilli Brand Organics
A delicious jam like this relies on fresh, flavorful ingredients. That's why our jalapeno peppers come from Covilli Brand Organics. This family-owned farm based in Sonora, Mexico's fertile Empalme Valley grows crops that you can feel good about buying. Covilli's produce is audited by a third party to ensure that it's up to safety and quality standards before it's shipped across the border.
But Covilli doesn't stop with its produce. This forward-thinking grower makes a positive impact on the environment, on its workers, and on the international farming community as a whole. As a Fair Trade Certified grower, Covilli ensures its workers are paid fair wages and are provided with health care and education.
Learn more about Covilli's commitment to fair practices in Episode 131 of The Produce Moms Podcast.
Buying Covilli produce isn't just about cooking with the best ingredients around. It's also about casting a vote for a better future with the dollars you spend. Cook with ingredients you can stand behind — organic, sustainable, fair, and safe farming practices are our jam!
Did this Jalapeno Blueberry Jam add some sweet sizzle to your day? Share your thoughts on this sweet and spicy recipe in the comments below.