How to Caramelize Bananas and 5 Ways to Use Them
Sep 02, 2021, Updated Nov 01, 2022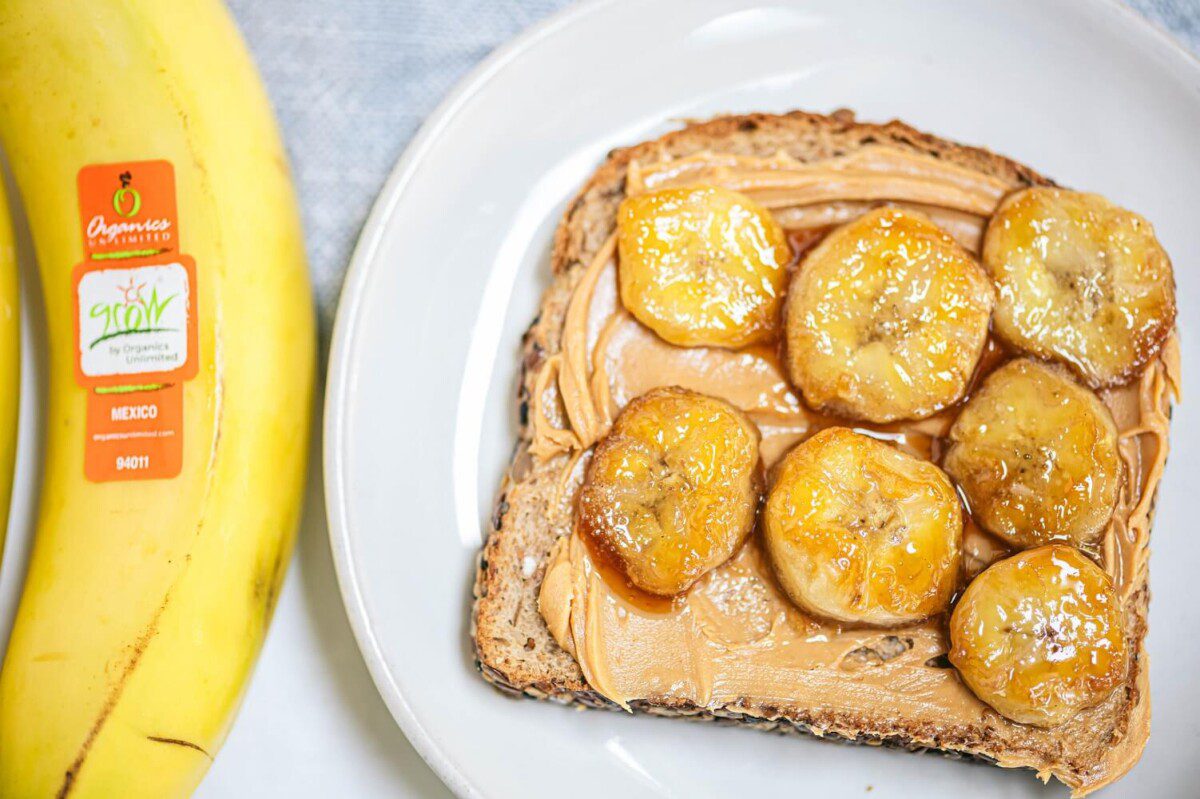 This recipe is sponsored by Organics Unlimited. 
Bananas make a tasty snack at any time of the day or night. And while we love their soft texture and sweet taste as-is, there's always room for an upgrade! Here's an easy way to caramelize bananas to use in breakfasts, desserts, and snacks. With help from the minds at Organics Unlimited, we've included five delicious ways to use them to get you started!
How to Caramelize Bananas
Like some of our other favorite fruits and veggies, caramelization adds new dimensions to the flavor and richness of bananas. Plain banana slices make a great topping or addition to cereal, oatmeal, crepes, and all kinds of other dishes. But caramelized bananas take those dishes to the next level!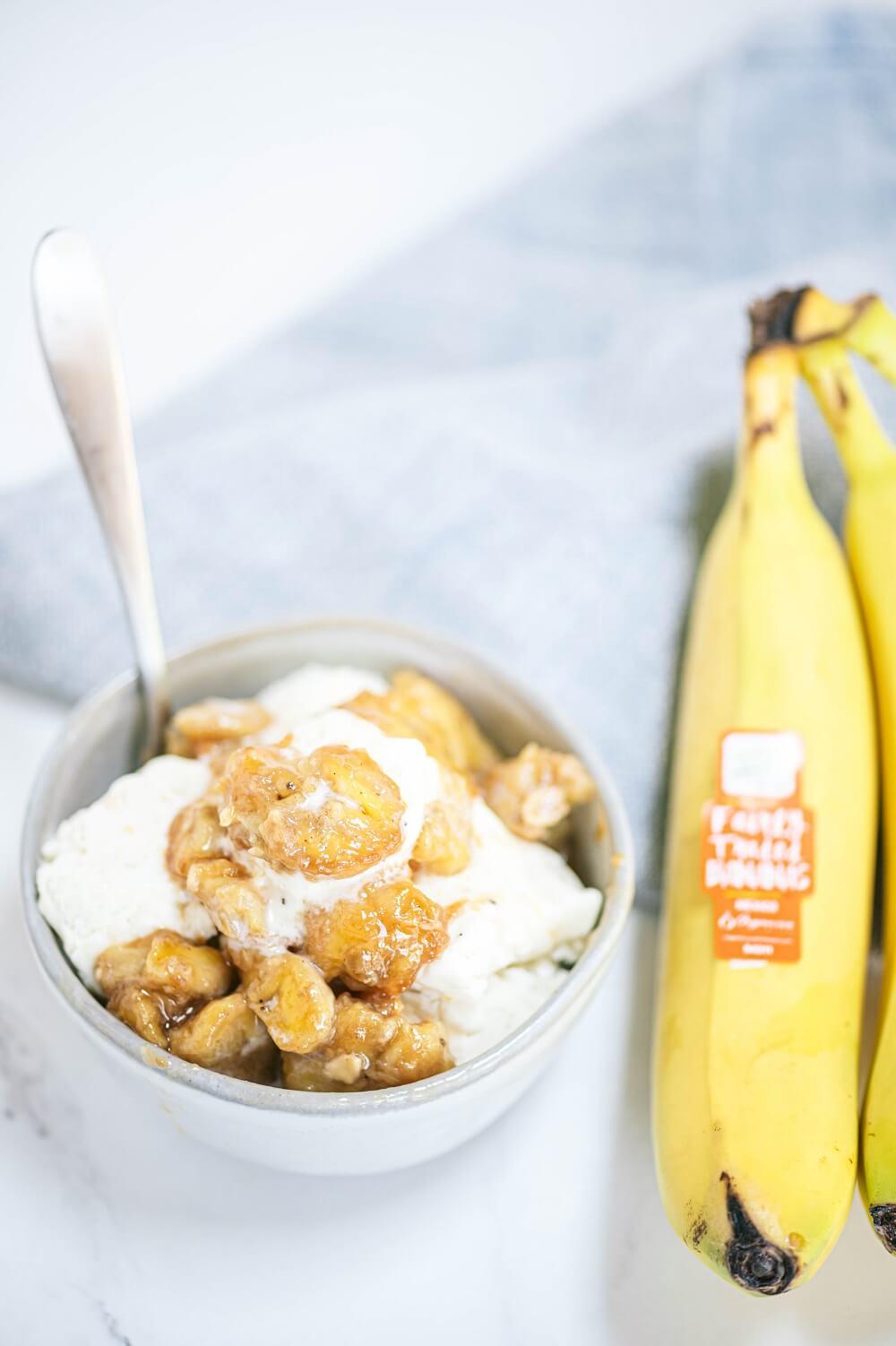 It's easy to caramelize bananas, but it requires a bit of a delicate touch. You'll need to cook them at the right heat and with the right ingredients to get the best results. We find that organic bananas like the tasty ones available from Organics Unlimited caramelize better than others. And the best way to cook them is with coconut oil and sugar along with another sweetener, like agave syrup.
How to Caramelize Bananas
Here's an easy way to caramelize bananas to use in breakfasts, desserts, and snacks.
Ingredients
1

banana

finely sliced

1

tsp

coconut oil

1

tbsp

agave syrup

or any sweetener syrup you like

1

tsp

coconut sugar
Instructions
Place a frying pan over medium heat with the coconut oil, agave syrup and coconut sugar. 

Add the banana slices when the mixture is melting and bubbling. 

Cook for a few minutes on each side until the slices are fully coated.
Nutrition
Serving:
4
g
|
Calories:
54
kcal
|
Carbohydrates:
12
g
|
Protein:
1
g
|
Fat:
1
g
|
Saturated Fat:
1
g
|
Polyunsaturated Fat:
1
g
|
Monounsaturated Fat:
1
g
|
Sodium:
2
mg
|
Potassium:
106
mg
|
Fiber:
1
g
|
Sugar:
8
g
|
Vitamin A:
19
IU
|
Vitamin C:
3
mg
|
Calcium:
2
mg
|
Iron:
1
mg
Nutrition information is automatically calculated, so should only be used as an approximation.
Like this? Leave a comment below!
5 Ways to Use Caramelized Bananas
Now that you have a pan full of delectable caramelized bananas, what should you do with them? You could pop them right in your mouth, or you could use one of these five delicious ideas:
On ice cream
Use caramelized bananas to top your ice cream. Capture the flavor of a banana split or float them on a sea of hot fudge. They'll fit right in with just about any flavor of ice cream!
You can even use bananas to make your own ice cream. Check out this Banana Nice Cream Sundae and top it with caramelized bananas!
On waffles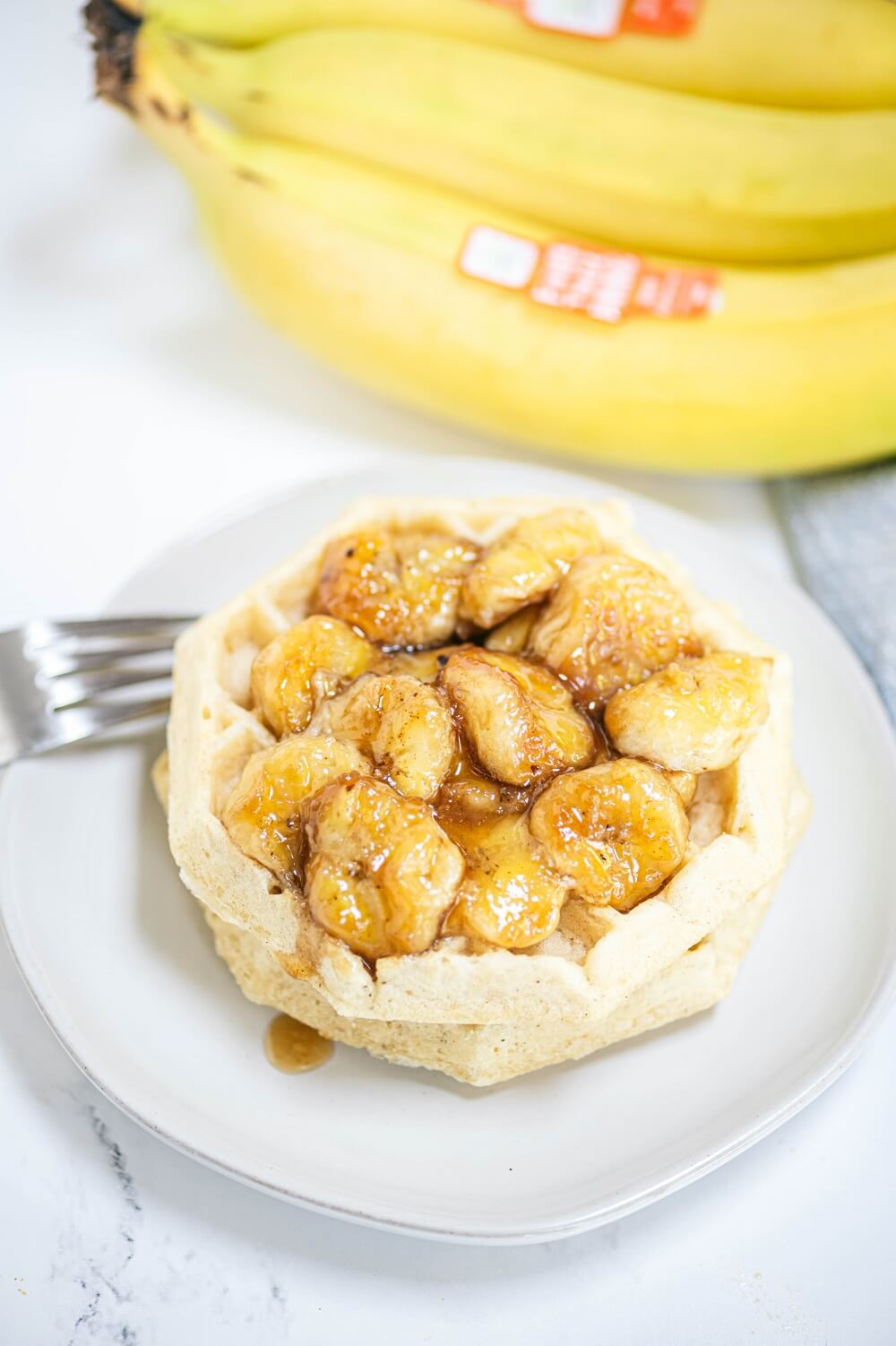 Waffles were practically made to be topped with bananas. Whether you're making belgian waffles or just using the easy freezer variety, these melt-in-your-mouth banana slices pair nicely with a little syrup and butter.
In oatmeal
Elevate your oatmeal with some fruity sweetness. You can place these bananas on top of the oatmeal or stir them into your bowl. We recommend topping it all with a pinch of cinnamon or brown sugar.
On peanut butter toast
Peanut butter and banana sandwiches make a great snack whenever your sweet tooth strikes. But toasting the bread and caramelizing the bananas turns an everyday bite into a memorable, mouth-watering dish that you and your kids will love.
Over brownies
Brownies are a canvas for creating a great dessert, and these caramelized bananas will turn yours into a masterpiece. No matter what flavor of brownies you're baking, scoop some caramelized bananas on top for an irresistible treat. Ice cream is optional!
What did you think of our caramelized bananas? Do you have a favorite way to use them that we didn't mention? Let us know in the comments or tag us on Instagram @theproducemoms and @organics.unlimited.
About Organics Unlimited
Organics Unlimited has a primary focus on bananas that are grown organically from Mexico and Ecuador. Sustainability and quality are a top priority which is closely controlled throughout the entire growing, harvesting and distribution process to ensure the fruit meets organic certification requirements at all stages.
When founders Mayra and Manuel Velazquez de Leon started Organics Unlimited in 2000, it was with a mission to provide the best quality organic tropical fruits to consumers in the US, Canada and Mexico. The mission also included not forgetting the social responsibilities of their backgrounds – to care for the workers who make this quality possible.
In 2005, Organics Unlimited founded the GROW social responsibility program. GROW is all about Giving Resources and Opportunities to Workers. Through GROW, Organics Unlimited is working to lift up disadvantaged communities and improve the lives of the people who live there. It's their way of giving back to the people who make such tasty bananas possible.
GROW organic banana purchases, along with retailer and distributor support, have provided nearly $3 million in aid since 2005. A percentage derived from the purchase of each box of GROW organic bananas is earmarked for the GROW fund. These funds are used for youth educational programs and health clinics along with dental and vision care in Mexico, clean water and early childhood education programs in Ecuador, disaster relief and environmental initiatives. Learn more about Organics Unlimited and GROW here.