Know Your Apple Varieties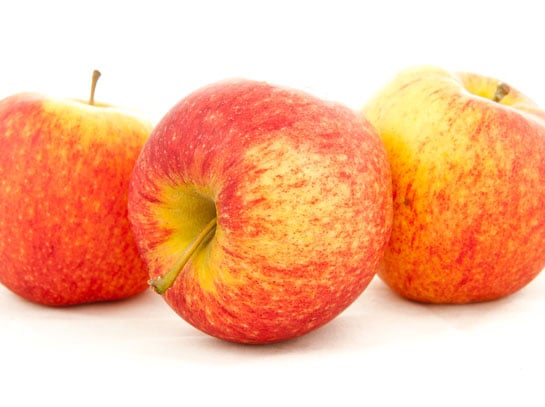 Working in produce, you hear "How 'bout them Apples?" ALL the time. Usually from a customer or co-worker that has become overly-involved & obsessed with produce. I think it's obvious that I love my job & enjoy a good piece of fruit. But I'm not interested in a lame play on words or attempt to make me laugh when I inquire about weekend apple sales. For those of you who are still confused, or maybe you're the "visual learner" type, allow me to clarify:
The only acceptable use of the phrase "How do you like them apples?"
So, how do you select an apple at the grocery store? Even after 6 years of spending way too much time with apples, I still get confused. Last week, I sat down with our apple buyer at Indianapolis Fruit – bless his heart, he has worked at IFC since I was in like 3rd grade or something. The man knows produce.
I asked Rusty how he selects the perfect apple. What the everyday consumer should look for when they are faced w/ rows upon rows of apples in the produce department. Is there a correlation between an apple's appearance and its flavor? How do we know if it's best for baking or eating? What are the most popular apples in America? Good thing Rusty & I are produce nerds. We spoke for 45 minutes about the forbidden fruit. How do you like THEM Apples?
First, let's debunk the residue debate.
This residue is a result of overwatering, NOT damage or chemicals. Now, I'm like you – I wouldn't choose to buy these apples over a clean, shiny apple… but, this residue is simply caused by watering. Many of the apple growers utilize in-ground/root irrigation systems. Think about it – they don't want to pour a bunch of water on top of the apple trees because the water coming from above will certainly cause some of the apples to fall off the tree & that will result in a lower yield, which means less money. And we all know cash is king & it's what makes the business world go 'round. But if the temperatures rise unexpectedly in the growing region & the farmers have to use overhead irrigation to save the crop, or there is a ton of rain – your apples will look like this. Just wash them off. It'll go away.
Unfortunately, there isn't a way that you can tell an apple tastes good based off the way it looks. And while tempting, it's just not acceptable to sample a bite of the apples prior to purchasing them… (PS – this is what I love about grapes! I always sneak a sample before I purchase the bag. If my 1 grape is gross, I don't buy the bag. If my 1 grape is tasty – I eat a few more & then buy the bag)
You can empower yourself with knowledge on apple varieties, or if your produce department is managed the way it should be – signage explaining the variety flavor & uses should be available. Read it. There is nothing more annoying than biting into a soft/sweet apple when you prefer a crunchy/sweet apple.
Seek out premium apples. You should look for apples that are uniform in size – the big bins of randomly-sized & lopsided apples are not premium grade. No offense to these apples; they are useful apples, just not the apple I would choose to eat out of hand. Value-priced lopsided apples are what you buy when you are making applesauce. I have 2 kids & work full time. I'm not making applesauce. When I buy apples, it's because I hope that instead of a bag of fritos, I will eat an apple as my afternoon snack. Which makes the tasty apple all that more important. If you are going to replace a snack like fritos with an apple…. the apple better taste good. Because we all feel the same way about fritos–they are bomb!
Parts of an Apple:
Another tip is to look at the apple from the bottom side (and the lyric "apple bottom jeans, boots with the fur…" is now stuck in my head). Seriously though, flip that baby over & check out the calyx. It's the star looking thing on the bottom. The calyx needs to be symmetrical & even. A premium apple will have a perfect calyx and will stand up on its own/not topple over.
Finally, color is part of the graded criteria in premium apples. If the Pink Lady apple section has yellow apples, chances are it's not a Premium Pink Lady.
You are probably familiar with America's top 5 apple varities. Here they are!
Top 5 Apple Varieties in America
1. Gala
Sweet – versatile: good for eating out of hand, salads, baking & freezing
2. Red Delicious
Mildly sweet – only ideal for eating out of hand or salads
3. Golden Delicious
Sweet & softer flesh – very versatile, often preferred by bakers because the skin is so tender it does not always have to be peeled.
4. Granny Smith
Tart & tangy flavor – very versatile & freezes well
5. Fuji
Sweet & juicy – very versatile, an excellent choice for eating fresh or in salads because it is so juicy
NOW – HOW DO I LIKE THEM APPLES????
I rarely eat any of the Top 5 apples. There are some incredible apples on the market & farmers are discovering new varieties every season by cross-breeding/hybrids.
Listed below are The Produce Mom's Top 5 apples. Don't be ordinary – Be extraordinary!
The Produce Mom's Top 5 Apple Varieties
The Autumn Glory was discovered this season by Superfresh Growers. It is a cross between a Fuji & a Golden Delicious. It has a natural cinnamon apple flavor & is hands-down the BEST apple I have ever tasted in my life. Since they were just born in 2011, they are hard to find. You can expect a premium price, but a flavor that merits the expense. Join me as a fan of the Autumn Glory on Facebook.
The Jazz apple was founded in 2003 & is an Enza brand apple. The Jazz apple has a tangy, sweet crunch that you WILL hear when you take a bite. It is a cross between Royal Gala & Braeburn. It has a remarkable storage ability. Seriously. You can buy a Jazz apple in November. Lose it in your fridge. Find it in February. And it will still taste good. Jazz is on Facebook, too!
Don't mistake this yellow beauty for a Golden Delicious. Aurora is a cross between the Splendor & the Gala. With notes of honey & tropical fruit – the Aurora is the perfect dessert apple.
Most people are familiar with Honeycrisp Apples & most people say they are the best apples they have ever tried. They certainly make my top 5, but there are other "boutique" apples that I love more. Honeycrisp is the Queen of all my boutique apples – it's been around since the early 1990's & is the 1st variety that consumers were willing to pay $2.50/lb to enjoy. The "parents" of the Honeycrisp are still yet to be known, but many industry experts believe it to be the Macoun & the Honeygold.
Cameo made my list because while it does encompass the flavor I expect when I choose an apple over a bag of fritos, it also is very budget friendly. Often priced on-par with the mainstream Red & Golden Delicious apples. It's also available year-round, unlike some of the other apples on my top 5 list. Cameo boasts a sweet tart flavor & thin skin. I HATE when I need to floss after eating an apple because the thick skin got lodged in my teeth. Actually, I just hate flossing my teeth in general. That's the dental hygienist's job. The Cameo is also on Facebook.
So, the only question left to ask is…. How do you like YOUR apples?
xoxo Produce Mom