Green and Red Anjou Pears: A Festive Fruit to Celebrate the Holidays
Nov 17, 2020, Updated Jun 10, 2021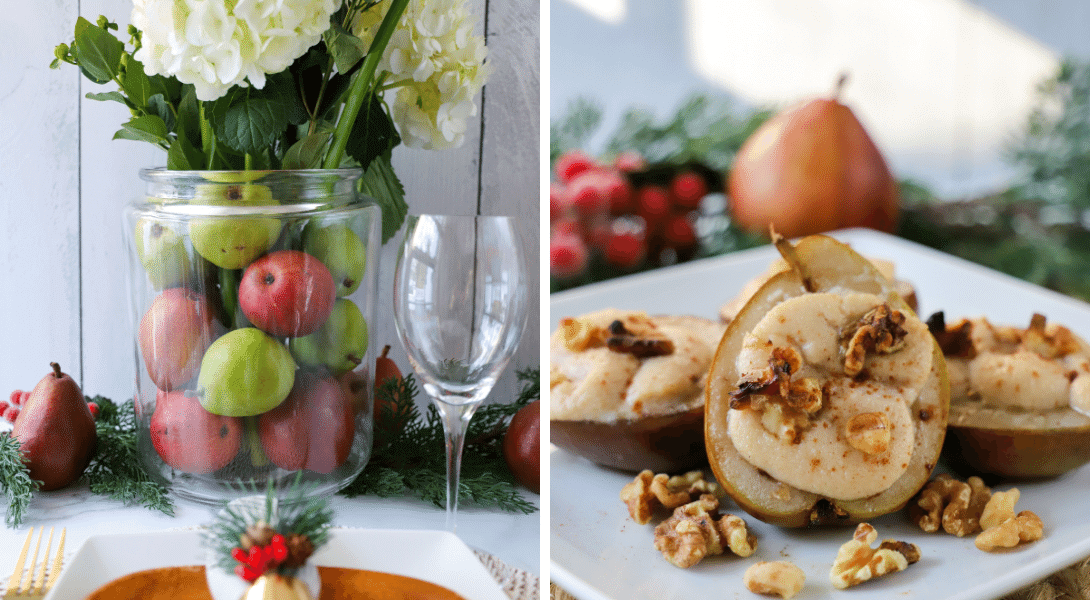 This post is sponsored by USA Pears. Together, we are bringing you some "holiday ins-pear-ation"!
Savor the holidays by indulging in succulent fruits of the season—like Green and Red Anjou pears. Pears make a delicious fresh complement to charcuterie trays and are a delectable ingredient in recipes from appetizers to desserts. Each pear variety offers its own unique taste and texture, a celebration for taste buds of all kinds!
A History of Health
Anjou pears, sometimes called d'Anjou pears, are named after the Anjou region in France. However, they are thought to have originated in Belgium. Green Anjou pears were introduced to America around 1842. In the 1950's Red Anjou pears were first discovered in Oregon as a spontaneous naturally occurring transformation, or "bud sport" found on Green Anjou trees. 
Pears are fat-free, sodium-free, cholesterol-free, an excellent source of fiber, and contain vitamin C. Nutrient-dense pears are a harvest of health for only 100 calories per serving.
Flavor Profiles
Green Anjou pears are an all-purpose pear, refreshingly sweet and juicy with a hint of lemon-lime citrus flavor. They are delicious when eaten fresh and their dense flesh also tolerates baking, poaching, roasting, or grilling. 
Red Anjou pears have a fresh juicy, sweet, and slightly tangy flavor. Their smooth texture and striking red peel make them an excellent choice for fresh salads, fruit trays, and other recipes that call for skin-on pears.
Selection and Ripening Tips
Anjou pears are best recognized by their smooth almost egg-like shape. They have a large spherical base that begins to taper halfway up, eventually rounding at the top. 
Anjou pears do not significantly change color as they ripen. Instead, use the thumb test to determine ripeness for pears. To do so, gently apply pressure with your thumb near the pear stem. When ripe, the fruit will yield slightly. Pears ripen when stored at room temperature and may take several days to ready after purchase. Their fully ripe mouthwatering taste and texture are well worth the wait.
A Holiday Recipe: Baked Cinnamon Ricotta Green and Red Anjou Pears
You can't go wrong with fresh-sliced ripe pears (in or out of the peel)—pears pair perfectly with holiday cheese and wine. They make a great garnish on appetizers and topper on salads too. Lightly toss fresh-cut pear pieces in lemon juice to keep them from browning if preparing recipes ahead. Pears provide a sweet bite when used in holiday recipes from first to last course. 
Check out this simple recipe for Baked Cinnamon Ricotta Pears — one of our favorite holiday pear-ings!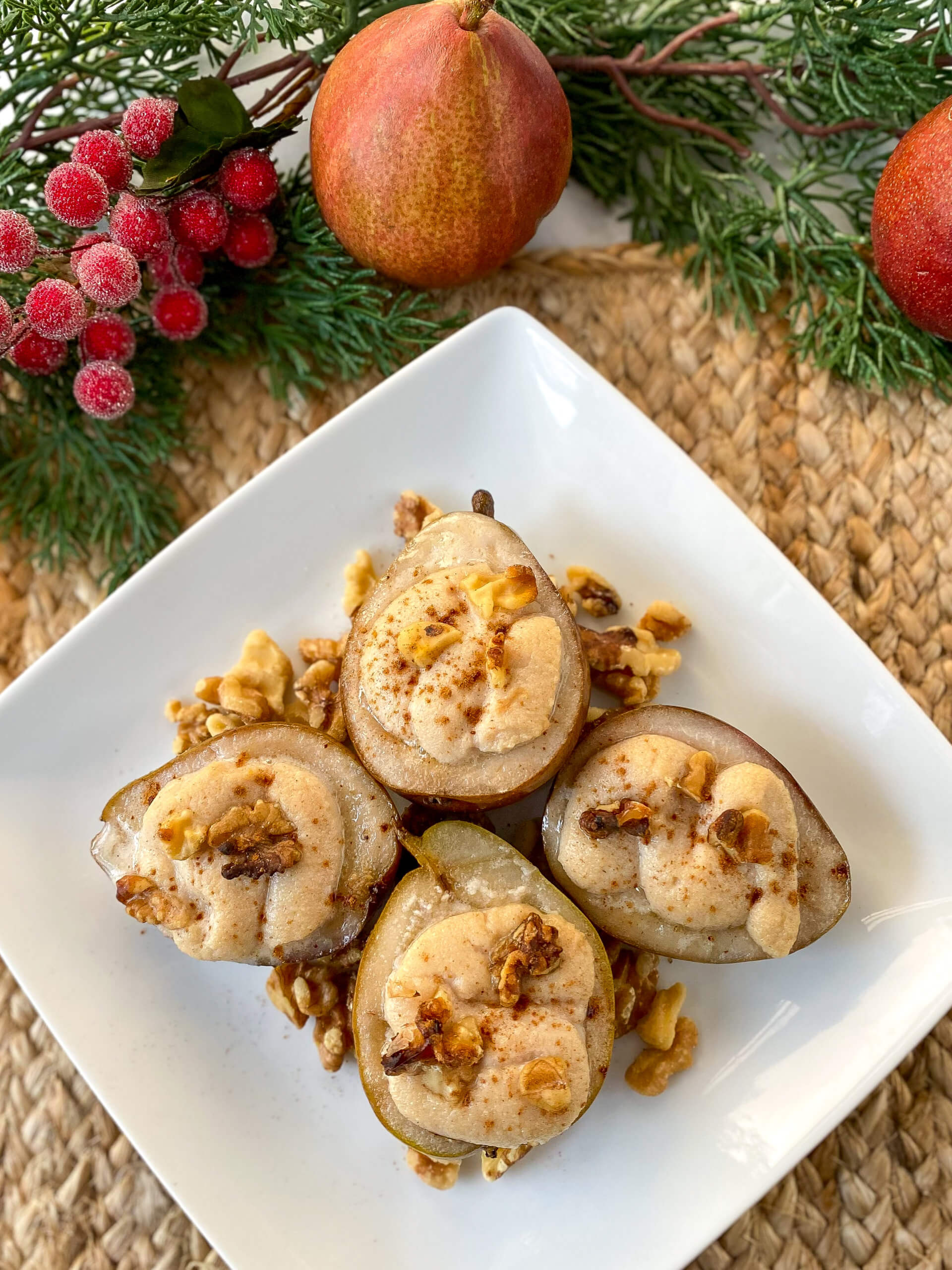 Baked Cinnamon Ricotta Pears
Ingredients
1

green Anjou pear

1

red Anjou pear

2

tbsp

butter

melted

3/4

cup

ricotta

1

tsp

cinnamon

2

tbsp

honey

1/4

cup

walnuts

chopped
Instructions
Preheat the oven to 425 degrees Fahrenheit.

Slice both pears lengthwise and remove the cores with a spoon. Brush pear halves with butter on all sides.

In a small bowl, mix together the ricotta cheese, cinnamon, and honey. Scoop or pipe mixture into pear halves. Top pears with chopped walnuts.

Bake pears in the oven for 15-20 minutes or until tender when they are poked with a fork. Sprinkle with additional cinnamon if desired.
Nutrition information is automatically calculated, so should only be used as an approximation.
Like this? Leave a comment below!
Related Recipe: Savory Bosc Pear Salad with Bacon and Toasted Pecans
Tasty Tablescapes
'Tis the season for green and red—Anjou pears that is! Incorporate festive green and red Anjou pears into your holiday tablescape for a truly tasteful display. Why use disposable decor when you can use something deliciously edible?
Check out this pretty pear holiday tablescape. Simply fill a vase up with colorful pears and top with white flowers. Place greenery or garland down the center of the table and stagger additional red Anjou pears throughout. 
Give the gift of health and happiness this holiday season, share a pear! Check out USA Pears for more "Holiday Ins-pear-ation".