Episode 136: Kim Flores
Have you ever heard of a MandaRosa? This captivating, beautiful, red-flesh mandarin was partially named by The Produce Moms community!
Kim Flores, who was previously on our Thanksgiving special, joined the Pro Citrus Network team a few years ago as they started to expand their Eastern division. PCN is a grower, shipper, importer and exporter of the citrus category specializing in providing retailers across North America with high-quality citrus year-round.
"The fact that the peak MandaRosa season is right around Valentine's Day and we have it the whole month of February really makes it a great item for marketing in the produce department." – Kim Flores (7:37-7:50)
Kim and PCN engaged The Produce Moms during the MandaRosa product launch to help find the right name for this delicious fruit. MandaRosa was the overwhelming favorite! But what is it exactly? MandaRosa is a specialty citrus fruit that is naturally cultivated from a blood orange and a clementine (its official varietal name is a Mandared Variety). PCN, who's niche is with specialty citrus like kumquats, sweet limes or blood oranges, was approached by a grower a few years ago who wanted to see if they could bring it to market.
This beautiful fruit has an exterior similar to a mandarin, but when you cut into it, it's as red as a glass of wine. When PCN brought the MandaRosa to market in January 2020, they created a special, natural-looking type of bag made of brown paper for the product packaging. With the beautiful interior red color, the fruit was quite a hit especially considering its peak season is around Valentine's day.
The fruit is grown in the central valley of California and you'll find the internal color varies and changes as the fruit matures. Some of the fruits that are harvested earlier will not be as pigmented when you cut into them, but as the season goes on, the interior color gets deeper and richer.
Sometimes the fruit has an ombre effect and even looks like a tequila sunrise! Its pigmentation is the perfect way to celebrate Valentine's Day.
An interesting fact about the pigmentation is that it's caused by anthocyanins, which are the same antioxidants that cause blood oranges to have their deep, rich color. Anthocyanins are the most powerful antioxidants in nature! They're found in blackberries, blueberries, and pomegranates. Their health benefits are innumerable, like lowering blood pressure and diabetes. Anthocyanins are so powerful they're considered a "super antioxidant".
Bonus: some documented research shows that anthocyanins are natural fat blockers. Who doesn't want that!?
"These MandaRosas have an incredible flavor, they're absolutely gorgeous, they're easy to peel, they're seedless… what's not to love here!?" – Lori Taylor (15:43-15:50)
MandaRosa's taste is similar to a tangerine. The earlier fruit has a tartness to it, and as the season goes on they get sweeter and sweeter. Unlike the tangerine, the fruit is also seedless, giving you that same, great flavor without the seeds. A great way to eat them, especially for Valentine's Day, is to dip them in chocolate and sprinkle coconut or nuts on top. Another favorite is a "MandaRosa mimosa". Remember, these delicious fruits are hyper-seasonal, so when you see them at your local retailer, grab some before they disappear at the beginning of March!
How to get involved
Join The Produce Moms Group on Facebook and continue the discussion every week!
Reach out to us – we'd love to hear more about where you are in life and business! Find out more here.
If you liked this episode, be sure to subscribe and leave a quick review on iTunes. It would mean the world to hear your feedback and we'd love for you to help us spread the word!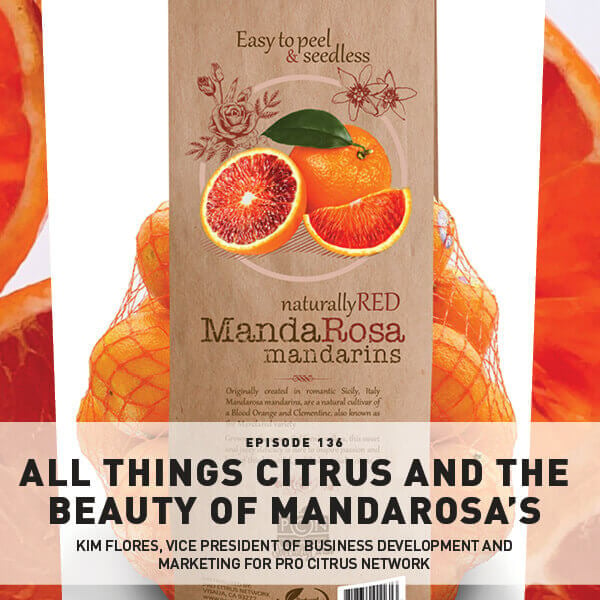 Previous episodes you may enjoy