Episode 134: Moms Are Drowning, But The Produce Industry Can Help With The Moms Of Produce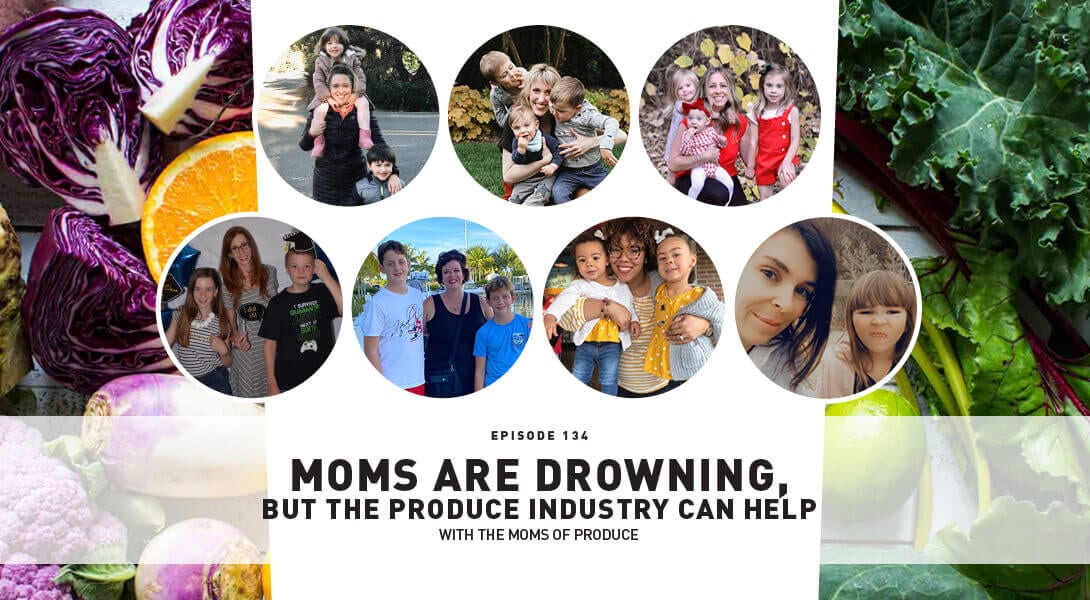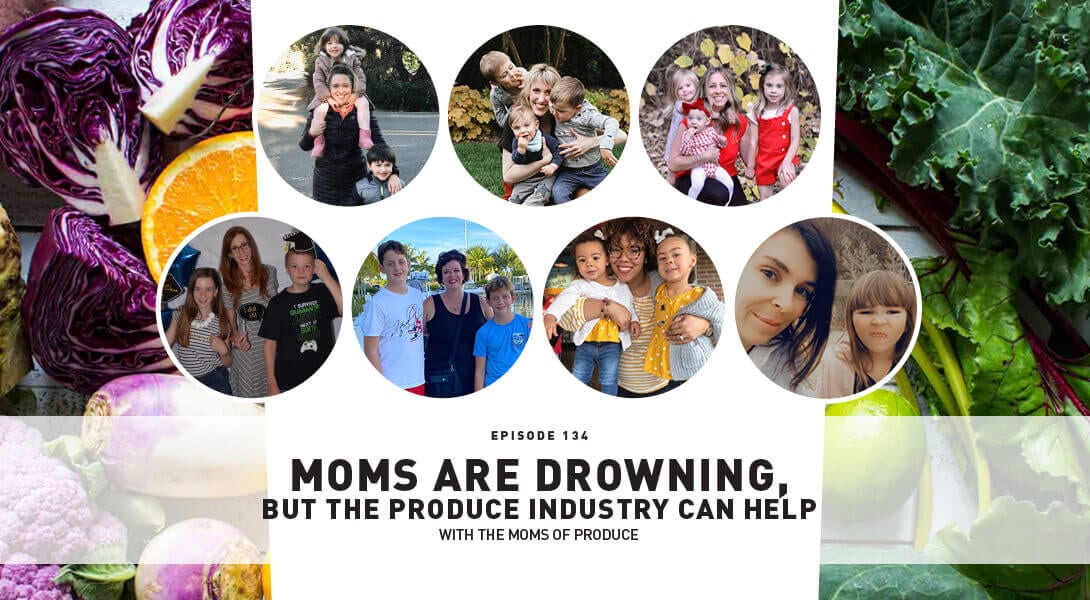 Love the Podcast? Please rate and review!
2020 was an incredible year for us all filled with challenge, pain, community and change that no one could have expected. If anyone had it difficult, it was moms like you, struggling to maintain your work hours or pivoting your career entirely, working tirelessly to keep up with your family and children's needs while yours go to the wayside, and attempting to navigate an entirely unexpected pandemic we've never been prepared for.
The Produce Moms brought together six, powerful, triumphant moms to discuss the changes and challenges they've had to endure during the pandemic and why the produce industry needs to now, more than ever, help us do the most important job there is in the world.
Allie Coombs is the Project Coordinator at Moxxy Marketing and mom to a five year old and a three year old, one of whom is taking kindergarten online. Even though there aren't a lot of moms at Moxxy Marketing, understanding how to better support moms as an employer and as a marketing agency for agricultural companies has been their primary topic of discussion. It's so important for produce companies to not appear tone deaf in their marketing and communication to the moms that are so vital to their business. Moms are shopping more and more online and virtually, so bettering that experience for them, showcasing produce more often as opposed to processed goods, and giving them an experience that's stress-free is what we need most.
Considering we're here in 2021 with a fresh start to a hopefully much better year, Allie hopes we can all just be nice to each other and have a really great year!
LeAnne Ruzzamenti is the Director of Marketing Communications for the Equitable Food Initiative and mom of two kids both in school virtually full time. Growing up on an apple farm in New York, LeAnne's mom was the one that kept everything going no matter what, so she put the same pressure on herself to keep up amidst everything changing. But the one thing LeAnne brings up that we can all relate to is how emotionally draining this year has been.
"I feel like I have become their counselor, their coach, their friend, because they are not having any of those interactions outside of the house." – LeAnne Ruzzamenti (36:27-36:33)
Instead of trying to keep up with the same level of workload or the same hours, LeAnne reminds us that the conversation we have needs to be around what's realistic. Is it really realistic to take a few hours away from work in the middle of the day to help your kids with school, take care of the house, prepare meals, and then log back into your computer at 9pm to do more work? Not really, which is why the produce industry needs to be realistic and support employees with compassion, creativity and empathy.
Amelie Aust is the 2nd generation owner of Fall Creek Nursery, a blueberry company in Oregon with nurseries and farms all over the world. She recently stepped down from her role as CEO at the company to just reside at the board level so she could take care of her one year old, four year old, and six year old (who's taking school online). Attempting to live in the same structural system with work, keep the same hours and deliver the same level of output, especially in an executive role, just wasn't possible while also having three kids at home due to the pandemic.
"Every woman I know is so committed to doing a great job and it just kills us, especially in our mental health, if we feel like we're having performance issues in any part of our life." – Amelie Aust (35:13-35:20)
Having a hard conversation with herself in the mirror, Amelie decided she wasn't willing to be a "less than" partner to her business partners, or in any other areas of her life. Instead of seeing her role as a step down, she's seen it as a platform shift, an increased opportunity for her non-executives to take on more responsibility, and a way for her to channel her energy into mentoring.
She also reminds us all that, for example, helping her first grader learn how to read, is a life long, huge impact she's making, even if it's not the career-driven impact she's used to!
Jenny Maloney is the Strategic Accounts Manager for Bayer CropScience Vegetable Seeds and has an almost one year old, three year old preschooler, and five year old kindergartener. Jenny has had the same fear many moms have had in their career: that if she wasn't able to make a meeting or had to take a break because she's nursing, her team might think of her differently, not invite her to project teams, or overlook her for promotions.
During the pandemic, Jenny quickly learned she wasn't able to maintain the facade of what life looked like before. Our lives now require flexibility, understanding, and scheduling self care time (no eye rolls allowed!) that you're extremely protective over. She reminds us to be in the moment instead of trying to do a million things at once and how you can tie in time for yourself while making an impact supporting small businesses.
Yolanda Owens had an interesting shift in her career when the pandemic hit. Formerly Yolanda had a full-time position as the Director of Marketing and Community Initiatives for DNO Produce, but stepped away to start her own apparel line called Forage + Black and continue her consulting at her strategic communications company, Colloquy. Yolanda has a two year old that her mom watches at home while Yolanda does homeschooling with her five year old.
"I've worked since I was 13 years old, so just the idea of stepping away really frightened me." – Yolanda Owens (19:26-19:29)
Having to step away from work was a scary idea for Yolanda, who's been working since she was thirteen, and as a parent, what frightened her even more was what her child might be experiencing in her first year of school. Creating a sense of normalcy was of utmost importance for Yolanda's kids and she reminds us all that you can put your kids first as a priority and there's nothing wrong with that! Your career can pivot to accommodate that.
Lauren's previous career positions were mainly with Silicon Valley startups, but thanks to the pandemic, she was inspired to shift towards something that would make her life more meaningful. Lauren moved into the role as a Digital Marketing Manager for NatureSweet and has a seven year old daughter attending school at home. Lauren's a single mom who has faced the challenge of finding a last minute virtual school, feeling torn between working and helping her child with homework, and that end of the day, game time decision between cooking or takeout!
"During the pandemic I kind of had an epiphany where I felt that everything I was doing in tech was pointless." – Lauren Ventura (10:25-10:32)
Like many of our produce moms, Lauren can relate to the fear about not doing well in her job and the lack of socialization with our kids. Lauren's biggest plea for the produce industry is for businesses to rise to the occasion and help moms out with the type of content they produce, their marketing messaging, and just positioning themselves as a resource for the consumer who's a mom and needs solutions for the crazy, chaotic lives we live right now.
"If you employ a mom, we need your flexibility and understanding right now." – Lori Taylor (13:15-13:20)
How to get involved
Join The Produce Moms Group on Facebook and continue the discussion every week!
Reach out to us – we'd love to hear more about where you are in life and business! Find out more here.
If you liked this episode, be sure to subscribe and leave a quick review on iTunes. It would mean the world to hear your feedback and we'd love for you to help us spread the word!
Previous episodes you may enjoy