Episode 132: Farzan Dehmoubed
Dec 23, 2020, Updated Jun 11, 2021
Love the Podcast? Please rate and review!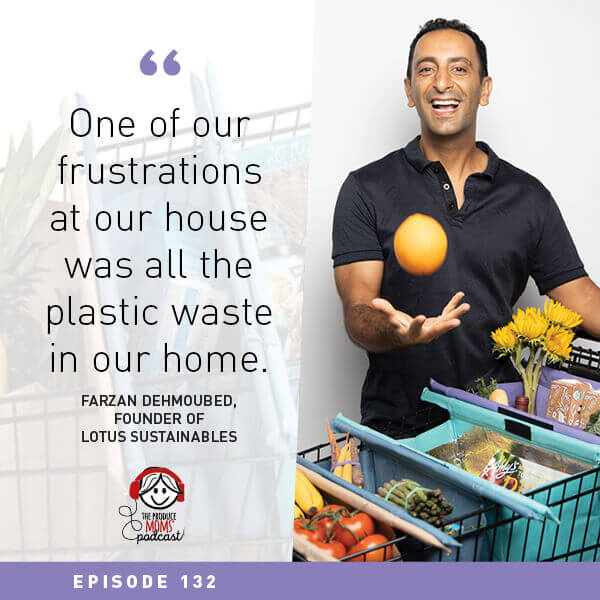 When Farzan Dehmoubed and his wife started selling Lotus Sustainables four years ago, they thought their initial product would sell out in four months. They sold out in eight days.
With results like that right off that bat, surely the product must be great! Lotus Sustainable was created with the mission in mind to eliminate plastic from shopping. Did you know that less than 3% of plastics being made are recycled and reused? Lotus Trolley bags were created to shift how we shop as consumers and eliminate the need for single use bags, or how easily forgettable reusable bags are.
"This is the number one reusable grocery bag shopping solution." – Lori Taylor (10:29-10:32)
These bags come in a pack of four that can spread out across your shopping cart. They open and close like an accordion, are extremely sturdy, have bars that sit atop the grocery cart which stabilizes them and keeps them open and upright. When they're empty, they can be rolled up like a yoga mat, making storing in your car or at home easy. There are different bags with specialized pockets for things like eggs and wine (so they won't break), each bag is insulated, and it helps you keep your shopping organized. One bag in your cart can be for produce, while one is for meat.
More than just bags, this is a system that helps solve so many problems with grocery shopping. Lotus also makes reusable bags to replace the one-us, produce plastic bags, which many customers like to also use for crafts, doing laundry, as travel bags and when buying bulk products (think rice, beans, nuts, grains).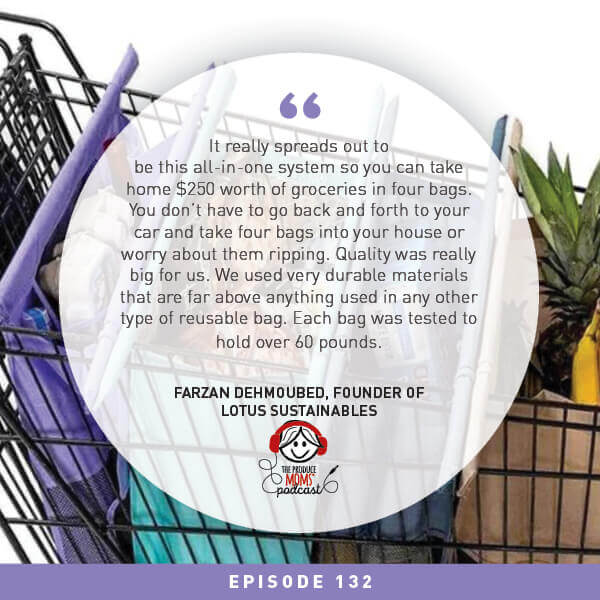 The average family uses over 1500 plastic bags a year and knowing that only under 3% of plastics are actually recycled and reused, it's staggering to think how much plastic we're using unnecessarily. When you don't think about it, you don't look at the impact, but the impact on our environment is now catching up to us. Many customers have started looking at things differently as a thanks to Lotus Sustainables, such as replacing plastic jars with glass ones, drinking water from reusable bottles, and finding new ways to do things that are sustainable, good for the environment, and healthy for your home.
For Farzan, sustainability means finding ways to reduce how and what we consume, reusing or borrowing and finding new ways of doing things, and recycling, but not just buying plastics and throwing them in the recycling bin.
"When you talk about sustainability, you have to really understand that we have limited resources in this world. How we approach our day to day and our consumption habits is so important." – Farzan Dehmoubed (11:12-11:27)
Lotus is on it's way to providing a new solution for shopping at club retailers like Costco and Sam's Club! In early 2021 you'll now find the Lotus Trolley bags in sizes that fit club retail shopping carts, so you aren't stuck taking home tons of boxes and cartons that don't even fit in your recycling bin at home! They're also working on strategic partnerships with companies like Shipt and Instacart to help grocery delivery services eliminate the use of single-use bags.
Lotus Sustainables is helping consumers like you make a bigger impact on our world, making it easier and more organized for you to shop, and eliminating time at the check out, so you can spend more time at home.
How to get involved
Join The Produce Moms Group on Facebook and continue the discussion every week!
Reach out to us – we'd love to hear more about where you are in life and business! Find out more here.
If you liked this episode, be sure to subscribe and leave a quick review on iTunes. It would mean the world to hear your feedback and we'd love for you to help us spread the word!
Previous episodes you may enjoy