Crock Pot Corn On The Cob + Elotes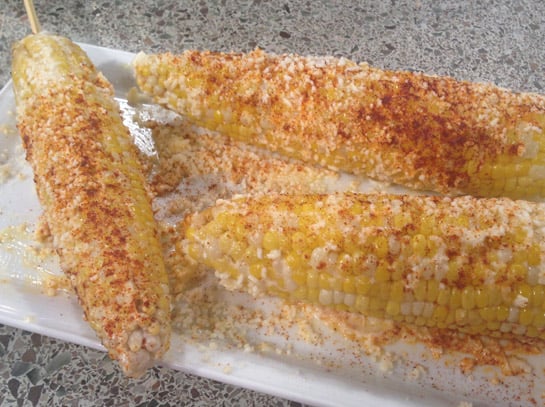 Corn on the Cob is such an iconic summertime food.  From state fairs to backyard BBQs, chances are you're eating Corn on the Cob at some point during this time of year!  It's obviously delicious "as is"  but you can jazz up your corn on the cob by preparing it the Mexican way.  Plus, with my crock pot preparation method, your Latin twist on classic Corn on the Cob has never been easier!
First, you gotta know how to prepare your corn.  This means you need to know how to shuck it & how to cook it.  Most of you have probably shucked corn over a garbage can, and you likely agree with me that it can be pretty messy.  Check out this 100% easy & 0% mess shucking method:
Next, you gotta cook those corn cobs.  Again, most of us have probably boiled the corn in a pot of water on the stove or maybe you have grilled them – either way, if you are cooking for a crowd, corn on the cob demands a ton of real estate on the grill & a huge pot on the stove…. I have a crock pot fetish.  I think I own around 15 of these bad boys.  And I'm convinced you can cook just about anything in a crock pot.
Crock Pot Corn on the Cob
Ingredients
4

ears

corn

butter

or olive oil

salt and pepper
Instructions
Dress a shucked ear of corn with approximately 1 tsp butter or olive oil, season with salt & pepper and wrap tightly in a sheet of aluminum foil.

Repeat as needed and place foil-wrapped corn cobs in crock pot.

Cover & cook on high for 4 hours.
Now you have perfectly cooked corn on the cob, minimal mess in your kitchen & you're ready to serve.  You can set up a "topping buffet" for your guests to prepare their own Elotes or you can easily prepare them for the masses.  Here's your step-by-step. Since you already cooked your corn in the Crock Pot, you can skip step number one!
Ingredients
4

ears

corn

butter

1

tbsp

mayonnaise

cotija cheese

or parmesan

1

tbsp

chili powder
Instructions
Remove silks and replace husks on corn cobs. Tie corn cobs with a string and soak in water for 30 minutes.

Remove corn on the cob from water and grill until husks are browned.

Remove from grill and pull back husks. Grill again until corn is lightly charred and then remove from grill.

Brush corn on the cob with melted butter and mayo. Sprinkle with cojita cheese and chili powder.
This is a yummy twist on classic corn on the cob.  Elotes are one of the most popular street vendor foods in Mexico.  Squeeze bottles of mayo & butter make it especially easy & less of a mess to prepare.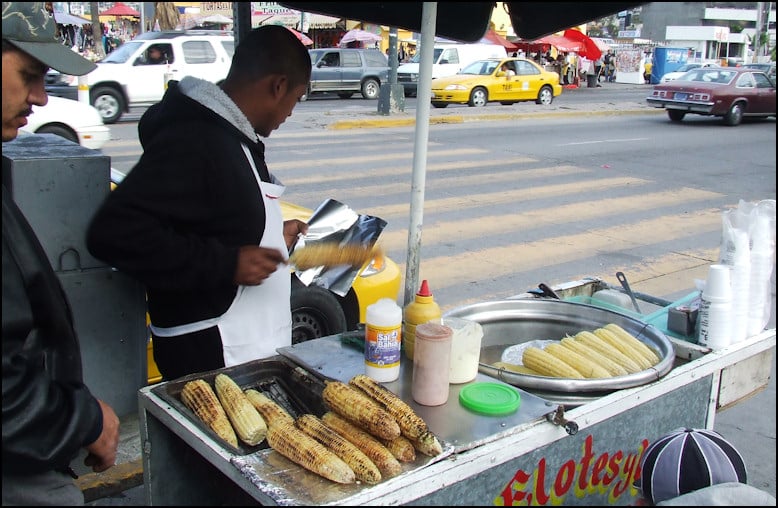 Have fun, eat elotes & enjoy your summer!