Eat Like an Asian Elephant: Vegetarian Bolognese
Jul 23, 2020, Updated Apr 07, 2022
We're on a journey to eat like an animal – and it's taken us all around the world! Our Produce Moms adventure has taken us to the homes of wild brown bears, red pandas, reticulated giraffes, orangutans, and ring-tailed lemurs. We've globalized our taste buds with salad rolls, a vegan African stew, lasopy, and more. Now we're heading back to Asia to meet the largest animal living on that continent: the Asian elephant! Let's learn more about these intelligent giants and take a peek into their cookbook on our sixth Eat Like an Animal educational meal.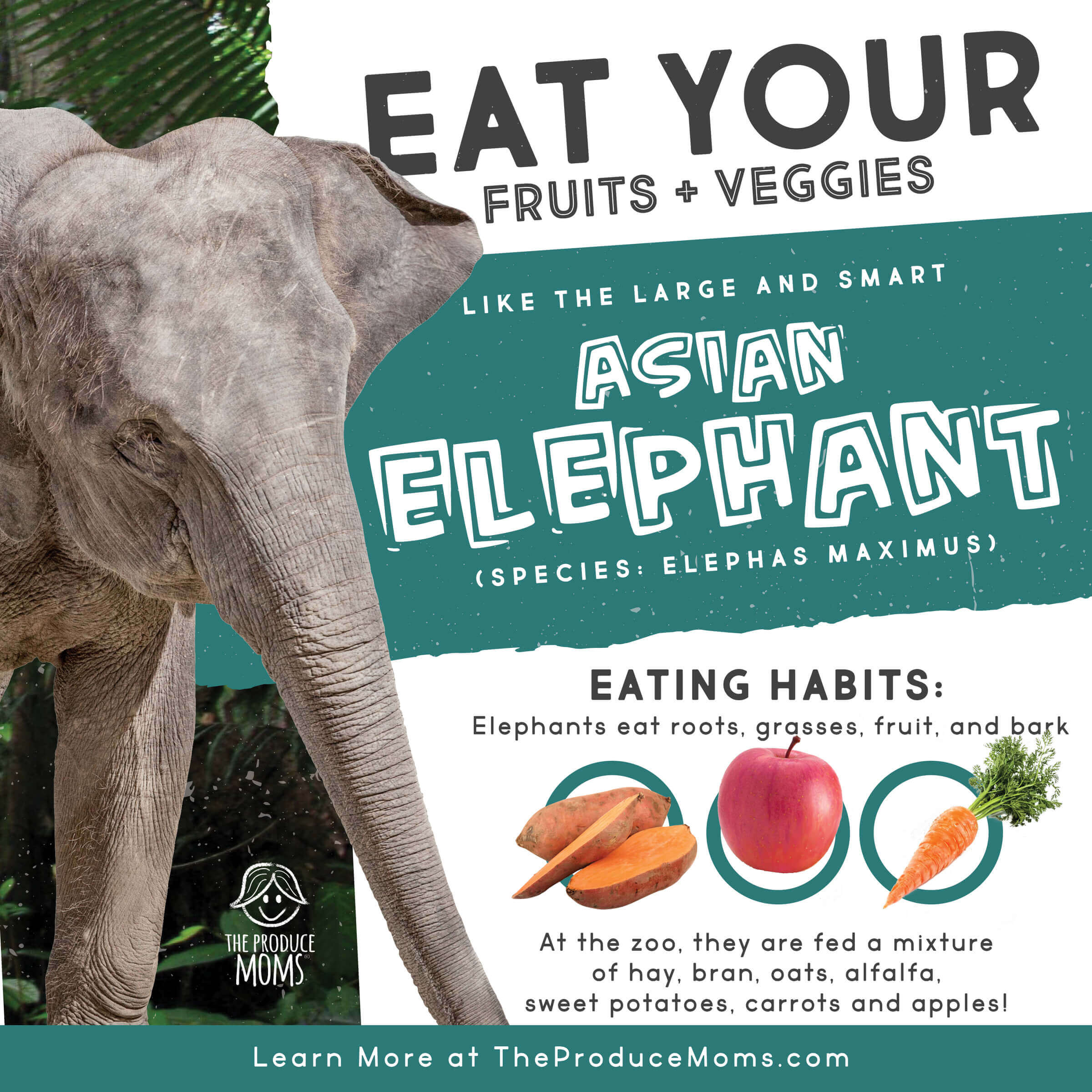 Eat Like an Asian Elephant
Asian elephants are slightly smaller than their African cousins, but at nine feet tall they tower over their jungle friends! Asian elephants weigh an average of four tons, or 8,000 pounds. In small family herds, Asian elephants graze and browse their way through forests and grasslands throughout 13 countries in South and Southeast Asia, from India to Borneo.
Asian elephants are crepuscular, meaning they sleep during the hot days and are most active at dawn and dusk when it's cooler. Elephants spend between 16 and 18 hours eating and looking for food. If you were as big as they are, you would have to eat like an elephant, too! Their favorite foods are grasses, fruits, twigs, roots, and tree bark.
Can you wiggle your nose? Even if you can, you have nothing on what an elephant can do with its nose! An Asian elephant's trunk can be up to six feet long and contain as many as 60,000 muscles. These muscles give it the strength to lift up to 660 pounds! But its trunk isn't just for lifting weights. An elephant can use its trunk for all kinds of things: drinking water like a straw, breathing like a snorkel, picking up and eating food like your fingers, making loud calls like a trumpet, spraying its body like a shower, and even making gestures like your hands.
It may not look like it, but you have something in common with the Asian elephant: you're both mammals! And like some other mammals, including humans, apes, and dolphins, elephants have a large and highly developed neocortex, making them very intelligent creatures. Asian elephants show emotions like happiness, grief, and compassion. They learn new things, use and make tools, remember lessons, and show signs of language.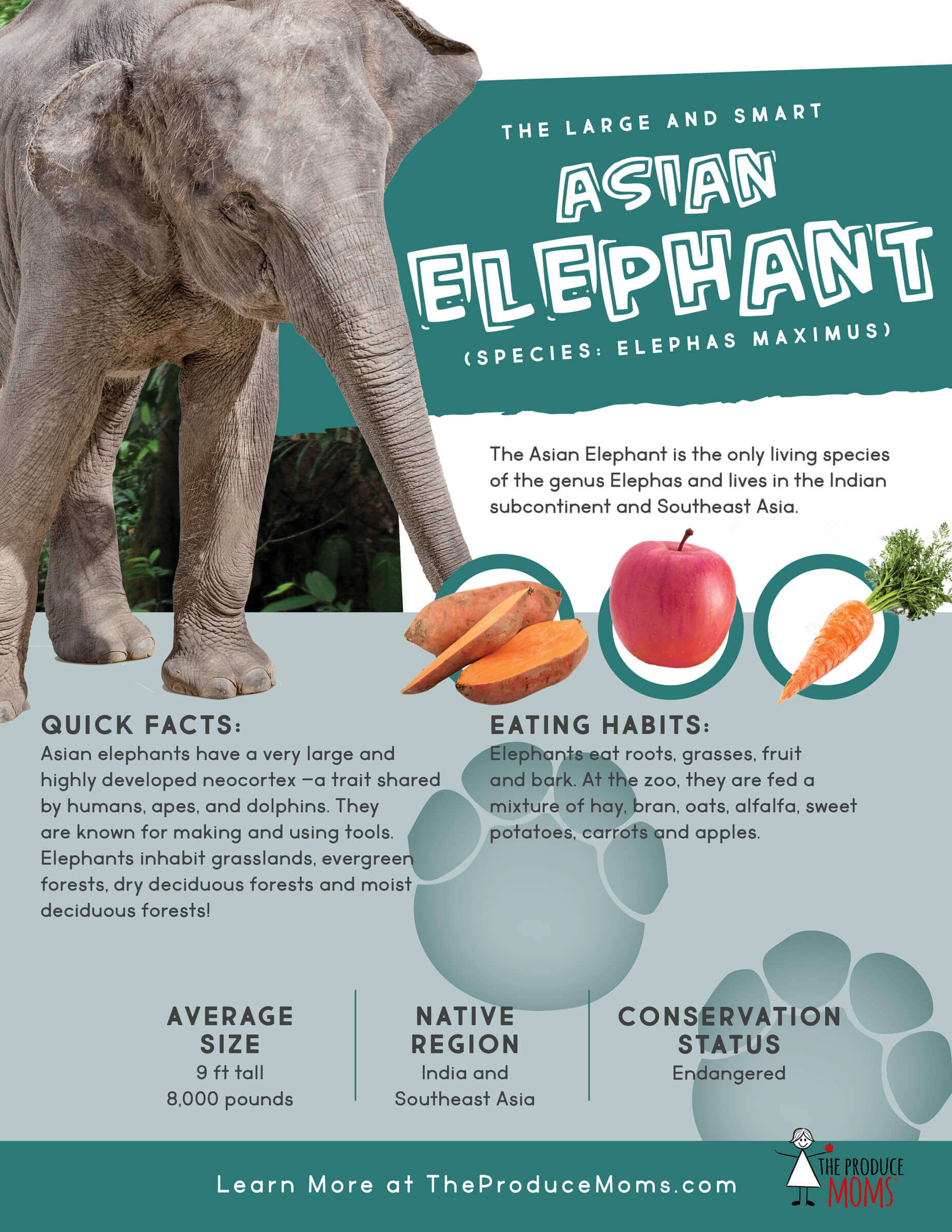 How To Make Vegetarian Bolognese
When you use a spoon, a fork, and a knife, you eat like an elephant! Elephants use their trunks and tusks for eating different foods. Most foods can be picked up with their trunks, but their tusks are perfect for scraping delicious bark off of trees. This bark contains calcium and roughage which aids in digesting all of that grass!
They also use their tusks to dig for salt and other minerals. In fact, they can mine deep into the ground looking for them! In the search for these mineral treats, Asian elephants have carved entire hills in India and Sumatra. There are few lengths they won't go to for a little bit of seasoning! The carved areas of land give food and shelter to all kinds of other animals, making Asian elephants one of the caretakers of their forests.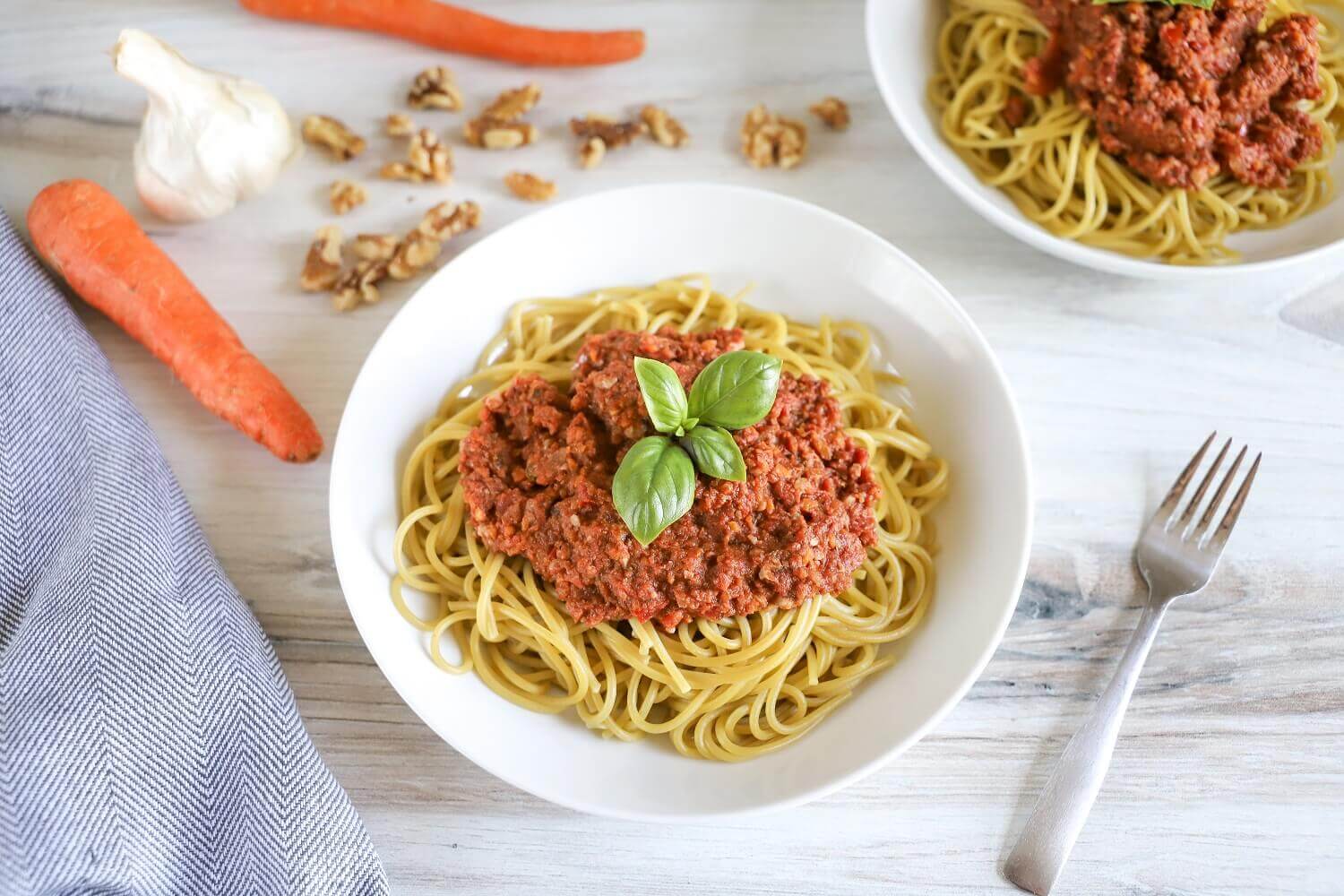 In the zoo, Asian elephants are fed about 135 pounds of food, including hay, nutrient-dense alfalfa pellets, bran, oats, fruit, and vegetables. Some of their favorites include carrots, apples, and sweet potatoes. So to eat like an Asian elephant, we've whipped up a delicious meal of… alfalfa pellets!
Just kidding! We were inspired by the Asian elephant's wide-ranging diet to make a vegetarian bolognese. We think they would approve! Most people don't like to eat hay, so we took the liberty of swapping it for veggie spaghetti noodles.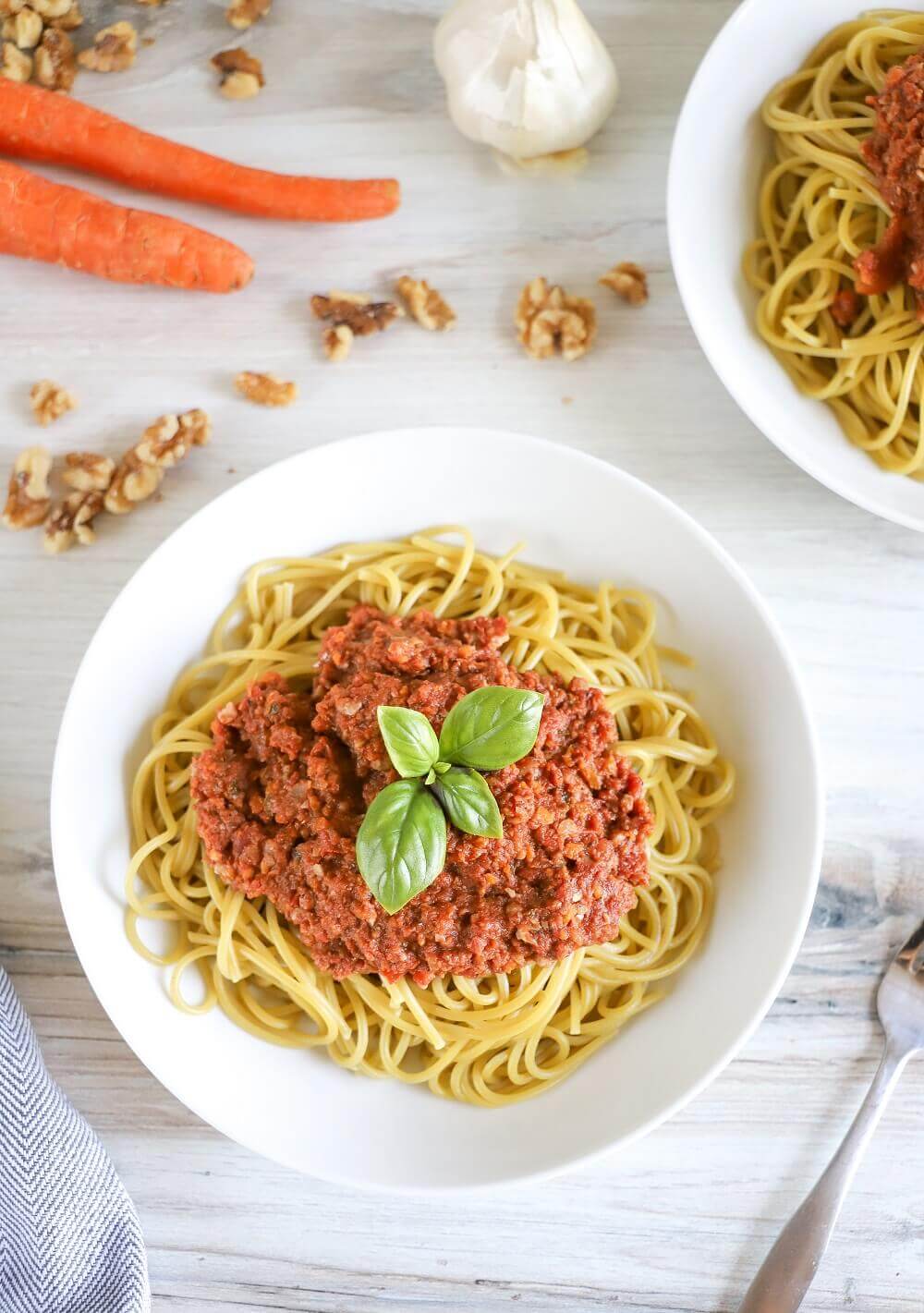 Walnuts, fire-roasted tomatoes, and delicious seasonings give this dish an elephant-sized flavor. It may be vegetarian, but you'll still eat like an elephant with this hearty and flavorful bolognese!
Ingredients
2

Carrots

peeled

1

white onion

quartered

4

cloves

garlic

peeled

1/4

cup

sun-dried tomatoes

1

tbsp

olive oil

1

cup

walnuts

15

oz

fire roasted diced tomatoes

(1 can)

1

tsp

salt

1

tbsp

Italian seasoning

1

tbsp

Worcestershire sauce

28

oz

crushed tomatoes

(1 can)

1

pack

Vegetable Spaghetti Noodles

Basil, garnish

(optional)
Instructions
Pulse carrots, onion, garlic, and sun-dried tomatoes in food processor until fully shredded.

Add olive oil to large, deep skillet or pan and heat to medium heat. Add shredded veggie mixture and cook 2-3 minutes until fragrant and most of the liquid has cooked off.

Grind walnuts in the food processor until they are a consistent, coarse meal.

Add walnuts to the skillet along with veggie mixture. Cook 1-2 minutes until fragrant.

Puree fire roasted tomatoes in food processor and add to the skillet along with all other remaining ingredients. Bring to a simmer and cook 15-12 minutes or until desired consistency is reached.

While the Bolognese is cooking, prepare noodles according to package instructions.

Serve Bolognese over a bed of veggie spaghetti noodles and garnish with basil (optional).
Nutrition information is automatically calculated, so should only be used as an approximation.
Like this? Leave a comment below!
What did you think of your adventurous meal? Do you feel like you could get along with the smart, huge Asian elephant? Take a picture of you or your kids eating like an elephant and tag us on Instagram @theproducemoms.