Eat Like a Sloth: Stuffed Tropical Avocados
Aug 13, 2020, Updated Apr 07, 2022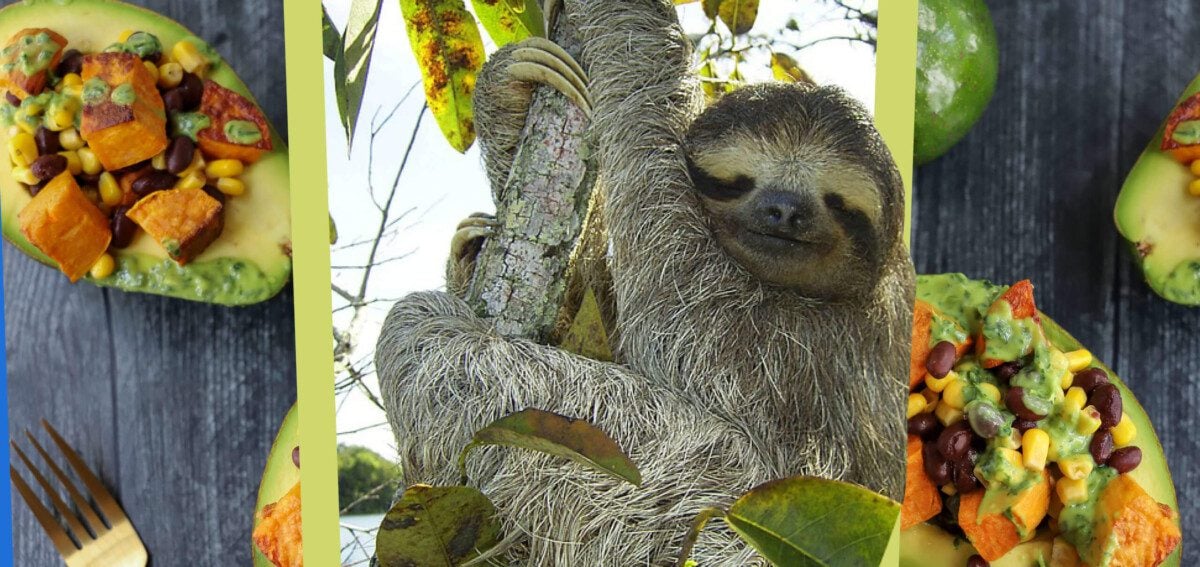 Our quest to eat like an animal has had us rushing around the globe. From the mountain home of the brown bear to the reticulated giraffe's savannah, the jungle domain of the orangutan to the island where ring-tailed lemurs rule, we've eaten vegetarian bolognese, lasopy, salad rolls, and more. We've become fast friends with fauna as small as the red panda and as big as the Asian elephant. But now we have to slow waaaaay down — if we want to eat like a sloth, that is! Let's visit their sunlit rainforest canopies and see what's on the menu in our seventh Eat Like an Animal educational meal.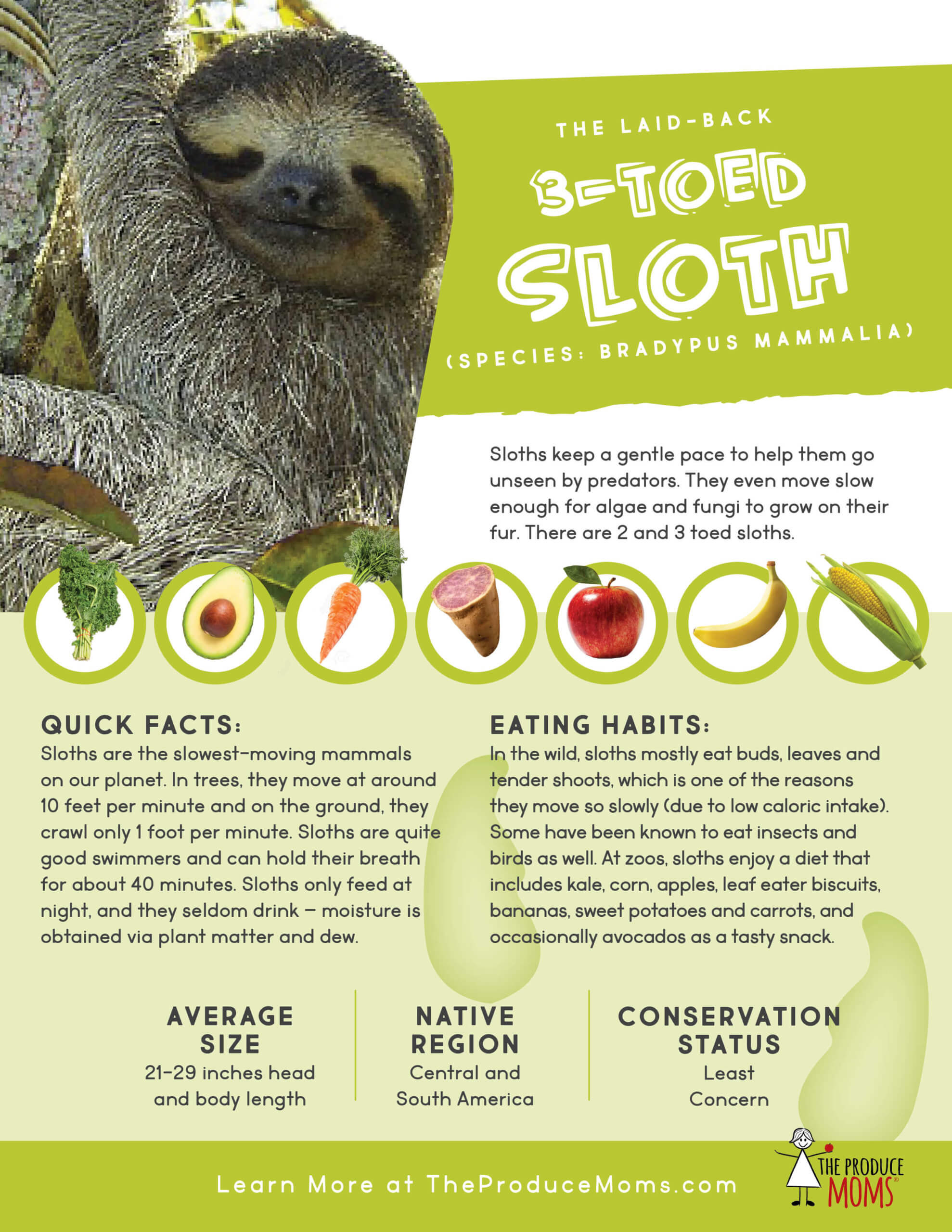 Eat Like a Sloth
Isn't it nice to take it easy? On a hot summer day, you might feel like relaxing and moving a little more slowly than usual. That's how a sloth feels every day! In fact, sloths only travel an average of 123 feet per day. How many feet do you travel? Probably a lot further than that! But instead of walking, sloths move through the treetops by hanging upside down and climbing along branches. Their long, sharp claws are perfect for grasping branches. 
Sloths live in the hot and humid rainforest canopies of Central and South America. Of the six species of sloth, there are two basic kinds: two-toed and three-toed. But while it may sound easy to tell them apart, you wouldn't see any difference if you actually look at their toes. They both have three on each foot! Two-toed sloths actually have two fingers, while three-toed sloths have three. 
Today's tree-dwelling sloths are descended from larger sloths that lived on the ground. One of their ancestors, the megatherium or giant ground sloth, could reach the size of an elephant!
Sloths typically sleep about fifteen hours per day. For the other nine, they're on the hunt for tasty leaves. A sloth's multi-compartment stomach is strong enough to break down the toughest plants, but it works very slowly. It can take 30 days to break down a single leaf.
The sloth's favorite meal is a midnight snack, because they only eat at night! They also seldom drink water, as they get all the hydration they need from water inside the plants they eat and the dew they find on leaves. 
The sloth's long claws make crawling on the ground difficult, but they're ideal for climbing across branches and grabbing the sloth's favorite foods: buds, leaves and tender shoots. At the zoo, sloths are given biscuits that are high in fiber but low in starch. They also love to browse from fresh fruits and veggies, including apples, kale, corn, bananas, sweet potatoes, and carrots. On occasion, they get avocados for a special tasty snack.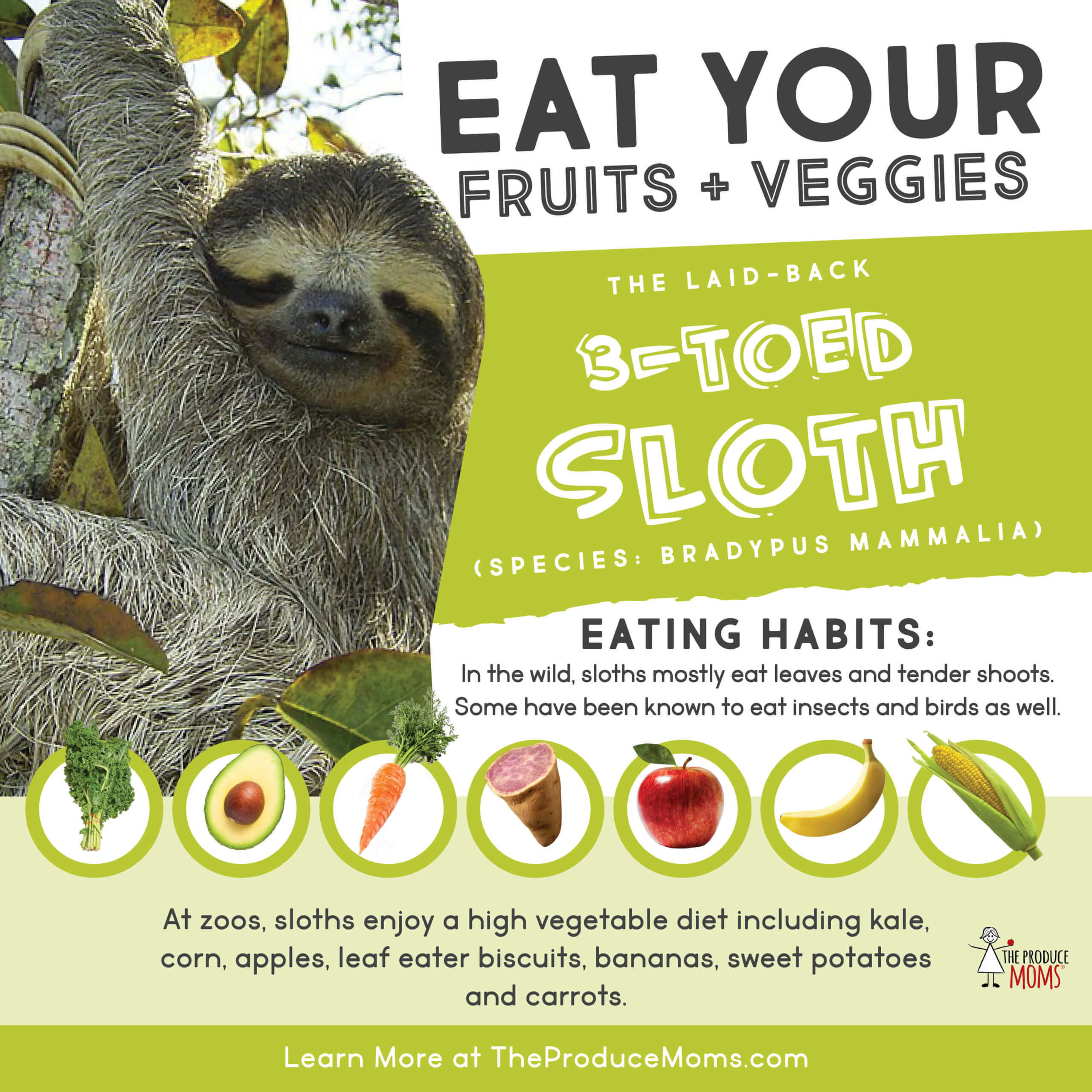 How To Make Stuffed Tropical Avocados
We're going to eat like a sloth using an ingredient they might be familiar with: the tropical avocado. Avocados are full of flavor and nutrition, both of which are things the sloth appreciates! 
Stuffed inside the tropical avocado are some of the sloth's other favorite treats: corn and sweet potato. We've also included black beans and topped the whole thing off with an avocado cilantro drizzle. 
Because tropical avocados are naturally double or triple the size of typical avocados, there is plenty of room for filling. You might be surprised how sizable this meal is, so split this sloth-approved feast with a friend. 
Stuffed Tropical Avocados
Ingredients
Stuffed Tropical Avocado
1 Desbry Tropical Avocado
1 sweet potato peeled and diced
1 can black beans drained and rinsed
1 can corn drained
1 tbsp cilantro minced
1 tbsp olive oil
1 lime juiced
Avocado-Cilantro Drizzle
1 avocado
1 bunch cilantro
1 clove garlic minced
1/2 cup olive oil
1 tsp kosher salt
2 tbsp lime juice
Instructions
Preheat oven to 400 degrees. Toss sweet potato with olive oil and roast for 20 minutes or until browning occurs on the edges.

Toss black beans with corn, cilantro, and lime juice in a mixing bowl. Set aside.

While the sweet potatoes are roasting, make the Avocado-Cilantro Drizzle. Combine all ingredients in a food processor and pulse until smooth.

Assemble your stuffed tropical avocado by slicing an avocado in half and removing the pit. Add in corn and bean mixture, sweet potatoes, and top with avocado drizzle.
Nutrition information is automatically calculated, so should only be used as an approximation.
Like this? Leave a comment below!
Look for Desbry tropical avocados at your grocery store and whip up this sloth-inspired snack. Take a photo of your kids eating like sloths and tag us on Instagram @theproducemoms and @desbryproduce.