Eat Like a Ring-Tailed Lemur: Malagasy Lasopy Soup
Jul 02, 2020, Updated Apr 07, 2022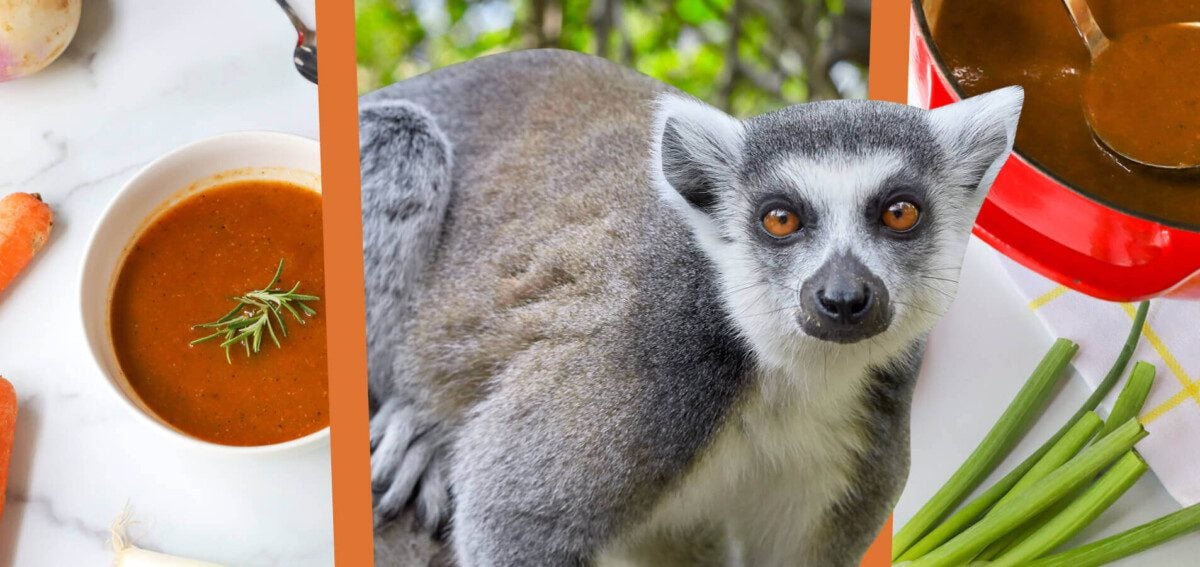 Are you ready to eat like an animal? In our Produce Moms adventure, we've dined with the brown bear, the red panda, the reticulated giraffe, and the orangutan. We've cooked up a vegan African stew, grazed on salad rolls with a fruit salad buffet, and experimented with other fun foods. But there's more to come! The next stop in our international digital dining excursion is Madagascar, where we'll meet the ring-tailed lemur. Let's find out what this party animal loves to eat in our fifth "Eat Like an Animal" educational meal!
Eat Like a Ring-tailed Lemur
Lemurs are forest dwellers who are similar to monkeys. They love to swing and climb through the jungle of their home on the island of Madagascar. In fact, all species of true lemurs live there. But today we're going to meet one in particular: the ring-tailed lemur!
Called the maky or hira in the native Malagasy language, the ring-tailed lemur looks like a cross between a monkey and a raccoon. But it has a personality all it's own! You can probably guess where the name comes from: their long tails are covered in 26 furry black and white rings. The tail always begins with a white ring and ends with a black one. These long tails help them jump from tree to tree and identify friends.
Ring-tailed lemurs spend more time on the ground than other lemurs — partly because that's where it's easier to hang out with their friends! They live in highly-social groups called troops or conspiracies that are led by a dominant female and can have as many as 25 members. In the cool mornings, you can often find ring-tailed lemur troops sunbathing together, all sitting in the "sun-worshipping" yoga pose.
Ring-tailed lemurs are considered the most intelligent species of lemur. They have even been known to use rocks as tools to help them get food. And speaking of food, you can't be a picky eater if you want to eat like a ring-tailed lemur. As an opportunistic omnivore, the ring-tailed lemur will eat whatever it can get that suits its needs: flowers, herbs, bark, decaying wood, caterpillars, chameleons, and even spiders! Ew! But its favorite place to get food is at the tamarind tree, where it eats both the leaves and the pod-like, potato-shaped fruit.
In the zoo, ring-tailed lemurs are fed a diet designed to keep them happy and healthy. That includes lots of leafy greens, vegetables, and biscuit treats. If you visit it at the zoo, you might find it eating broccoli, onions, peppers, potatoes, carrots, and lettuce. In fact, you would have to eat five salads a day to match the amount of romaine lettuce the ring-tailed lemur eats every day!
How to make lasopy
If we're going to eat like a ring-tailed lemur, we're going to need plenty of veggies! Let's make a Madagascar favorite: lasopy soup! Lasopy is a puréed vegetable soup that originated in Madagascar.
This traditional Malagasy specialty is easy to make, easy to eat, and nutritious. The way to eat like a lemur is to get the energy you need to play with your friends. This dish will give you just that!
If you can find it, lasopy is best served with a spicy condiment called sakay and a piece of crispy bread for dipping. A Malagasy cook will often use meat bones to add flavor and will utilize whatever fresh vegetables they have on hand. Whether they know it or not, they're being opportunistic and eating like a ring-tailed lemur!
In place of meat bones, we're using bone broth in our recipe. And the vegetables that we're choosing are loved by lemurs and humans alike!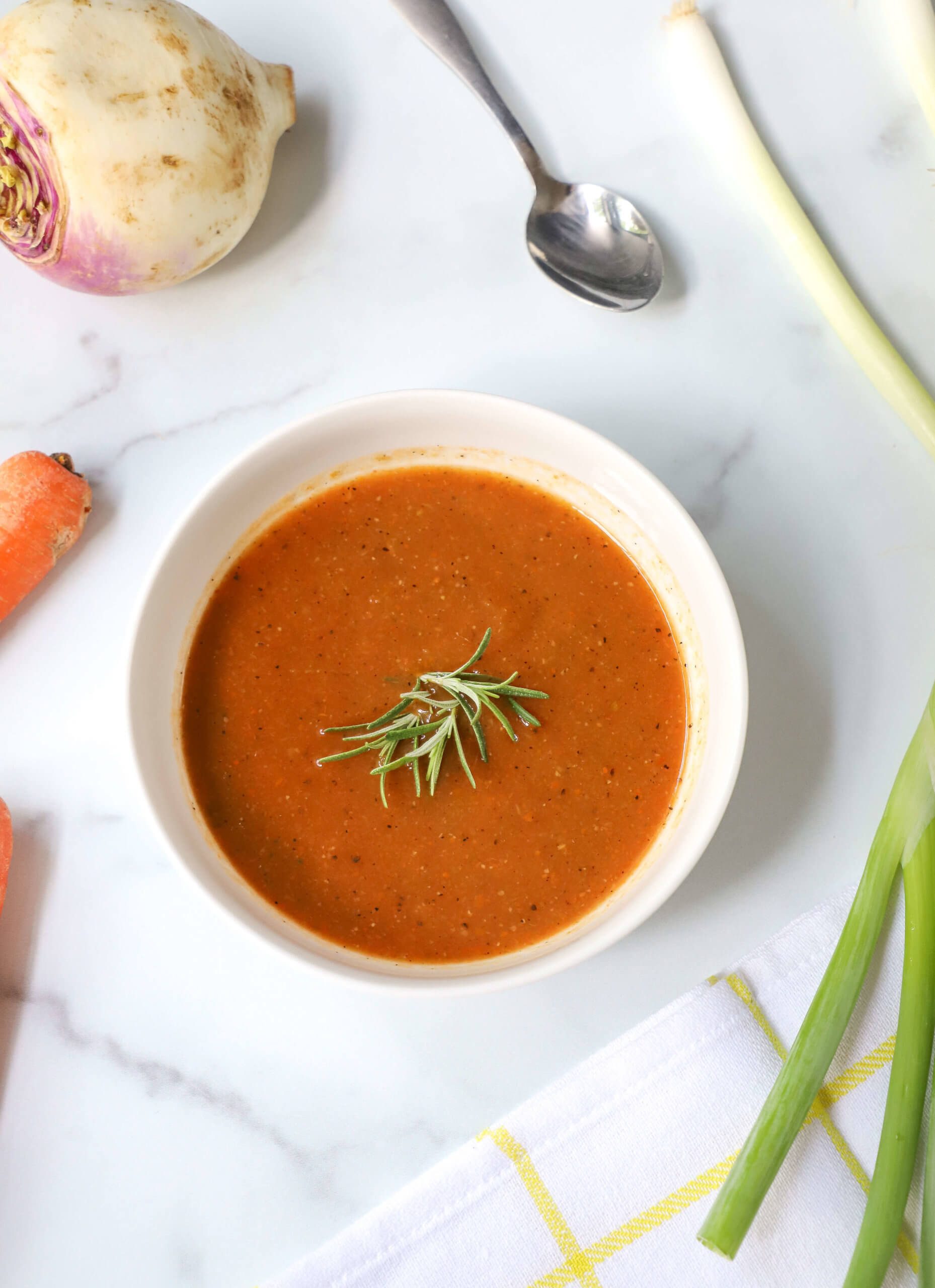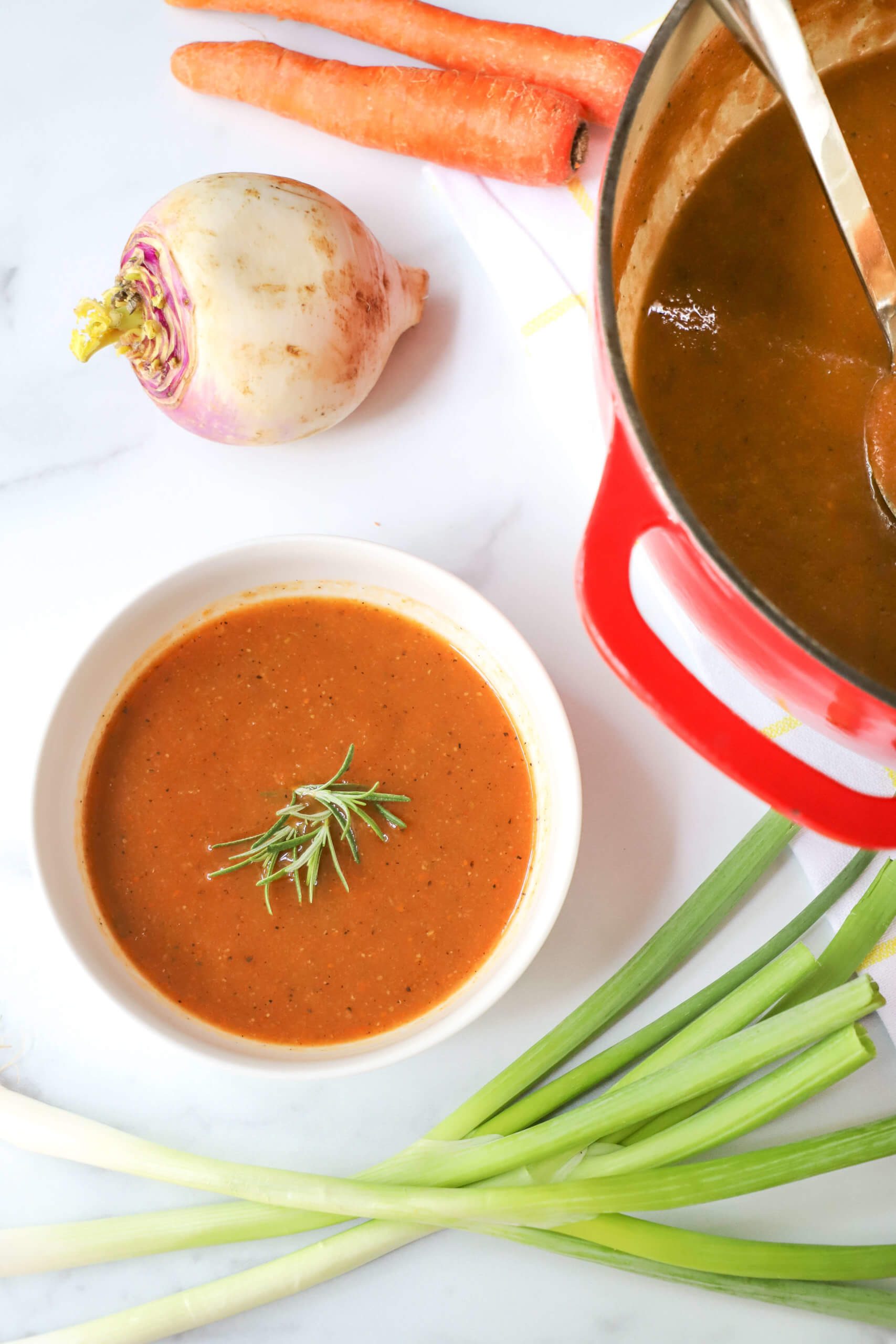 Of course, it only makes sense to serve your lasopy with another lemur favorite: a green salad!
Eat Like a Ring-Tailed Lemur
Ingredients
4

cups

bone broth

1

can

diced tomatoes

1

turnip

peeled and diced

3

Green Onions

chopped

3

Carrots

peeled and sliced

1 1/2

cups

green beans

salt and pepper

to taste
Instructions
Combine all ingredients in a saucepan and bring to a boil. Simmer until veggies are tender.

Blend using an immersion blender or transfer mixture to a regular blender and blend until smooth. Serve warm.
Nutrition information is automatically calculated, so should only be used as an approximation.
Like this? Leave a comment below!
What did you think of your adventurous meal? Are you ready to take off for Madagascar to join a troop of fun-loving ring-tailed lemurs? Take a photo of you or your kids as you eat like a ring-tailed lemur and tag us on Instagram @theproducemoms.