Eat Like A Giraffe: Vegan African Stew
May 21, 2020, Updated Apr 07, 2022
Our "Eat Like An Animal" series is a deliciously educational way to plan your meals so your kids are always looking forward to dinner. So far, we've chowed down like a mighty brown bear and a nibbled like a red panda. Next up in the series is the reticulated giraffe. Known for their intellect, superior vision, and vegetarian diet, the giraffe is an ideal role model for young children to mimic while they eat.
Eat like a giraffe
Giraffes roam the African savannah in search of yummy tree snacks. The giraffe's long neck is actually too short to reach the ground! So instead of grazing on grasses, the giraffe looks to the trees for meals. They especially love the leaves of the acacia tree, but will also munch on seedpods, fruits, and buds.
At the zoo, giraffes are fed a varied diet of leaves, fruits, and veggies. Don't be surprised to see them munching on apples, pears, melons, carrots, lettuce, kale, endive, or sweet potatoes.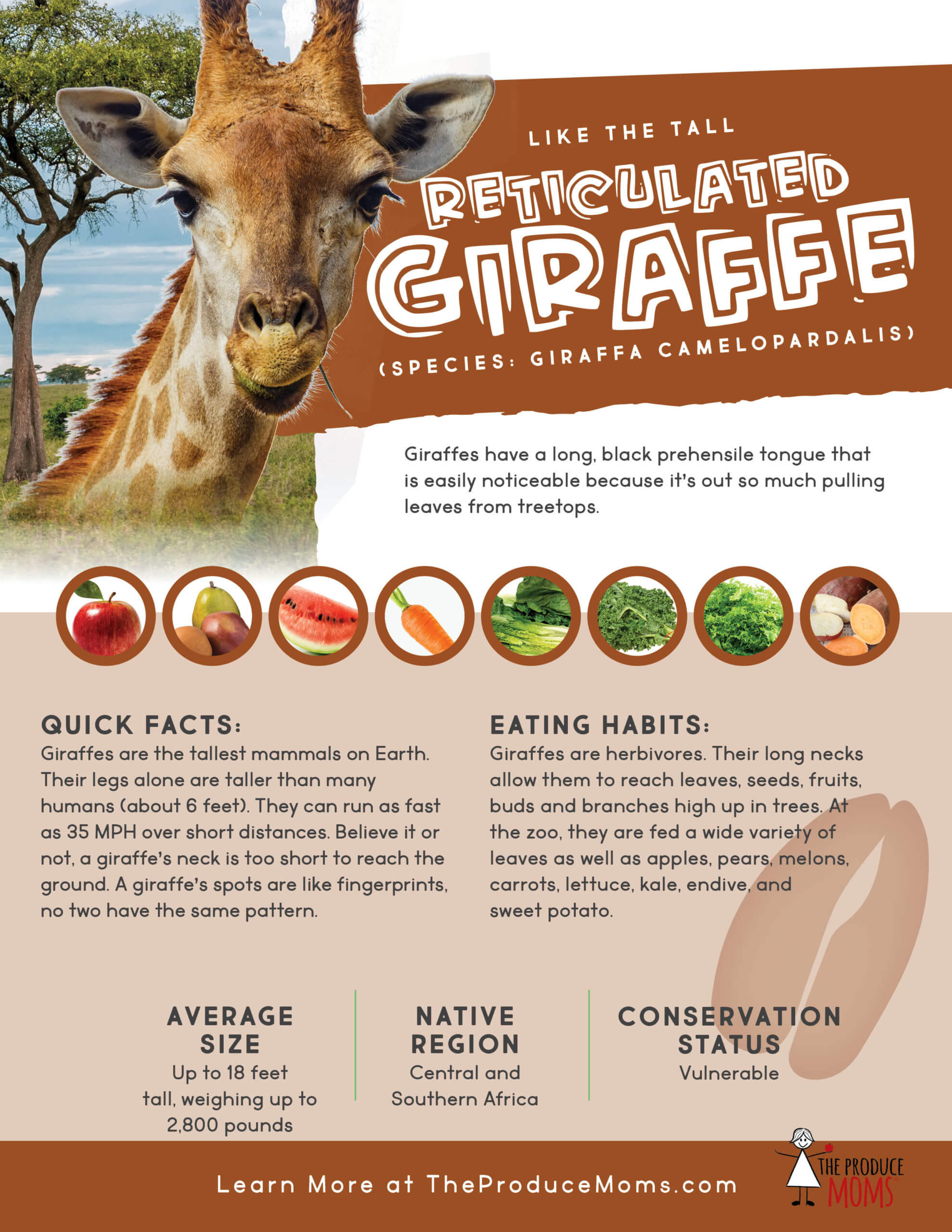 How to make a giraffe dinner
To eat like a giraffe, try this vegan African stew. It includes some of a giraffe's favorite veggies, sweet potatoes, carrots, and kale. Serve the stew with a side of apple or melon slices.
Did you know that a giraffe can go days, even weeks, without a drink? They use the hydrating power of plants to keep their thirst at bay. Of course, humans need plenty of water to stay hydrated, so try enjoying your stew with a refreshing glass of fruit-infused water. Pick a giraffe fruit favorite, like melon or pears to infuse your H2O.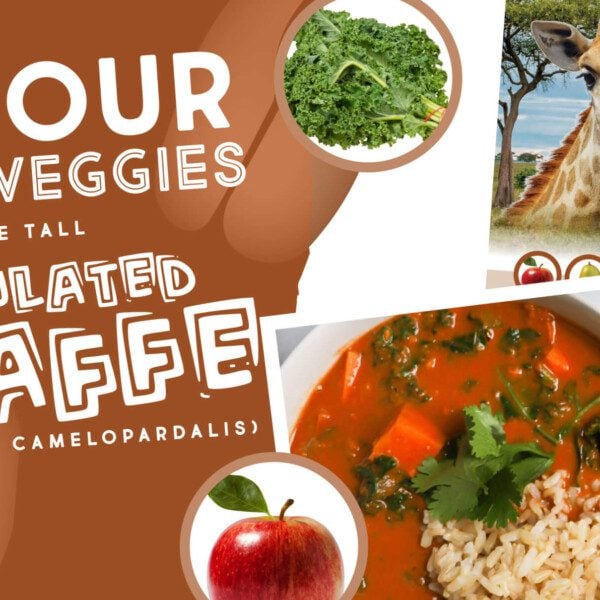 Ingredients
1

tbsp

coconut oil

1

white onion

diced

3

cloves

garlic

minced

1

tsp

ground ginger

1

sweet potato

cut into 3/4 inch squares

1

cup

Carrots

chopped

2

tsp

ground cumin

1/4

tsp

crushed red pepper flakes

1/2

cup

tomato paste

1/2

cup

creamy peanut butter

4

cups

vegetable broth

4

cups

kale

chopped and stems removed

3

cups

cooked brown rice

for garnish

1/2

bunch

cilantro

for garnish
Instructions
Heat coconut oil in a large pot over medium heat and cook onions, garlic, and ginger until the onion starts to become translucent.

Add in sweet potato and carrots and cook additional 5-7 minutes. Reduce heat to low and gentle stir in cumin and red pepper flakes until the mixture is evenly coated.

Mix in the tomato paste, peanut butter, and vegetable broth. Stir constantly until everything is well-combined. Return heat to medium until a simmer is reached (then reduce) and cook until the sweet potatoes and carrots are tender. Approximately 25 minutes.

Once the sweet potatoes and carrots are fork tender, remove about 1/3 of the stew and blend to a creamy consistency. Add the blended stew back into the main pot and stir in the kale

Plate by adding stew to a bowl along with a pad of rice and fresh cilantro for garnish.
Nutrition information is automatically calculated, so should only be used as an approximation.
Like this? Leave a comment below!
We'd love to hear what your kiddos think of this recipe for vegan African stew. Tell us how your giraffe-inspired meal went in the comments below. Take a photo of your kids eating like animals and tag us on Instagram @theproducemoms.