Eat Like a Giant Panda: Apple and Bamboo Stir Fry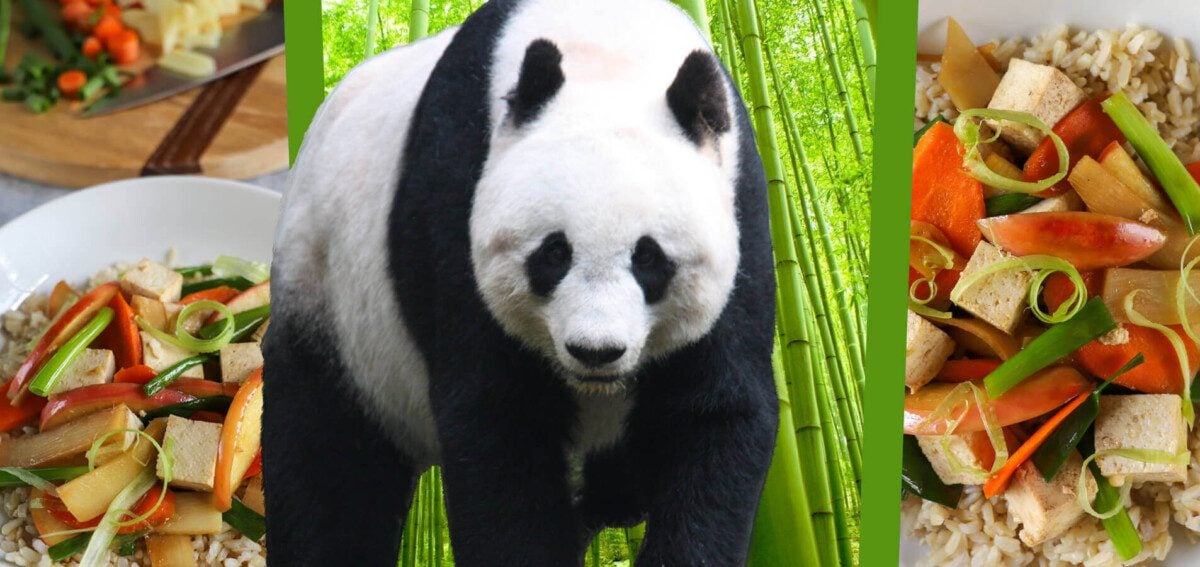 Are you ready to eat like an animal? We've made so many new animal friends in the past few months: the brown bear, the reticulated giraffe, and the orangutan, to name a few. We've cooked up Malagasy lasopy soup with ring-tailed lemurs, chowed down on vegetable bolognese with the Asian elephant, and munched on stuffed tropical avocados with the three-toed sloth. We've already slurped up some bamboo and chicken ramen with the red panda, but now we're heading back to the forests of China to visit its cousin: the giant panda. You won't hear any bamboo's from your kids when they can eat like a giant panda!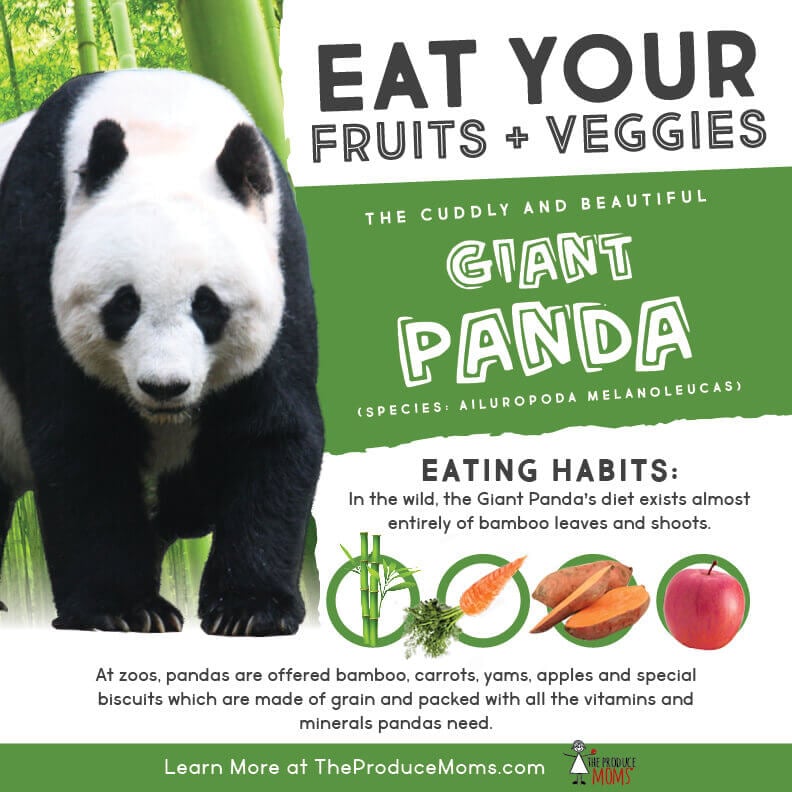 Protecting a Gentle Giant
The giant panda's cuddly appearance and iconic black and white coat have made it famous, but it's also one of the most recognizable endangered species. Native to China's Yangtze Basin, the giant panda can't survive outside of the bamboo forests it calls home. But poaching, deforestation, and other threats have driven the wild population to dangerously low levels.
But there's good news: the giant panda is protected! China has established more than 40 reserves covering a whopping 3.8 million acres to help save wild pandas. Their efforts proved successful, as the species was upgraded from "endangered" to "vulnerable" in 2016. That means it's making a comeback!
The giant panda is an umbrella species. That means it protects other animals that live in its environment like the golden monkey, the crested ibis, and the multicolored pheasant. And as the mascot of the World Wildlife Fund, the giant panda is helping to protect endangered species all around the world!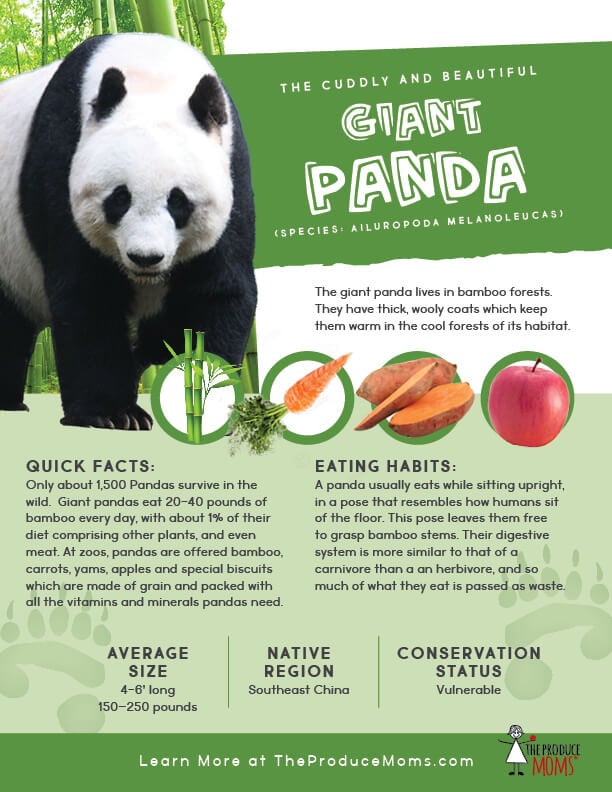 They aren't called "giant" for nothing! The giant panda can grow up to 250 pounds. But a newborn panda cub is shockingly small. It's only the size of a stick of butter and covered in a thin white fuzz. They gain their black and white coat as they slowly grow.
But don't take it from us – see for yourself! One of the pandas at the Smithsonian's National Zoo & Conservation Biology Institute in Washington, D.C., gave birth to a tiny cub on August 21, 2020. Mei Xiang (pronounced may-SHONG, meaning beautiful fragrance), can be seen cuddling with her newborn cub on the Smithsonian's Giant Panda Cam. See if you can catch a glimpse of the adorable cub and listen along with zookeepers for loud squeals, a sign that it's healthy and growing!
Eat Like a Giant Panda
The giant panda only cares about one thing: snacking on tasty bamboo! In the wild, they live solitary lives, preferring not to socialize with other pandas. And how would they fit that into their schedule, anyways? They spend 16 hours a day eating! Not many animals can eat like a giant panda.
Giant pandas hold many mysteries for scientists. The exact reason for their black and white color, for example, is unknown. Researchers have also struggled with how to classify the giant panda, placing them in the family of bears, raccoons, or even one all their own. Scientists currently believe they're most closely related to bears.
And like bears, giant pandas have the digestive system of carnivores, or meat eaters. However, they've evolved to depend on bamboo for almost their entire diet. Using a wrist bone that functions like a thumb, giant pandas pluck bamboo out of the ground and eat its shoots and leaves.
Because bamboo contains little nutritional value, they have to eat a lot of it. If you wanted to eat like a giant panda, you would have to eat between 25 and 80 pounds of bamboo every day!
Apple and Bamboo Stir Fry
Inspired by the giant panda's love of bamboo, we decided to try it for ourselves! We put together a delicious stir fry that features the panda's favorite food.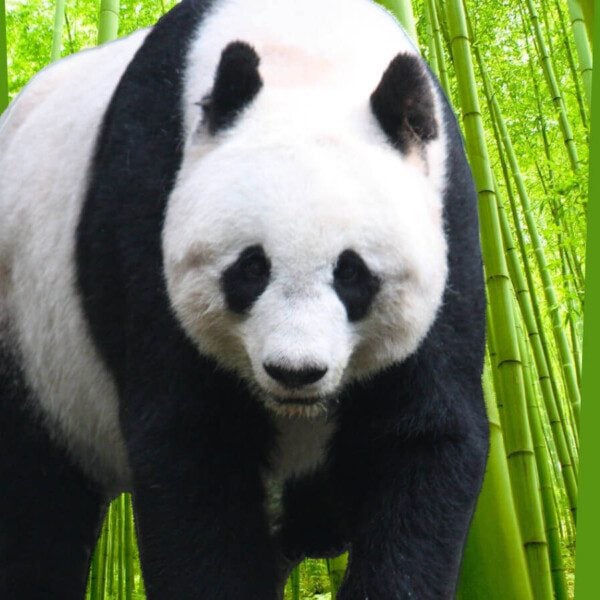 Ingredients
1

tbsp

coconut oil

2

cloves

garlic

3

scallions

cut into 1-inch pieces

1

carrot

sliced thin

8

oz

bamboo shoots

1

apple

sliced thin

2

tbsp

soy sauce

1

tbsp

oyster sauce

14

oz

extra firm tofu

cubed
Instructions
In a large skillet, heat coconut oil over medium heat.

Add garlic and carrots to skillet and cook for 2 minutes. Next add apple and bamboo and cook for 2 minutes. Add remaining ingredients and cook for an additional 3-5 minutes, stirring occasionally.

Serve warm on a bed of rice or noodles (optional).
It's easy to cook up a good stir fry. Maybe that's why the dish is so popular around the world! Our stir fry features a wide range of flavors that come together in harmony. The sweetness of apple slices, the crunch of bamboo and carrots, and the savory taste of stir-fried tofu make a meal that your family will ask for again and again.
Stir fry is a great last-minute meal, but it's also great for meal preppers! Make a large batch and save some for tomorrow's lunch. This stir fry is great on its own or on top of a bed of noodles or rice.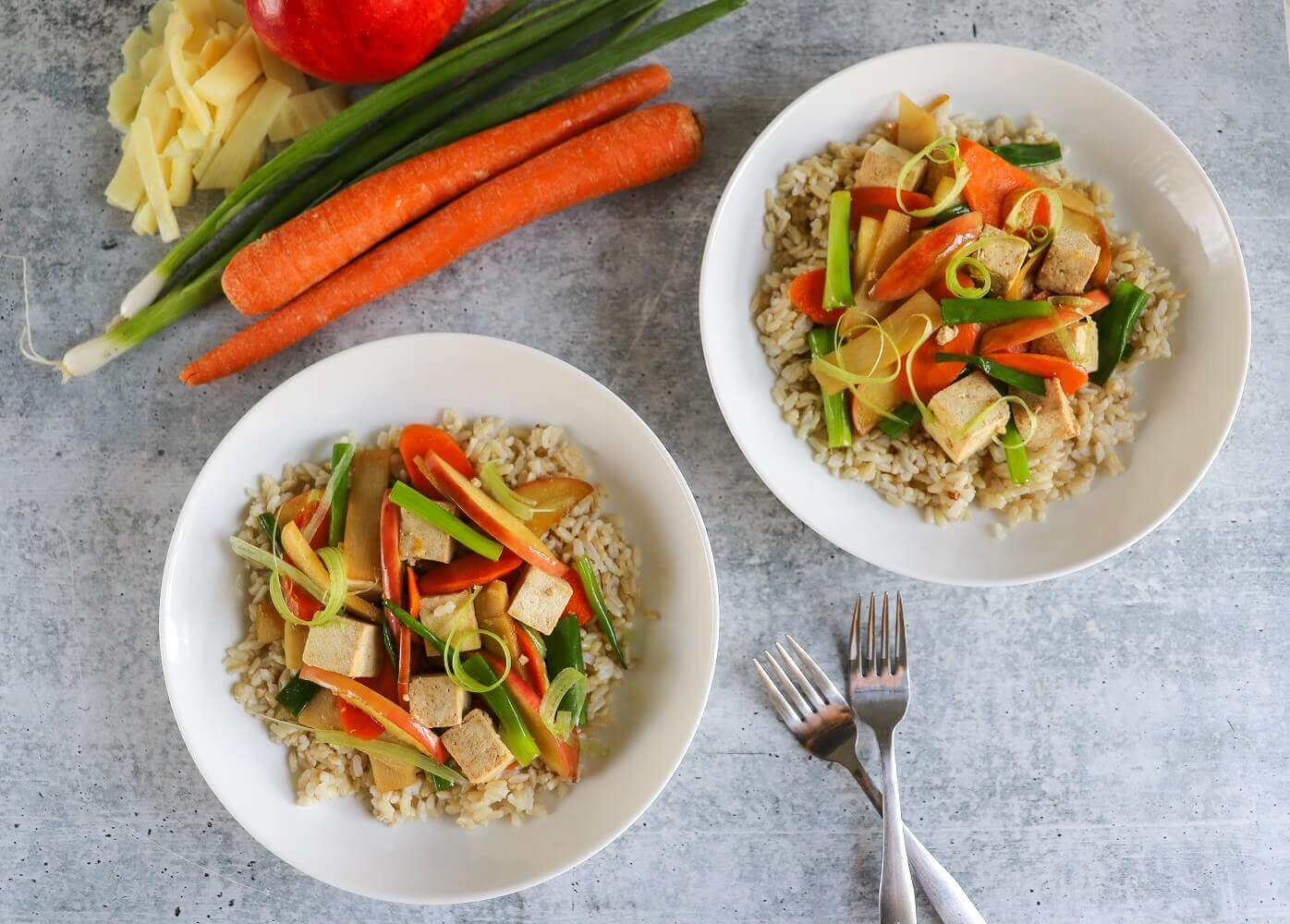 The giant panda loves to relax! It can often be found sitting upright or leaning against a tree, leaving its arms free to pluck fresh and delicious bamboo. Try making this dinner special by sitting on the floor around a coffee table, relaxing on pillows. Or take your meal outside and enjoy the fresh air with a backyard picnic! Spread a blanket on the ground, relax in nature, and eat like a giant panda.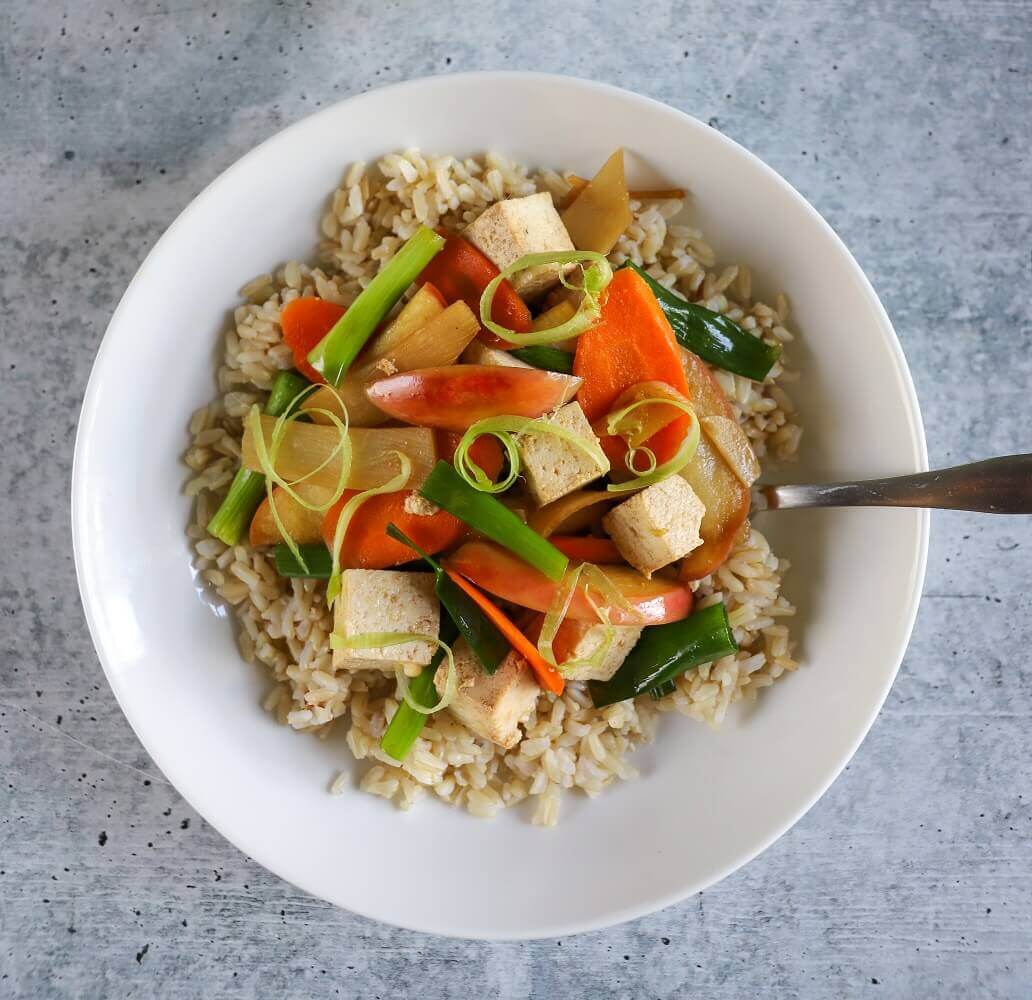 Did your family love this apple and bamboo stir fry as much as they love the adorable giant panda? Take a picture of your kids as they eat like a giant panda and tag us on Instagram @theproducemoms!