Berry and Beet Ice Pops
Apr 16, 2019, Updated Jul 31, 2023
A cool, nutritious treat to beat the heat!
There are few things as refreshing as a cold, fruity ice pop on a hot, sticky day. Unfortunately, store-bought ice pops are loaded with added sugar and contain little to no nutritional value. Savvy moms know that homemade ice pops are the answer to this dilemma. Making your own allows you to control the sugar content and even sneak in some veggies!
Berry and Beet Ice Pops are fruity and tangy with a hint of earthy beet flavor. Beets have one of the highest sugar contents of all vegetables (about 9 grams per 1 cup of beets) so even without added sugar, these ice pops are a sweet treat. They have a vibrant color, just like store-bought, but without any food coloring. If you have 20 minutes to spare and three simple ingredients, you can whip up this delicious and nutritious snack.
Sneaking in Veggies
There's no shame in our hidden veggie game! One of the easiest ways to get kids to eat more veggies is to sneak them in. And for picky eaters, sometimes this is the only way. Fresh beet juice is vibrant and attractive and blends beautifully with the mixed berry puree. Kids won't be able to detect a thing. It'll be our little secret!
Health Benefits of Beets
Beets are great for our bodies and have some impressive health benefits! Beet juice has been shown to boost energy and lower blood pressure. Beets are high in Vitamin C, which boosts the immune system. They also contain fiber, which is important for digestive health, and potassium and manganese, which support bone health.
One cup of beets contains 119 calories, 2 grams of protein, 4 grams of fiber, 13 grams of carbohydrates, and are virtually fat-free.
How to Make Berry & Beet Ice Pops
Berry & Beet Ice Pops require just three ingredients: Beets, strawberries, and blueberries. You will also need a juicer and ice pop bags, like these from Zipsicle. It's easiest to fill your ice pop bags with a funnel, so grab one of those too.
Begin by juicing the beets. It takes about 3-4 beets to create a half cup of juice. Next, puree fresh strawberries and blueberries. You can do this with a blender or food processor, or simply mash them with a potato masher. If you want your ice pops to have less texture you can juice the berries instead of pureeing them.
Next, mix together the beet juice and berry puree. Fill the ice pouches with the mixture, stopping about an inch from the top to allow room for the mixture to expand as it freezes. Place the filled ice pop pouches in the freezer. It takes about 3-4 hours for them to freeze solid.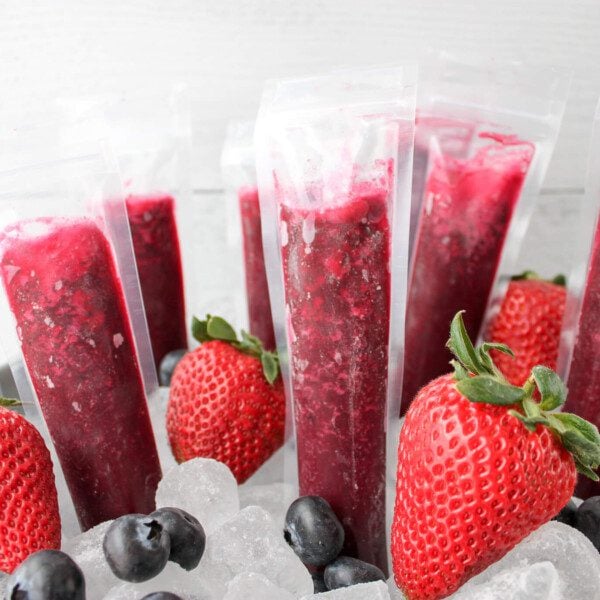 Ingredients
1/2

cup

beet juice

1

cup

strawberry puree

1

cup

blueberry puree
Instructions
Mix together fresh beet juice, puree from fresh strawberries, and puree from fresh blueberries.

Using a funnel, pour beet and berry mixture into ice pop pouches. Place in freezer until frozen solid, typically 3-4 hours.
Nutrition information is automatically calculated, so should only be used as an approximation.
Like this? Leave a comment below!
Add beets, strawberries, and blueberries to this week's grocery list and treat the family to Berry & Beet Ice Pops! Be sure to take a photo and tag us on Instagram @TheProduceMoms.
Love this recipe? Here are some more homemade ice pop recipes we think you'll enjoy too!