Ask The Produce Expert: Sweet Potatoes
Mar 30, 2017, Updated Jun 07, 2021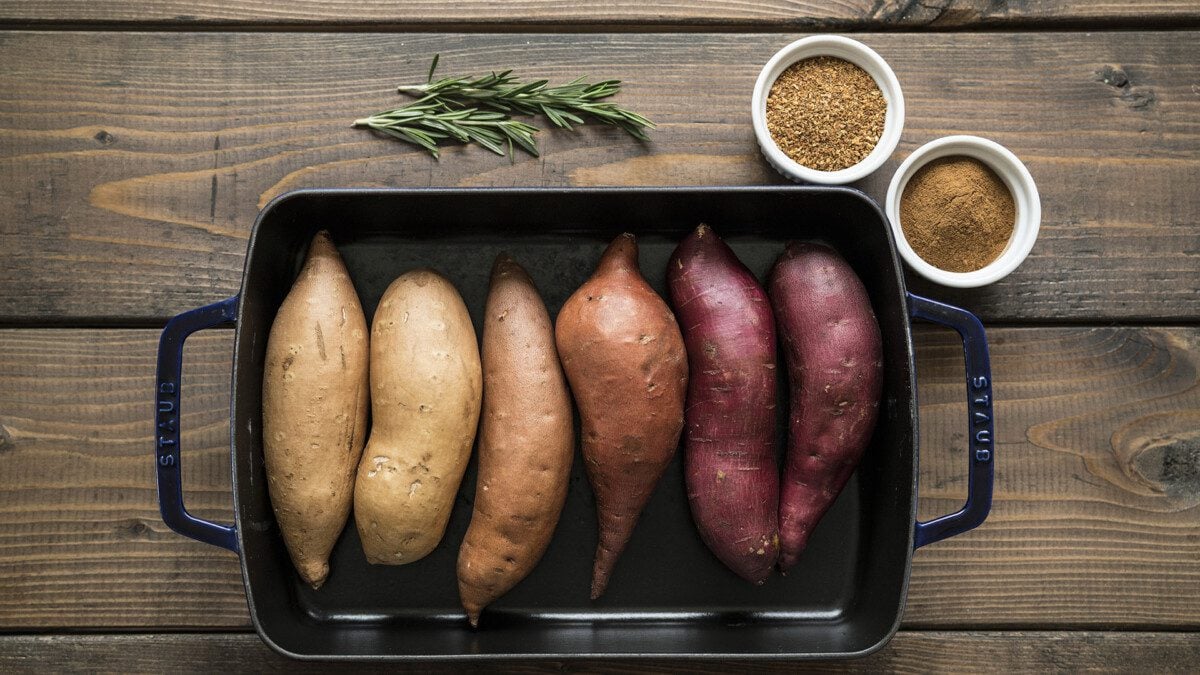 Today's Expert: Wada Farms
Welcome to the 18th edition of our featured series, titled "Ask the Produce Expert."  In this series, we feature an expert in the agriculture world and ask them industry-related questions.  If you have a question that you want answered by an industry expert – it's as easy as tweeting us or posting your question on The Produce Mom Facebook page!  The Produce Mom Family of Partners is here to answer your questions!
Wada Farms has a 70+ year history of pride, excellence and respect – and a passion for providing things of intrinsic value to our customers and partners.  Their reputation is not just for quality, but for leadership, innovation, and the understanding of trends and opportunities.  Their belief in "Pride in Excellence" is shared with the entire Wada team!
Established in 1943, Wada Farms was founded by Frank Wada, who emigrated to the U.S. from Japan in 1922 at the age of 13.   After settling in Pingree, Idaho, the decision was made to plant their family roots and the first crop of potatoes on 160 rented acres of farmland in the spring of 43′.
By 1972, the Wada family farm had grown to approximately 400 acres when Frank's youngest son, Albert, bought the family business from his father.  Under his leadership, Wada Farms Inc. has grown into a successful Idaho-based agribusiness, now farming nearly 30,000 irrigated acres of crops each and every year. They are a vertically integrated grower-shipper of russet and varietal potatoes, onions, and sweet potatoes
In 2013, Wada Farms took the first step in developing their sweet potato operations by opening a sales office in Raleigh, North Carolina. Led by two industry veterans, Norman Brown and Jeff Scramlin, the Wada Farms NC Sweet Potato program has grown exponentially over the last 5 years. Wada has grown to incorporate several marketing agreements with other NC growers as well as a packhouse in Tarboro, NC.
In this edition of Ask the Produce Expert, Norman Brown, Director of Sales & Co-Packer Relations –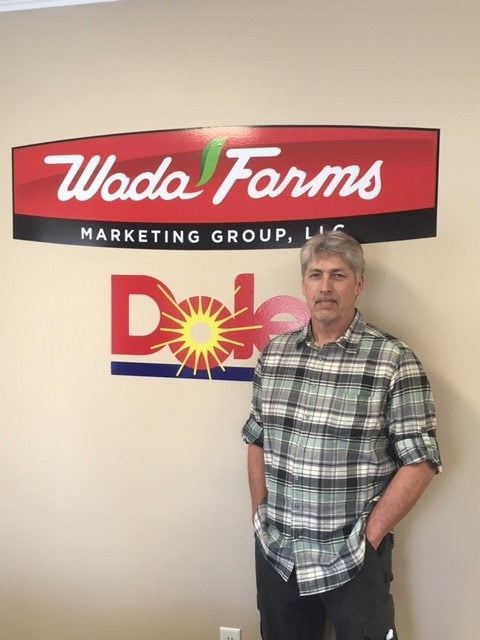 Sweet Potatoes, is our featured expert. Norman started working for Wada Farms 5 years ago in the North Carolina office.  He has worked in the sweet potato industry for over 30 years, and he has seen the industry explode…in a good way!  Norman has been involved in all aspects fo the industry from planting, harvesting, grading, running a sweet potato packing facility to the sales side of the desk and has enjoyed every minute of it!
Norman has lived all of his 57 years in North Carolina where he and his wife raised two wonderful children, both girls, who now have families of their own.  He loves spending time with his two grandsons and being able to spoil them and do "guy" things that he couldn't do with his beautiful daughters.
Norman is here to share his knowledge and expertise on sweet potatoes and how this superfood should be a staple in your home!
Welcome, Norman!
What are some of the nutritional benefits of Sweet Potatoes?
High in Vitamin B6: Helps reduce the non-protein amino acid Homocysteine in our bodies.  Homocysteine has been linked to degenerative diseases such as heart attacks.
Good source of Vitamin C: Plays an important role in bone development, digestion, and blood cell formation.  Also, a key contributor in protecting our bodies against toxins.
Good Source of Vitamin D: Critical for an efficient immune system and overall health.  Plays a critical role in our energy levels, moods, and helps build healthy bones, heart, nerves, skin, and teeth.
Contains Iron (critical in red/white blood cell production), magnesium (relaxation and anti-stress mineral), and Potassium (regulates heartbeat and nerve signals).
Since sweet potatoes are naturally sweet, they don't cause a spike in blood sugars due to a slow release of those sugars into the bloodstream.  This helps us keep a balanced level of energy.
Contain Carotenoids which are a powerful antioxidant that will help ward off cancer and protect against the effects of aging.
Are sweet potatoes and yams the same thing?
No, they are not the same!  Even though yams and sweet potatoes are both flowering plants, they are not related botanically.  Yams are considered a monocot (a plant with one embryonic seed leaf), and sweet potatoes are a dicot (a plant with two embryonic seed leaves).  A true yam is a starchy, edible root that is native to Africa and Asia.  It is generally imported to the Americas, with close to 95% of all yams are grown in Africa.
Sweet potatoes are part of the morning glory family.  There are several different varieties of sweet potatoes with skin colors ranging from white to yellow, red, purple, or brown.  Flesh colors can range from white to yellow, orange, or an orange-reddish hue.  Sweet potato varieties are either classified as either "soft" or "firm".  When cooked, the "firm" varieties remain firm, while the "soft" varieties become soft and moist.  "Firm" varieties are more of your classic white skin/white flesh varieties, while "soft" varieties tend to be more orange skin/orange flesh.
So, why the confusion?  Pending on what resource you reference, the two most consistent rationalizations stem from the slave trade era and a marketing order that was established in Louisiana during the 1930's.  When slaves were transported to Colonial America, they were provisioned with true yams (a long, starchy root that had a rough, hairy exterior).  As the provisioned yam supply ran out, the slave community was introduced to American sweet potatoes (what we would consider a white skin/white flesh sweet potato), and they started to call them by the West African word "nyami" which was Anglicized to "yam".  As time went on, in the 1930's the state of Louisiana picked up the term "yam", and started using it in their marketing to help differentiate their crop from other sweet potato producing states.  Between these two events, the term "yam" has been used synonymously with sweet potatoes for many decades.  It isn't until recently that consumers are getting more educated that yams and sweet potatoes are not the same things!
How many colors of sweet potatoes are there?
There are several different varieties of sweet potatoes, but if you were to categorize by color, we would say the most common are:
Orange Skin/Orange Flesh                                               Red Skin/Orange Flesh
White Skin/White Flesh                                                    White Skin/Yellow Flesh
Purple Skin/Purple Flesh                                                  Purple Skin/White Flesh
In the United States, when are sweet potatoes in season
?
Sweet potatoes are in season all year-round.  To put into perspective when sweet potatoes are most fresh:
West coast supply typically harvests in mid-to-late August and that supply will last until the following summer season.
East coast supply typically harvests in September/October and that supply will last until the following fall season.
Once you plant a sweet potato seed, how long does it take to grow?
First clarification, sweet potatoes aren't started by seed like most other vegetables, they are started from slips.  Slips are shoots that are grown from a mature sweet potato.  From mid-March to mid-April, we prepare land to make a "seed beds" which are long rows of mature sweet potatoes that are placed on the ground and lightly covered with soil.  It takes roughly 8 weeks after setting the seed for vines (the "slips") to grow long enough to be cut and used for planting.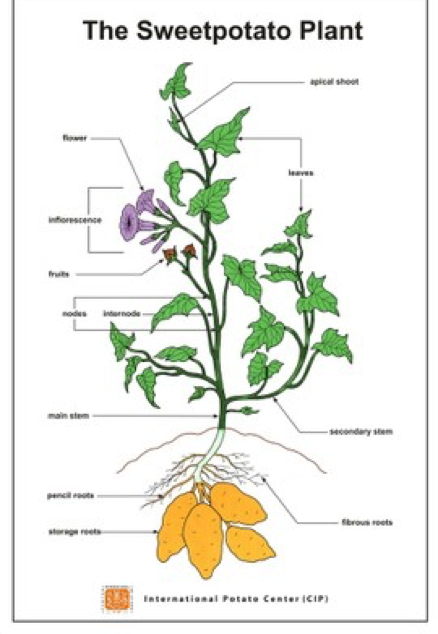 Can you explain to us a little bit about the harvesting process?
Once the sweet potatoes have reached a marketable size, an experienced crew uses a plow to expose the roots of the plant.  From there, large crews are sent into the field to hand harvest each sweet potato into buckets which are then transferred to a bin. The bin is sent to a cure house where the freshly harvested sweet potato will sit for 4-6 weeks to help maximize their flavor and shelf life.
What is the best way to select and store sweet potatoes?
Select: Choose sweet potatoes that are without cracks or soft spots.  They should be firm to the touch.
Store: Store sweet potatoes in a cool, dry, dark place.  They should keep fresh for up to a week.  Do not place them in a refrigerator but rather a well ventilated, cool cupboard.
What is your favorite way to eat sweet potatoes?
I would definitely say grilled.
Can you eat the skin of a sweet potato?
Yes, sweet potatoes are one of the healthiest foods known and are ranked as one of the top nutritional vegetables by the Center for Science in the Public Interest.  Eating the skins of sweet potatoes adds additional nutrients and fiber to your overall diet.
What are some ways that Wada Farms gives back to to the community?
Community Engagement: We work closely with community leaders to identify opportunities where we can make a beneficial impact with our community involvement.  For example, we work with Shoshone Bannock nation supporting their annual Sho-Ban Festival held at the Fort Hall Indian Reservation.  In addition to this, we have formed a joint venture to grow potatoes in a 50/50 relationship that started in 2012.
Community Investments: Wada invests in the community by sponsoring events and volunteering time and money to community activities and interests.  On average, we provide nearly 400 hours of volunteer time and over $50,000 in funding to a number of activities.  We coordinate with community leaders to identify those events we believe are the greatest benefit to our community.
What does "Pride in Excellence" mean to you?
For me, it is all about character.  Taking pride in the things you do, doing what is right and setting high standards for yourself and following through with integrity and merit in all we do whether business or personal.
That concludes the 18th edition of our Ask the Produce Expert series!  A big thank you to Norman Brown for sharing his expertise and insight!  To learn more about Wada Farms, visit their website.