Ask the Produce Expert: California Drought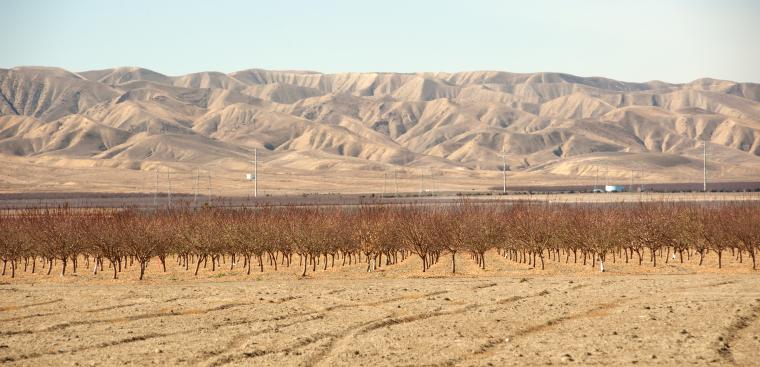 Welcome to the 5th edition of our featured series, titled "Ask the Produce Expert."  In this series, we feature one (or two in this edition!) of our partner growers, suppliers or commodity boards, and ask them farming industry-related questions that will help us, as consumers, become more educated on the food that we purchase and eat on a daily basis.  If you have a question that you want answered by an industry expert – it's as easy as tweeting at me or posting  it on my Facebook page!  I am eager to work your questions into this series!
Josie's Organics is a supplier of premium-quality, deliciously organic fresh vegetables grown by 3rd generation family farmers since 1928. The Braga family farming business began in the same California valley where Josie's Organics are grown today, by Sebastian and Josie Braga. Josie served only the best seasonal produce to her family, and the company tends to the farm with the same high standards today. They harvest more than 20 varieties of premium, USDA certified organic fresh vegetables, including broccoli, cauliflower, kale, chard, lettuce & more.
Find Josie's Organics on social: Facebook, Twitter, Pinterest.
Western Growers Association has represented local and regional family farmers growing fresh produce in Arizona, California, and Colorado, since 1926. Their members provide half the nation's fresh fruits and vegetables including a third of America's fresh organic produce. Some also farm throughout the U.S. and in other countries so people have year-round access to nutritious food. For generations, Western Growers Association has provided variety and healthy choices as the first line of defense against obesity and disease. Their slogan is "We grow the best medicine in the world."
Find WGA on social: Facebook, Twitter.
In this edition of Ask the Produce Expert, Rod Braga of Braga Fresh Family Farms, and Dave Puglia of Western Growers Association will be our featured experts. They will answer several recurring questions about the current drought in California, how it is affecting the agriculture industry, and what farmers are doing to adapt to the water shortage.
Please welcome Rod Braga of Braga Fresh Family Farms, home of Josie's Organics, and Dave Puglia of Western Growers Association, as they share their educational insight on the California Drought.
Rod Braga is president and CEO of Braga Fresh Family Farms, grower of Josie's Organics brand premium-quality organic vegetables inspired by grandmother, Josie Braga. Braga Fresh is part of the vertically integrated Braga family of companies, headquartered in Soledad, California since 1928, and still led today by third-generation family farmers. Braga has more than 15 years of experience in management positions in the produce industry, and serves as a director of the United Vegetable Growers Cooperative. The Bragas farm their home ranch in the Salinas Valley, plus thousands of organic acres throughout California and Arizona.

Dave Puglia is the Senior Vice President of Western Growers Association. He leads Western Growers' state government affairs team and the Association's media communications staff on behalf of the association's 2,500 members in California and Arizona. In addition, Puglia manages Western Growers' political action committee. Prior to joining Western Growers in 2005, Puglia was a public affairs consultant with a global firm, focusing on legislative and regulatory issues. Early in his career, he served as an aide to California's Attorney General. Puglia has also worked on four statewide political campaigns in California.
A native of Sacramento, Puglia earned a bachelor's degree from California State University, Sacramento, in Government-Journalism. Dave and his wife Lezlie, and their twin sons, live in Orange County, California.
Let's dive in to the questions:
How does the drought affect California farming?
Rod:
We have faced periods of drought spanning 8-10 years several times. While regulations and availability of water fluctuate, supply will find its way to the crops that need it most, which is partially market-driven. For example, certain crops like trees, which require a lot of capital investment to grow over years and provide fruit and nuts for human consumption may take higher precedent over others, like hay, which is grown for animal feed.
Dave:
California has always had to deal with wild fluctuations in precipitation.  We don't really have many "average" or "normal" water years.  We're used to droughts – though none as severe as this – and in many cases they end suddenly with an extremely wet year.  We're praying for that to happen this winter.  (Our wet season is winter and early spring.)  So farmers here are accustomed to adapting to these conditions.
However, this drought has been exacerbated by environmental rules that sent a lot of water to the Pacific Ocean that could have been captured and stored in key reservoirs.  Central Valley farmers have been hit hardest.  For the second year in a row, thousands of farmers in the San Joaquin Valley (the southern half of the Central Valley) will receive no surface water from the federal irrigation project.  This is forcing farmers to draw heavily from groundwater, which is expensive (new wells can cost hundreds of thousands of dollars, and the energy required to pump water from as much as 2,500 feet below ground is very costly), and ultimately threatens to deplete the basin in the continued absence of surface water deliveries to both irrigate and recharge the basin.  Many farmers can't simply replace all their surface water with groundwater, either because they don't have adequate groundwater or the quality is poor, and have fallowed land used for annual crops, or ripped out fruit and nut trees.
The lack of water has forced more than 500,000 acres out of production in the San Joaquin Valley and resulted in 17,000 jobs lost so far.  Those numbers will undoubtedly go up.
Are California farmers producing less crop due to the water shortage?
Rod:
Overall, yes. Right now, in the Salinas Valley, we are producing the same amount of vegetables we have been for the last 5-10 years.
Dave:
Yes, but there is a lot of variation among the hundreds of crops California produces in regions with varying water challenges.
Does the drought have a Domino effect on produce supply around the country?
Rod:
For some crops, per my tree and hay examples, it does. But so far during this drought, there is not much impact on leafy greens like lettuce, kale, broccoli, spinach and the other crops typically grown in the Salinas Valley during late-spring, summer and fall months, and the Imperial Valley and Western Arizona during the winter and early-spring. Farmers of leafy greens have been moving growing operations to match seasonal weather for decades, and water supply is part of that.
Dave:
Great question.  This depends in part on what crop we're talking about.  Some crops can be grown in other regions or countries, although we'd argue that none can match California's yield and quality!  Other crops, like almonds and pistachios, aren't really viable outside of California, so we may see supply tightening.
Does the drought in turn cause a price increase on produce?
Rod:
It could. Pricing fluctuations occur on a commodity by commodity basis based on supply and demand, and weather impacts supply, so drought is definitely part of that.  When you consider organic farming, there are even more variables that impact supply and pricing.
Dave:
To some degree we can expect higher prices but it's hard to say how that shakes out among the 350 or so commodities California produces.
Should the citizens of California be concerned?
Rod:
Limited water supplies have impacted California farmers and residents over the last 40 or so years, so there's been a long understanding that a problem exists, but the recent intensity of the problem is prompting more concern, as well as discussion, education and conservation. Water conservation is everyone's responsibility, and the seriousness of this drought is a reason for all Californian's—or really, all U.S. citizens—to become more aware of where our water comes from and how to use it most efficiently.
Dave:
They should be and I believe they are.  Plenty of public polling data confirms that, and we have seen it in our own research.  In focus groups we conducted last year, Californians living in urban coastal cities were asked about the drought, the water used by farmers, and what changes should be made to get us through this crisis.  I was struck by the fact that not one person said that California farmers use too much water or use it wastefully.  There was universal agreement that people in our big cities, especially in the Bay Area and Southern California, can and should cut back their water use and that our farmers need water to grow the food we all need.
What water conservation practices are currently being used by farmers?

Dave:
Farmers are increasingly turning to precision irrigation, such as drip and tape systems, to replace gravity irrigation or sprinklers.  In 1991, only 16 percent of California farmers used drip or tape systems.  By 2010, that number had grown to 42 percent.  It is certainly higher today.  Farmers are also using soil moisture sensors and high quality plant evapotranspiration data to apply water in the most targeted and efficient way.  All of this has required massive investments by farmers.
Are there any short term solutions to the water shortage issue?
Rod:
There's no easy fix to a water shortage.  Everyone needs it, no one has control over it, and it's a critical component to daily life at home and in business.  It's complicated, and in some cases, changing how we use water is expensive because it takes investment in new systems and infrastructure – If we take this drought as an opportunity to educate people about conservation and begin to change how we use water, overtime we'll see improvement.
Dave:
We need to operate our water storage and conveyance infrastructure with more common sense.  I mentioned earlier how large amounts of storm runoff – hundreds of thousands of acre feet this year alone – was not diverted to our reservoirs south of the Sacramento-San Joaquin Delta and instead flowed out to the Pacific.
Even in a severe drought, California gets occasional winter or spring storms that dump lots of rain and snow before moving east.  (In this drought, these scarce storms provided too much rain and not enough snow, but that's a topic for another day.)  That runoff creates big pulses of water flowing into the Delta for anywhere from three to 10 days per storm.  The Delta is swollen with water.  That's when we should operate our diversion pumps to their design limits, or at least to the permitted limits under the environmental rules that are in place.  But that hasn't happened, and water that could have been captured and stored for farms and cities is gone.
Which specific fruits and veggies are being hit the hardest by the water crisis?
Rod:
Items grown predominately in the Central Valley of California like tomato crops that experience a very small or non-existent allocation of water are undoubtedly suffering the most. In the Salinas Valley, we're going to have enough water to meet our needs this year. 2016 and 2017 are going to be more difficult unless we get more wet weather.
Dave:
It really varies among the production regions within California.  Some commodities grown almost exclusively on the coast have fared a bit better.  Strawberries come to mind, although some coastal growing areas are entering serious water challenges, too.  Everything is being hit to some degree.  Citrus growers on the east side of the San Joaquin Valley, tree nut growers in several areas, and many others have been hit very hard because they did not have adequate groundwater to fall back on.
Do you have any statistics to share surrounding the California drought?
Dave:
Plenty. Here are just a few that I find compelling:
More than 2.8 million acres, or 31 percent of California's irrigated farmland, will receive zero surface water supplies this year.
Over half of the state's irrigated farmland will receive 20 percent or less of its normal surface water supply this year.
Last year, growers lost about 6.6 million acre feet of water due to the drought and the policies mentioned above.
On average, 50 percent of the water managed by the state is used for environmental purposes. About 40 percent goes to farms and 10 percent to urban areas.
Over the last 14 years, through various federal regulatory changes, more than 4 million acre feet of water per year was redirected from farming to environmental programs.
We are extremely efficient: Crop production per acre foot of water has risen 43 percent in California between 1967 and 2010.   In the San Joaquin Valley alone, farmers have invested more than $2 billion in irrigation efficiency since 2003.
California's farm gate revenue was $46.7 billion in 2013. Our agriculture industry is larger than the economies of four states.  But the drought caused a loss of $2.2 billion in farm revenues last year and will cause greater losses this year.
Sources: California Farm Water Coalition, Public Policy Institute of California, California Dept. of Water Resources, San Luis Delta Mendota Water Authority, Westlands Water District, USDA, California Dept. of Food and Agriculture, U.S. Dept. of Commerce, and UC Davis

That concludes the 5th edition of our Ask the Produce Expert series! A big thank you to Rod Braga and Dave Puglia for sharing their knowledge on the California drought!
Since this is the 5th edition, there must be four others, right?! Well, here they are! Check 'em out 🙂
"Organic vs. Natural                           "Picking & Packaging             
vs. Healthy" by: Viva                           Field Fresh Lettuce"                                         
Tierra Organic                                       by: Tanimura & Antle                
"Core Insight Into                              "The Art of Growing
the Apple Industry"                          Apples, Pears & Cherries"
by: U.S. Apple Association             by: Sage Fruit
I learned so much… I cannot wait for our next Ask the Produce Expert blog!  What questions do YOU want answered?
#FreshProduce rules – thank you for serving fruits & veggies to your family!!!
xoxo The Produce Mom
Sign up here for our weekly newsletter if you want more fun recipes, cooking tips, and more!
OR  Text "TPM" to 66866 to sign up!