April 2021: The Produce Moms Podcast Month in Review
April 2021: The Produce Moms Podcast Month in Review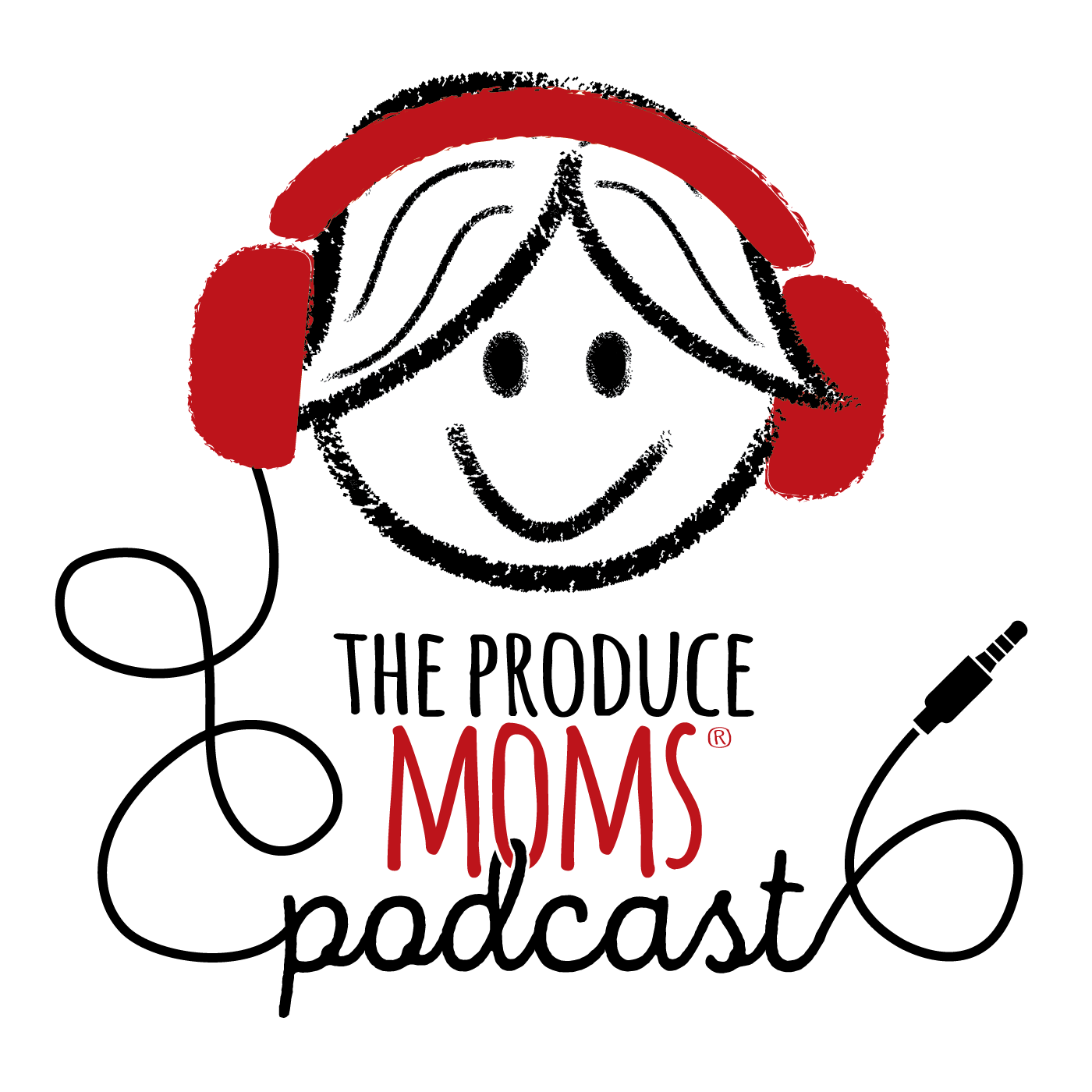 Love the Podcast? Please rate and review!
Let's take a look back at our April 2021 Podcast Episodes.
April has proven to be an enlightening and educational month at the Produce Moms! Thanks to guests like Dr. Drew Ramsey and his work with the brain-gut connection, Tomo Delaney and his creative, fun food product, John Oakley and Tim Busby's passion for the environment and DaRulk's one-two punch of mindfulness and fitness, and Colt Reichart calming our nerves about the ketchup packet shortage, we're overfilled with healthy knowledge!
Dr. Drew Ramsey, MD, psychiatrist, farmer, teacher and author of Eat To Beat Depression and Anxiety, is paving the way for a new understanding of how food impacts our mental health. Did you know depression and anxiety affect 58 million people in the United States alone? A diet that promotes anti-inflammation is what Dr. Drew promotes through eating foods like leafy greens, Omega-3 fats and yes, even dark chocolate.
Tomo Delaney has created next-level fun for everyone around the kitchen table. Sure, "food paint" sounds like a mess you don't want to deal with, but instead, it's an incredible way to get your kids to eat healthy fruits while entertaining themselves at the table. Tomo created Noshi For Food after having trouble getting his kids inspired to sit at the table and enjoy their meals. The "paint" tubes come in a number of different flavors, colors and branded partnerships with favorites like Peppa Pig and The Very Hungry Caterpillar. 
What matters most to NatureStar's Matter™ founders John Oakley and Tim Busby is creating a product that can 100% replace single-use plastics. But why do their biodegradable snack and sandwich bags, kitchen wrap, plates and cutlery have labels like "allergen-free" or "gluten-free" on them? Because they are! These disposable products are created from all natural, renewable fibers that are FDA approved, non-GMO, and literally created "from matter" that turns back into matter called in just a few weeks. 
No matter how many kids you have or what your life and career demands of you, it's always difficult to squeeze in effective, fun workouts. Darulk, aka Chris Hemsworth's trainer, has changed that thanks to his Raw Functional Training program found on the Centr App. DaRulk has a background in kinesiology, biomechanics, sensory processing, and so much more, making him the perfect go-to for bodyweight workouts that help you stay in shape, mentally focused and empowered. He's even launched an affordable supplement line called Kore Nutrition which can be found at Kroger!
In our final episode of the month, we dive into the ketchup "packet" shortage with Colt Reichart, a fourth-generation owner of Red Gold. All it took was one small statement from Heinz ketchup and the world was worried our fries, burgers, steaks and more would have to be consumed without our favorite condiment! The good news is that Red Gold understands the need to purchase new packaging machines to keep up with ketchup packet demand.
Let's take a deeper look at each of our April 2021 podcast episodes.
April 2021 Podcast Episode 149
The diet that keeps ADHD, depression and anxiety away.
There's plenty of fad diets out there right now. From keto, to paleo, to vegan, to low fat, to Meditteranean and more, it's confusing what the "right" way to eat is (although, you know our opinion here at TPM!) and what's best for your mental health. Dr. Drew Ramsey, MD, psychiatrist, farmer, teacher and author of Eat To Beat Depression And Anxiety, says the best thing to eat is an anti-inflammatory diet.
Did you know inflammation is one of the greatest factors in brain health? Depression, anxiety, brain issues, gut issues, ADHD and more can all be improved or prevented by eating foods that decrease inflammation, like leafy greens, rainbow vegetables, oysters, mussels, red beans and dark chocolate. Worried about how you're going to get in foods you don't like? Dr. Drew has plenty of tips for picky eaters, including recipes and Instagram brain food challenges.
April 2021 Podcast Episode 150
Food just became a fun activity to keep kids at the dinner table.
When you hear the words "food paint", you might think "gross" or have images of your children making a mess in their hair, on the table, or worse, your walls! But Tomo Delaney, founder and CEO of Noshi For Kids, encourages kids to play with their food, specifically his product called Noshi Food Paint. The tubes of "paint" that kids and adults alike can enjoy are made of completely natural, USDA Certified Organic, vegan, gluten-free, soy-free, non-GMO frozen fruit and pear juice and come in different colors.
Why paint with your food? Tomo's idea is to give kids a reason to want to come and actually stay at the table. He suggests giving kids a task, like writing numbers on a waffle, for example, to keep them from squirting the "paint" all over! The tubes are also free of artificial colors, artificial flavors and all of the major allergens. 
April 2021 Podcast Episode 151
All that Matter™s is these disposable products are strong enough for a steak dinner.
There's a new disposable product taking over shelves at Target and finally providing a sustainable option to our convenient way of living. Matter™ products are biodegradable, disposable, non-GMO, free from heavy metals, FDA approved and are actually good for the environment! Matter™ Disposables makes snack bags, sandwich bags, storage bags, kitchen bags, food wrap, plates, bowls, cutlery, straws and much more. 
The products come from all-natural, renewable and sustainable fibers which create something called biomass when broken down. Biomass enhances soil and creates water in the process of composting and unlike plastics which destroy the planet and take hundreds of thousands of years to break down, Matter™ products break down in only a few weeks. And yes… they are strong enough for a steak dinner! Plus, what's not to love about a company that donates proceeds to the non-profit organization Folds of Honor?
April 2021 Podcast Episode 152
Celebrity trainer knows how to keep moms fit.
Don't worry, if you take one of DaRulk's fitness classes on the Centr App (which he helped found with Chris Hemsworth), you're not going to turn into a big, muscle-y version of Thor. Instead, you'll find a quick and efficient way to stay moving, stay mobile, stay flexible, and stay in shape using your body weight. DaRulk is the founder of the Raw Functional Training program, which he developed through his work training fire, police, military, special forces and ocean safety workers.
Plus, DaRulk is the founder of Kore Nutrition, which can soon be found on Kroger shelves nationwide, a supplement line filled with the highest quality ingredients at affordable costs. DaRulk is passionate about helping moms like you and I work on their mindset, feel good enough just as we are, and stay consistent in our health in fitness goals for ourselves, not for anyone else. His workouts are quick, fun and also connected to recipes, mindfulness techniques and education all in the Centr app. 
April 2021 Podcast Episode 153
Don't fret…there really isn't a ketchup shortage.
So is there actually a ketchup shortage? Not really. There's plenty of ketchup to go around! In fact, Red Gold has been running at full speed, 24 hours a day, seven days a week before and during the pandemic.
Heinz Ketchup launched a press release saying there is a shortage of ketchup packets… keyword being packets. What's with the rise in ketchup packet usage? When restaurants were closed, people had to use packets instead of eating at the restaurant table with a ketchup bottle, and many restaurants are still relying on carryout versus dine-in options, eliminating the use of bottles.
Thankfully, the false alarm of there being a ketchup shortage has worked in Red Gold's favor. The only American-owned, grown and made ketchup brand, Red Gold, has gained six new, large accounts from former Heinz customers alone, not to mention the need to purchase new packaging machines to keep up with ketchup packet demand.
[bctt tweet="April 2021 was filled with inspiring guests on The Produce Moms Podcast. Our month in review gives a quick recap & an opportunity to tune in!" username="theproduemom"]
To see a list of all our past episodes, visit www.theproducemoms.com/podcast/

Related:
March 2021: The Produce Moms Podcast Month in Review
February 2021: The Produce Moms Podcast Month in Review
January 2021: The Produce Moms Podcast Month in Review
December 2020: The Produce Moms Podcast Month in Review
November 2020: The Produce Moms Podcast Month in Review