Air Fryer Apple Fritters
Feb 08, 2021, Updated Sep 28, 2021
This recipe is sponsored by Sage Fruit. 
Whether at breakfast or for dessert, nothing brightens up a day like a warm pastry. But why bring one home from the store when you can make it yourself? Fry up some down-home sweetness with these Air Fryer Apple Fritters! These delightful fruit-filled pastries are fluffier and more flavorful than anything your grocery store's bakery can offer.
Making Air Fryer Apple Fritters
Who knew it was this easy to make fritters at home? It is when you have an air fryer! These Air Fryer Apple Fritters have all the glazed goodness you love but are easier to make than traditional fritters. Best of all, the air fryer helps them retain all the nutritional value of the apples they're made with.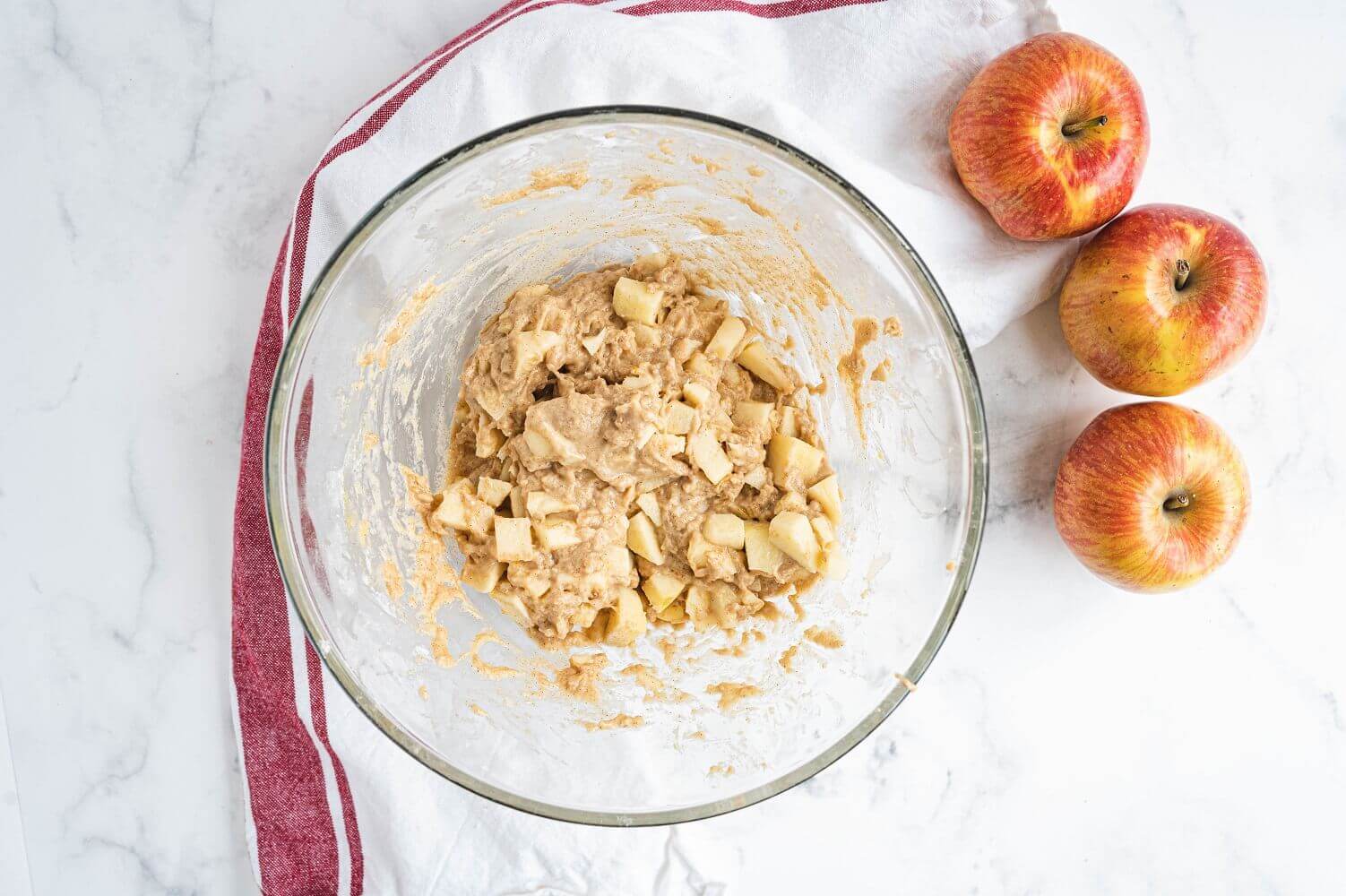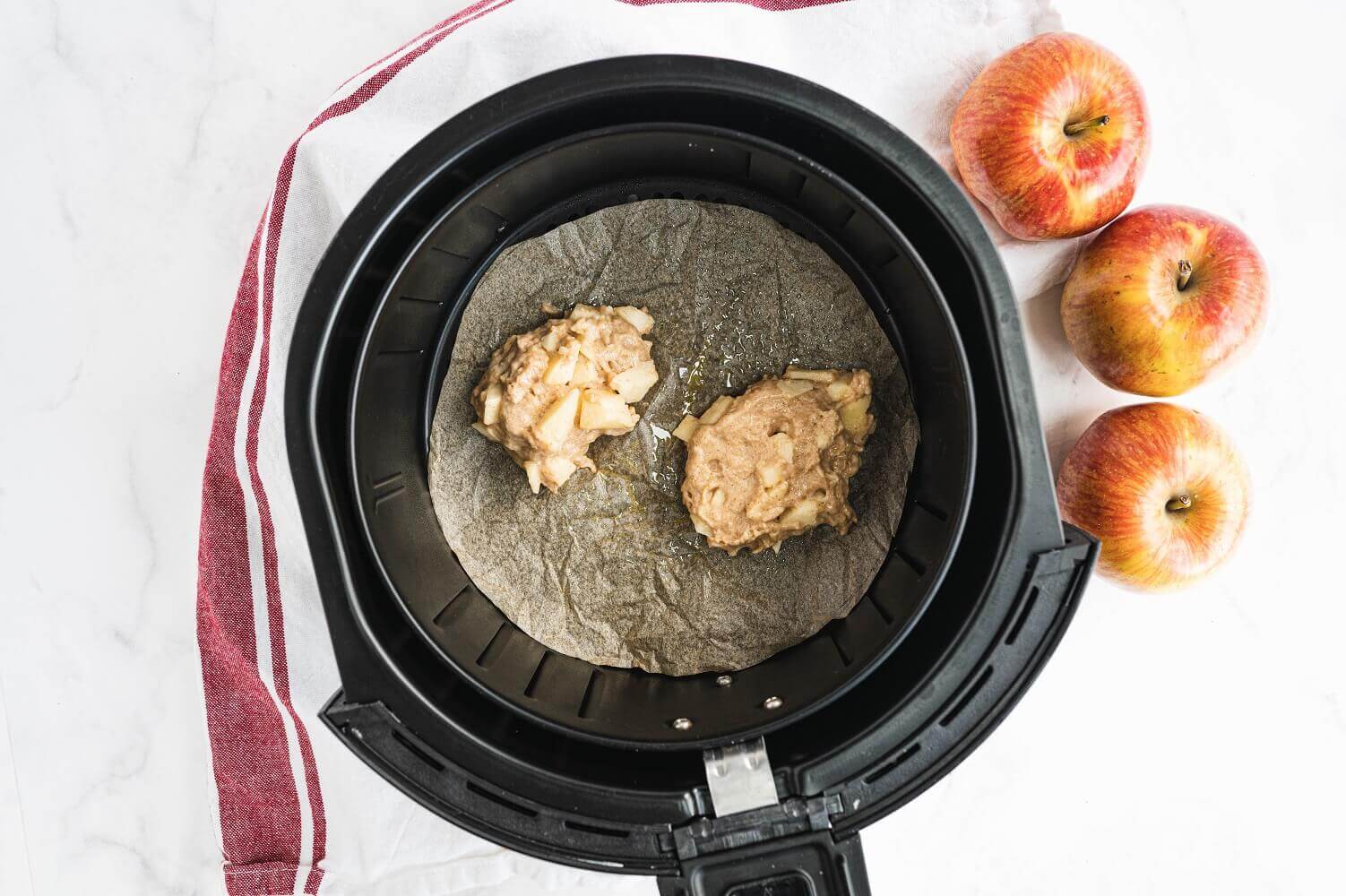 By using a quarter of a cup of batter, you'll make fritters that are the perfect size for a snack or dessert. Bite into one and you'll find the apple chunks have softened but still have just the right amount of crunchiness. And by making your own butter glaze to finish your fritters, you'll end up with an addicting pastry with the perfect combination of sweet and fruity flavor.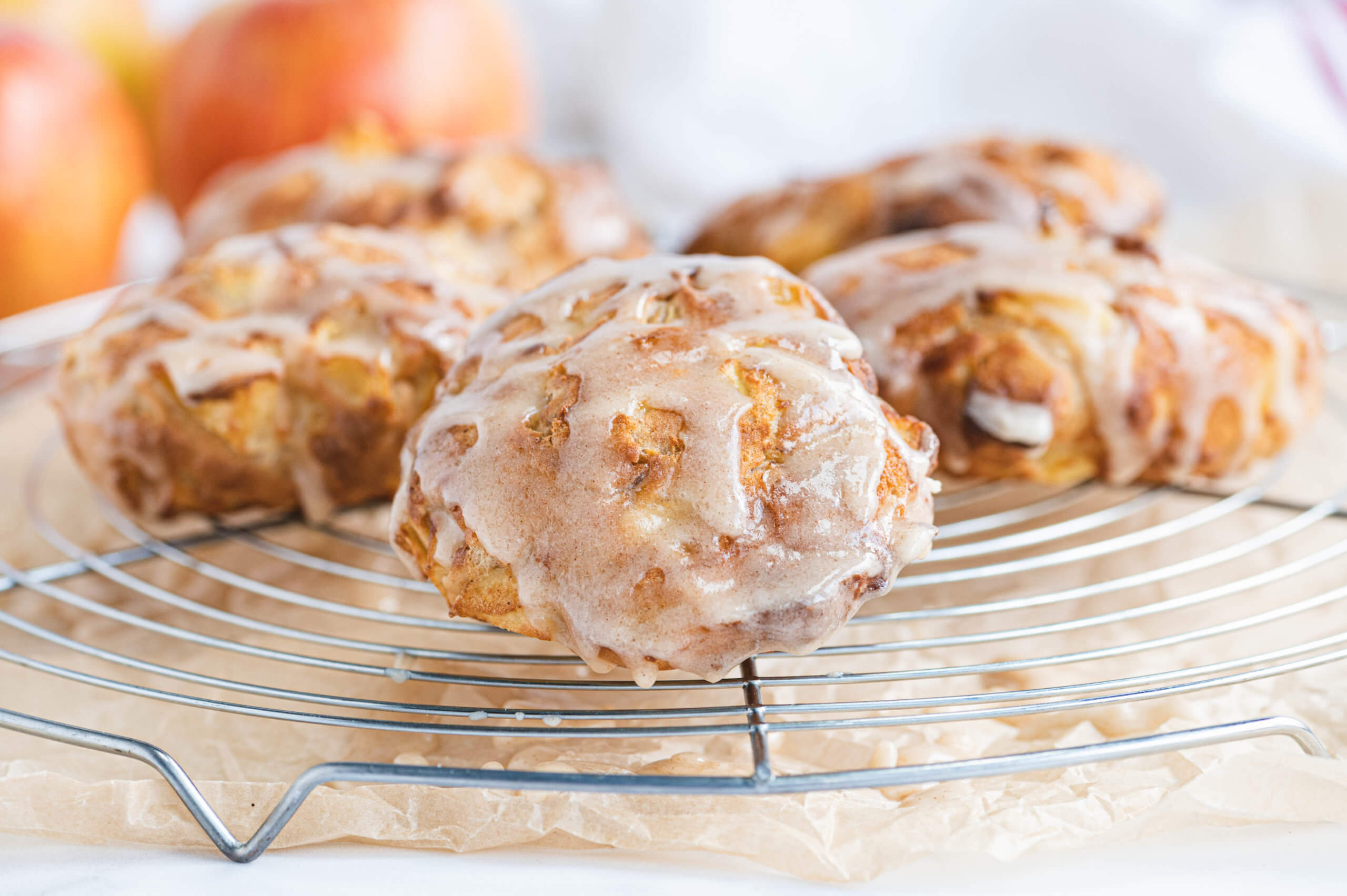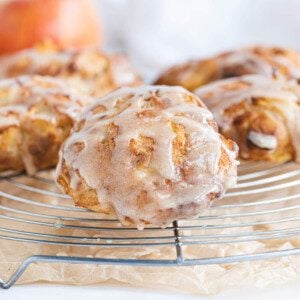 Ingredients
2

large Smitten apples

cored and diced small

1 ½

cups

all-purpose flour

1/4

cup

granulated sugar

2

tsp

baking powdetr

1/2

tsp

salt

1 1/2

tsp

ground cinnamon

1/3

cup

milk

1

tsp

vanilla extract

1

tbsp

lemon juice

fresh

2

eggs

vegetable oil

for brushing/spraying
Butter Glaze
1

cup

powdered sugar

1/4

cup

butter

1/2 stick

1

tbsp

milk
Instructions
Line the basket of your air fryer with a piece of parchment paper or air fryer basket liners. Brush lightly with oil or spray lightly with an oil sprayer.

Whisk together flour, sugar, baking powder, salt, and cinnamon in a medium bowl.

Make a well in the center of the flour mixture and add milk, vanilla, lemon juice and eggs. Stir until evenly combined. Fold in the apples.

Drop about ¼ cup of the batter onto your lined air fryer basket. Depending on the size of your air fryer you may only be able to fit 2 fritters at a time.

Lightly dab the tops of the fritters with oil using a pastry brush or oil sprayer. Set the air fryer to 400 degrees for 4-5 minutes or until deep golden brown. Flip fritters over and repeat until both sides are golden brown.

Place apple fritters on cooling rack and drizzle with butter glaze while still warm.
Butter Glaze
Place butter in a small saucepan over medium-high heat. Continuing melting the butter until it starts to foam and turn brown.

Once browned, remove from heat to cool slightly. You should smell a nutty aroma and see brown specks in the butter.

Add powdered sugar to a small bowl. Add browned butter and milk whisking until smooth. (If mixture is too thin for your liking, simply add more powdered sugar.) Set aside.
Nutrition information is automatically calculated, so should only be used as an approximation.
Like this? Leave a comment below!
Bite Into Sage Fruit's Smitten Apples
We're positively smitten over the taste of these delicious apples! These aptly-named Smitten apples come from our partners at Sage Fruit. Originally grown in New Zealand, the Smitten apple is a traditionally bred variety that is a cross-pollination of Braeburn, Fiesta, and Flagstaff apples.
This pink and yellow striped apple is crunchy and juicy with a slightly tart, well-balanced flavor. You'll love using it to bake and in salads just as much as you will snacking on it out of hand.
Located in Yakima, Washington, Sage Fruit Company is passionate about delivering high-quality fruit to produce lovers around the world. In the orchard, Sage Fruit strives to grow the best, most in-demand apple varieties and harvests its fruit at the peak of freshness for the best eating experience possible. They use high-density planting to get the most out of each apple tree and grow fruit with the ideal size and color.
Most importantly, Sage Fruit is committed to the well-being of its employees and the satisfaction of its customers. The company only works with other growers and shippers who share its values on employee treatment.
Sage Fruit uses cutting-edge science to safely increase the shelf life of its apples with Apeel, a plant-derived solution applied to the outside of the apple that helps stave off spoiling. They also provide kid-friendly packaging and stay ahead of the curve in the kinds of apples their customers crave.
Was your family smitten with these Air Fryer Apple Fritters? Want to share their reactions to tasting these sweet treats? Just tag us on Instagram @theproducemoms and @sage_fruit.