8 Produce Shopping Habits of Millennial Moms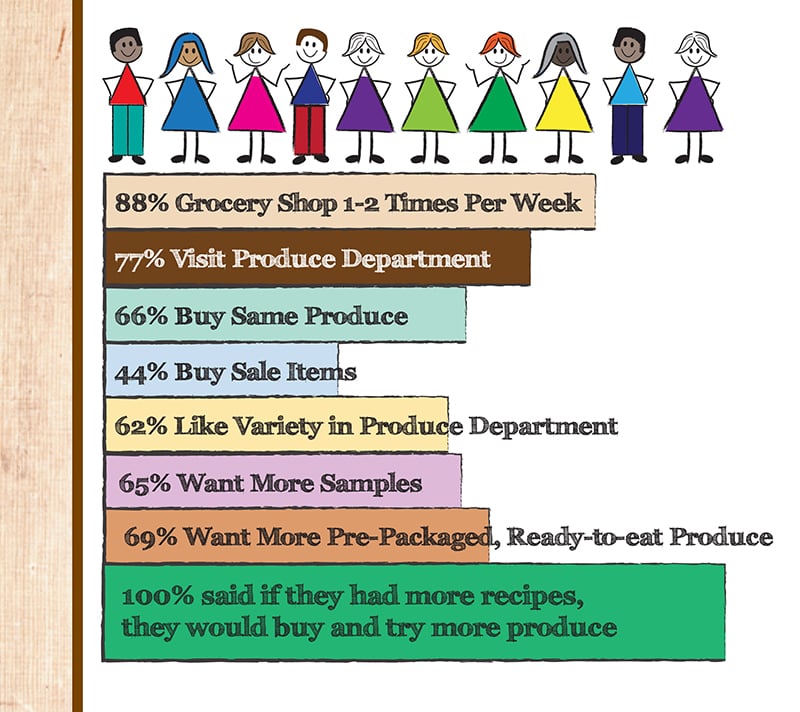 8 Produce Shopping Habits of Millennial Moms
The Produce Mom study, "8 Produce Shopping Habits of Millennial Moms," was conducted based on the need to communicate the produce shopping habits and desires of the demographic with the most powerful purchasing power at the grocery story—Millennial Moms.
My hope is that the results of this survey will prompt conversation and ideas on how we can help more people enjoy the taste and benefits of fruits and veggies! I've included my thoughts and translations on what this data means to me, and how I think it should impact the produce and grocery industries.
8 Produce Shopping Habits of Millennial Moms
1.     88% of consumers shop the grocery 1-2 times a week
The days of planning and shopping for weeks or even a month in advance, as some of our mothers did, are gone. The opportunity for consumers to purchase more perishable items (fruits and vegetables) is there because they're already at the store once or twice a week.
2.     77% of consumers visit the produce department during each visit
This is a high number, but it could be higher. Keep in mind that this data is from a group that is already making efforts to eat more fruits and vegetables—followers of The Produce Mom. How can we help more consumers purchase fruits and vegetables at each and every visit?
3.     66% of consumers buy the same produce during each visit
Not to sound cliché, but variety is the spice of life. There are literally hundreds of types of fruits and vegetables. Eating the same thing, day-in and day-out, gets boring. If consumers learn more about the myriad of delicious and nutritious options, they will be more likely to include more of them in their diets.
4.     44% of consumers buy sale items each week
This number was actually a little surprising for me. I would have guessed that more purchases were price driven. However, if you take into account that most people are buying the same fruits and vegetables every week, it makes this point more understandable.
5.     62% of consumers like the variety in the produce department
Grocers are already doing a good job at providing the variety of produce that consumers want. However, there is definitely room to improve.
6.     65% of consumers want more samples
Who doesn't love grocery store samples? Samples are a great way to give consumers the opportunity to try unique fruits and vegetables without the risk of spending money on something their family might not eat. If grocers can provide more samples with supporting information about storage and preparation, it will help consumers find ways to incorporate additional fruits and veggies into their lives.
7.     69% of consumers want more prepackaged and ready-to-eat produce
This should be no surprise. Everyone needs convenience and time-saving choices. Millennial Moms want meal options that are nutritious, delicious, convenient and affordable.
8.     100%  of consumers said if they had more recipes, they would buy and try more produce
This is a wake-up call! 100% of study participants need more recipes! What makes this even more interesting is that we live in a day and age where there are plenty of recipes out there. In fact, there's an overload of recipes—Pinterest, Cooking Shows, Cookbooks, Blogs…. But there must be some kind of disconnect if 100% of consumers still want more recipes! How can grocers, growers and suppliers help consumers discover more ways to use fruits and vegetables?
Increasing the consumption of fruits and vegetables is the number one objective of The Produce Mom. It's also one of the most important steps in solving our country's obesity crisis.
Please consider joining me in this movement. Whether it be by following The Produce Mom on social media, introducing your kids to the Find Your Favorite program or learning how your organization can help consumers eat more produce, I'm so honored to have everyone's support in the journey to help people eat more fruits and veggies!