6 Recipes from the School Lunchroom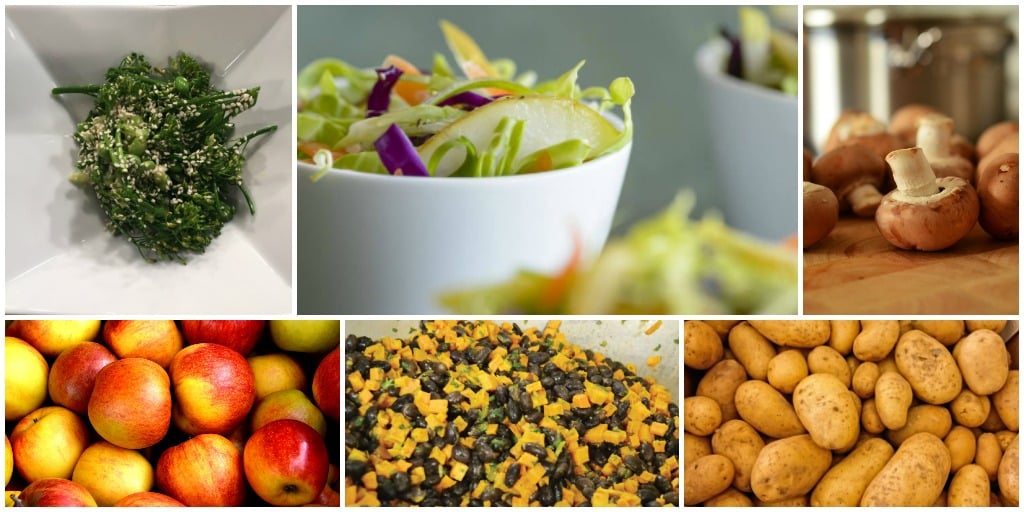 If you've spent any time around here, you know that one topic that is near and dear to my heart is offering fresh produce and healthy fruit and vegetable options in our nation's schools. Making fresh fruits and vegetables available in schools means students will be more likely to eat fresh fruits and vegetables in schools!
To make it easier for local schools to provide fresh options to their students, last week nationally recognized Chef Todd Fisher and I joined the Indiana Department of Education to provide hands-on culinary trainings to middle school and high school food service employees and corporation food service directors.
Chef Todd helped the participants test new recipes that featured dark green vegetables, legumes, and red/orange vegetables. Then the participants created plans to implement the recipes and other activities during National School Lunch Week in October. The food service professionals loved learning some new recipes and techniques for making food fun and healthy for kids at school.
You don't have to be a kid to enjoy fun, healthy lunchtime foods! Bring a taste of the lunchroom to your kitchen table with these six recipes from the school lunchroom. They're sure to please any crowd!
Let's start off with one of Chef Todd's newest creations – his Raw Broccolini Sesame Salad. If your kids don't like broccoli, give them broccolini. It's similar to broccoli but has smaller florets and longer, thinner stalks. And it's perfect in this fresh salad:
Ingredients
1 lb. broccolini, cut into bite size pieces
1 c. frozen edamame (soybeans), thawed
1/2 c. celery, diced
3 T. toasted sesame seeds
1/2 tsp. low sodium soy sauce
1/2 tsp. honey
1 T. mirin
1 tsp. sesame oil
Directions
Step 1 – In a bowl combine sesame seeds, soy sauce, honey, mirin, and sesame oil. Whisk to combine.
Step 2 – Toss broccolini, edamame, and celery with dressing.
Step 3 – Serve immediately or refrigerate up to 2 hours.
For a crunchy side dish, go for this Tangy Pear and Cabbage Slaw from USA Pears. After slicing pears, two kinds of cabbage, and carrots, toss them with a sweet and spicy vinaigrette. It's a great way to get kids to eat some colorful veggies!
One of my favorite ways to sneak healthy veggies in my kids' diet is with a mushroom blend. Simply blend mushrooms in a food processor and add them as you brown ground beef. Then turn this mixture into these Blended Sloppy Joes from Monterey Mushrooms. Your family will never know the difference!
Roasted sweet potatoes are the star of this Sweet Potato and Black Bean Salad from VT FEED. (You can find the full recipe on pages 52 and 53.) Cumin, cilantro, and lime bring a Latin flavor to this warm salad. I highly recommend making this salad with sweet potatoes from Wada Farms!
Who doesn't love apple crisp? This Cafeteria Apple Crisp from Recipe Goldmine has all of the flavors of you would expect, including brown sugar, cinnamon, and oats. Choose your favorite apple from Sage Fruit to make this recipe all your own.
Forget greasy fried potatoes! These Scalloped Potatoes from the Institute of Child Nutrition are gooey goodness topped with crunchy bread crumbs. Using potatoes from Wada Farms will make these scalloped potatoes taste even better!