5-Minute Vegan Queso Dip
It's hard to think of a dip more delicious than queso. Unfortunately, this golden treat is off-limits to those following a vegan diet. That is, until now! This 5-minute vegan queso dip requires no cheese, no milk, and no butter!
So if there's no cheese, milk, or butter in this dip, what is in it? The secret ingredient is raw cashews! When blended with water, hot sauce, and an array of herbs and spices, they transform into a gooey cheese-like consistency.
In addition to raw cashews, you'll need fresh garlic, nutritional yeast, cumin, ancho chili powder, salt, and hot sauce to make your vegan queso.
Nutrition Benefits of Cashews
Raw cashews aren't just delicious, they also come with lots of nutritional benefits! They are rich in protein, healthy fats, and antioxidants. They are a source of fiber, copper, zinc, iron, selenium, vitamin K, vitamin B6, manganese, thiamine, phosphorus, and magnesium.
How to Make Vegan Queso
It truly can't get any simpler than this recipe! Place all of the ingredients into a blender and blend until smooth. That's it! You can use a traditional blender or an immersion blender.
Once blended, place the queso dip in a bowl and top with cilantro, tomatoes, salsa, or sliced jalapeno. The step is optional, but it sure does look pretty!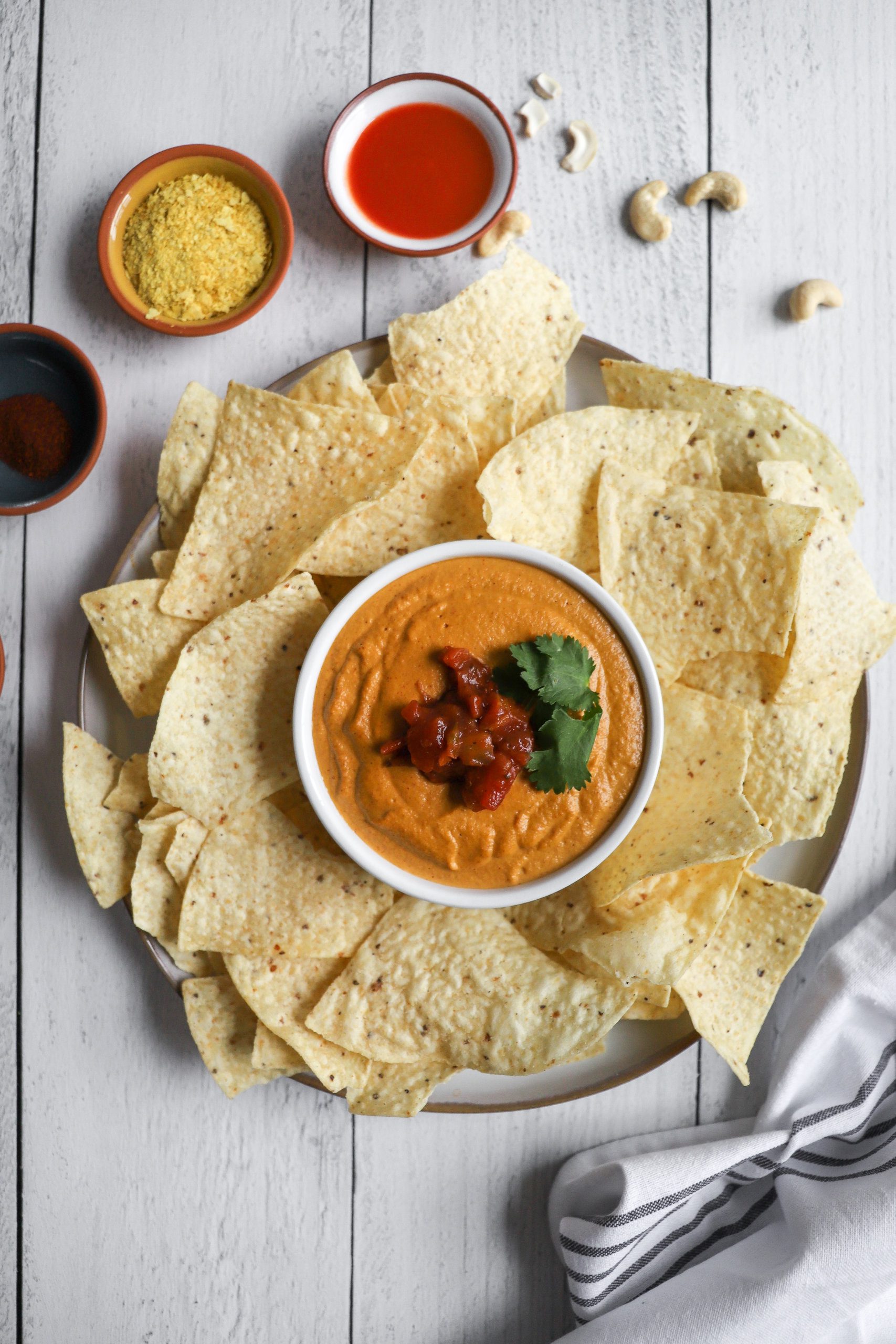 How to Serve Vegan Queso
Serve your vegan queso with tortilla chips, tacos, burritos, or drizzled over nachos or French fries. Encourage kids to eat their veggies by drizzling queso on top. It's especially good paired with broccoli, cauliflower, celery, and carrots. For parties, serve alongside of a bowl of guacamole.
Speaking of parties, this dip is the perfect choice for football parties, Cinco de Mayo celebrations, or potlucks. Any time there's a group of people gathering around food, this dip will fit right in! And because it's vegan-friendly, those following a vegan or dairy-free diet can still dig in and enjoy.
But don't just save this recipe for parties. Treat your family to it on taco nights or treat yourself to a fun weekend snack!
We hope you and your friends and family love this easy 5-minute vegan queso as much as we do! Leave your review in the comments below or tag us in your recipe photos on Instagram @theproducemoms.