This post is sponsored by Duda Farm Fresh Foods.
The holidays are a time to come together and enjoy ourselves with friends and family. But they're also a time for enjoying some delicious food! Not every holiday treat has to be sweet, though. Spread nutritious cheer with this Christmas Charcuterie Board.
This board is perfect for grazing during a family get-together or snacking on while opening gifts. Use colorful ingredients like cheese and Dandy® celery and radishes to make a festive shape and bring some extra fun to this tasty food.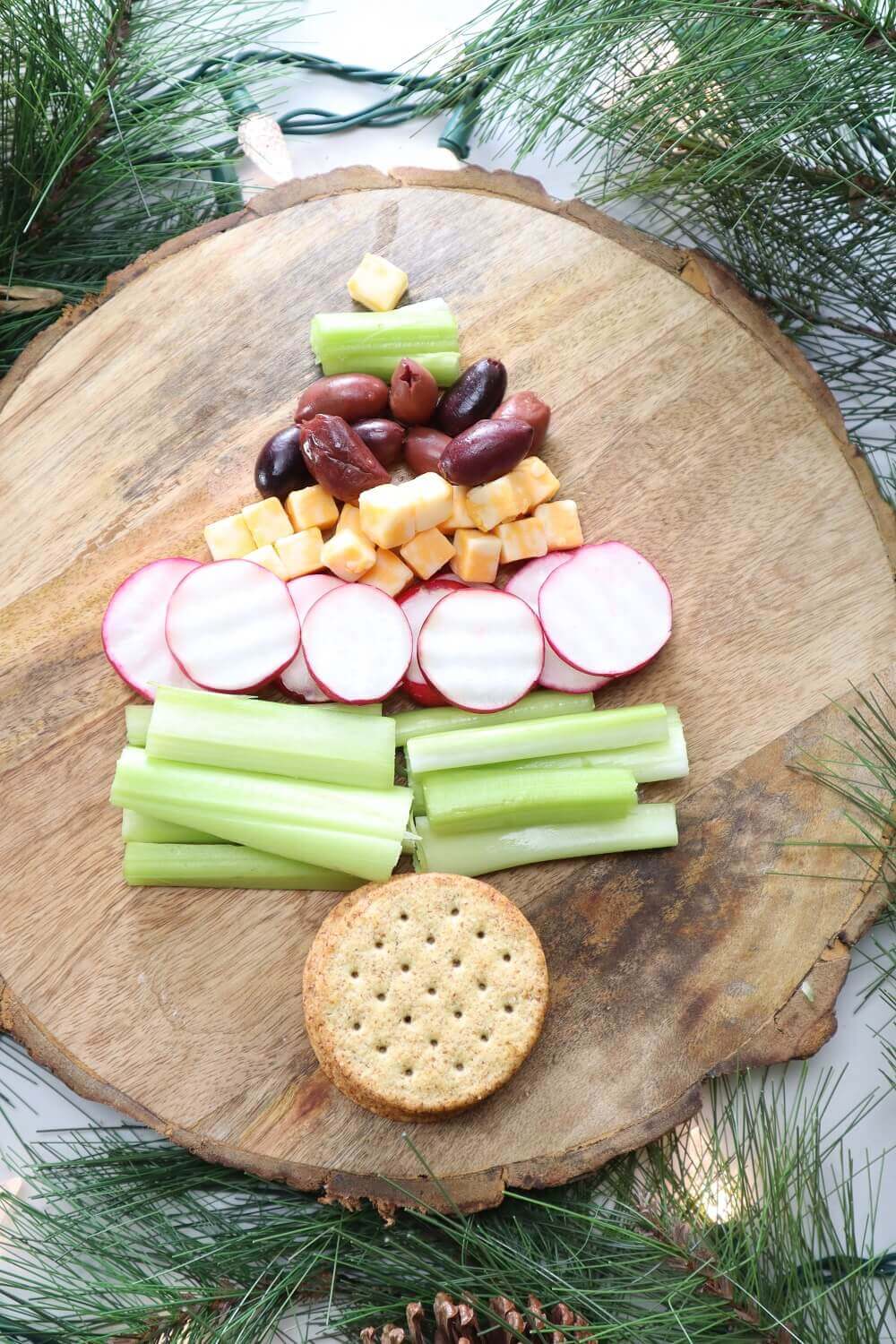 How To Make a Christmas Charcuterie Board
This grazing tray is easy to make: no cooking required! All you need to do is chop your ingredients into the desired shape and size. We used cubed Colby Jack cheese in our Christmas Charcuterie Board, but you can use any variety you'd like. You can also pair this board with your favorite veggie dip for extra flavor.
crackers

Dandy® Celery

Dandy® Radish Coins

Cheese cubes

black olives
crackers

Dandy® Celery

Dandy® Radish Coins

Cheese cubes

black olives
Chop the celery and radishes to the desired size.

Arrange ingredients into layers to make a Christmas tree shape.

Serve with your favorite dip (optional) and enjoy!
We used our colorful charcuterie ingredients to make a festive Christmas tree. But there are all kinds of designs you could make. Why not get the kids involved and see what holiday shapes they come up with? You could make a wreath encircling your dip dish, for starters. The possibilities are endless!
Don't be shy about adding additional veggies, either! Baby carrots or slices of colorful bell peppers would be a fun addition. Just be sure that celery sticks are prominently featured as they are key to creating the Christmas tree look.
Dandy® Celery Makes a Difference
Nearly a century ago, Andrew Duda brought the first crop to market from his farm – a farm that would launch six generations of passion for fresh fruits and vegetables. Today, his descendants at Duda Farm Fresh Foods are committed to bringing customers the safest, freshest product on the market through the Dandy® brand.
Using traditional breeding practices, their expert growers raise quality GMO-free produce and harvest them in the best possible conditions. Duda Farm Fresh Foods sets out to bring the freshest and most flavorful fruits and vegetables to your kitchen. That's why we've based this Holiday Charcuterie Board around Dandy® celery and radishes: they're the freshest and crunchiest around!
Did this Christmas Charcuterie Board help make your holiday merry? What fun and festive designs did you make? Tell us about it in the comments or show us on Instagram by tagging us @theproducemoms and @dandyfreshproduce.