Wada Farms: Year-Round Organic Potatoes
Wada Farms sponsored this post. 
Organic Potatoes Year-Round
The demand for organic produce has grown exponentially in recent years. More so than any other category of goods in the grocery store. It has been made clear that consumers have a desire to introduce more organic produce into their diets. Wada Farms is answering consumers' demands for organics by strategically partnering with Genesis Organics. This partnership will allow for year-round availability of organic potatoes.
Why Genesis Organics?
Genesis Organics has developed an agriculturally proficient program that allows for premium quality that stands at the forefront of the organic potato industry. The Genesis program is centered around developing a strong, viable seed that will ensure consistent quality throughout the lifecycle of the tuber. This partnership will produce the best varieties and best quality potatoes to meet the needs of discerning consumers.
Tatermade® Bags
Sustainability is at the forefront of this partnership, which is why they are using Tatermade® Bags for their packaging. These bags are made with up to 25% NuPlastiQ GP BioPolymer – a 100% natural, renewably sourced, plant-based material. So neat!
This partnership is exciting not only for consumers who love eating potatoes but also for all of us involved in the produce industry. We celebrate every move made by our partners toward improving sustainability, quality, and availability. Congratulations Wada Farms and Genesis Organics!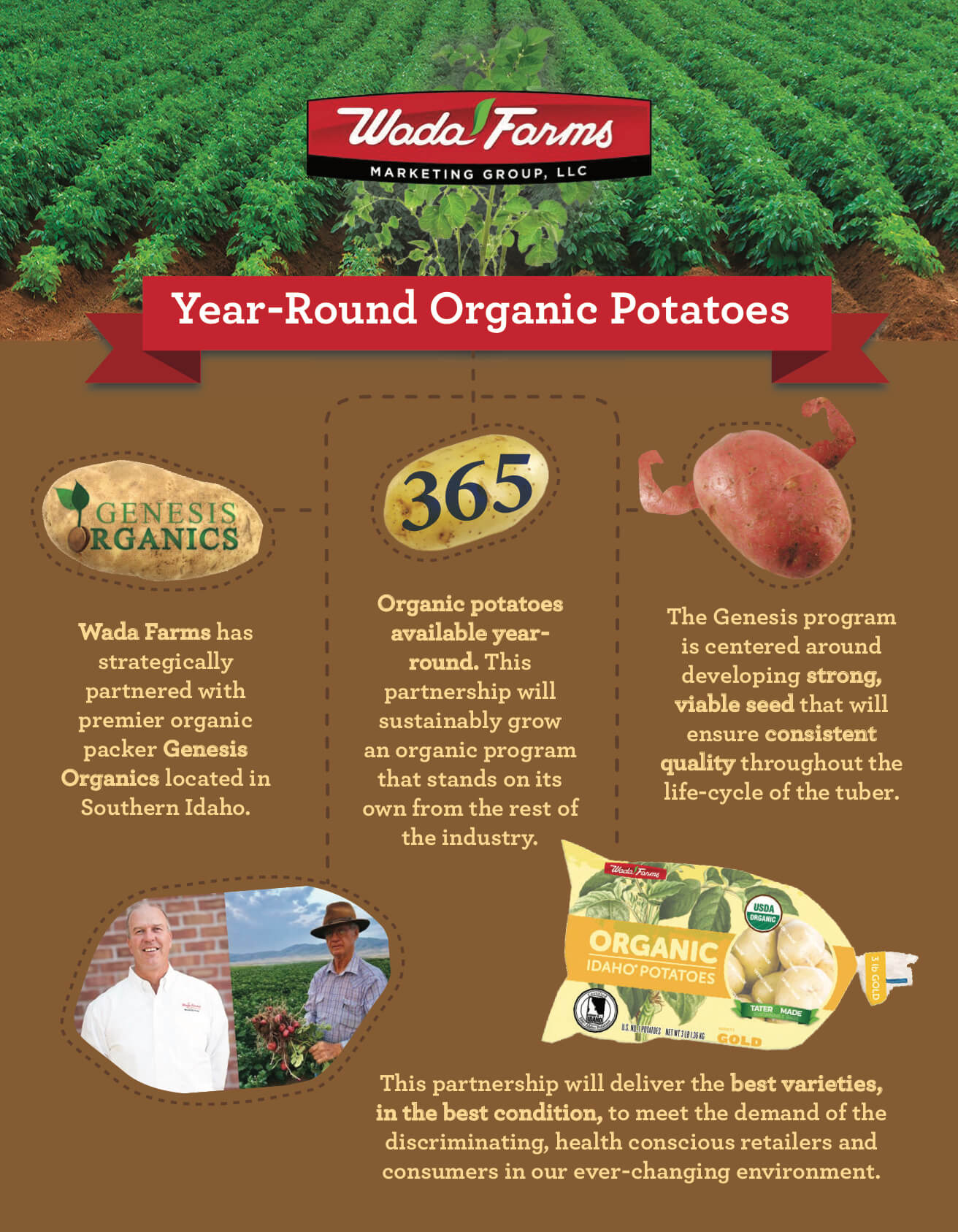 Live In The Kitchen With Wada Farms
On a recent Friday Facebook Live episode, The Produce Moms owner and founder Lori Taylor discussed this exciting news and shared four ways to cook a Wada Russet potato. Keep watching to minute 16 to learn the secret to getting the fluffiest baked potatoes ever!
Be sure to look for Wada Farms Organic Potatoes in your grocer's produce department — now available 365 days of the year!
What's your favorite way to prepare potatoes? Share in the comments below.