Meet Domex Superfresh Growers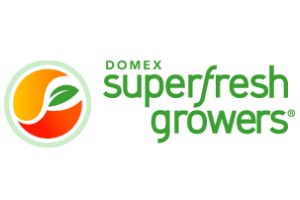 The best thing about The Produce Mom is how we are able to unite so many different players of the fruit & veggie industry together for 1 big show here on my website.   This site means a lot to the fresh produce industry because of you!  Everyone from the local turnip farmer to the United State's largest supplier of exotic produce can connect with the consumer, the real boss, here on The Produce Mom.  It's part of being a member of The Produce Mom family…. and yes, YOU as a reader & follower are part of the family!  There's a Produce Mom in ALL of Us!
If you have been following me on Facebook, you have likely already been introduced to Superfresh Growers.  They are a grower & supplier of Washington Apples, Pears & Cherries and they also call Yakima Valley their home 🙂
Today's an exciting day in the Domex Superfresh fields… apple harvest started this morning!  Yay!  Ginger Golds are being picked from the trees in Washington as you read this.
It's also pretty exciting because they are still shipping out cherries, so it's that unique & chaotic time of year where an "end of season" & a "start of season" overlaps for the Washington farmers.
I had a fan respond on facebook today: I'm not ready for apples! peaches just came in.  
To this I say, Apples & Peaches.  It's the new Peas & Carrots. 

And Superfresh Growers might say New Crop Washington Apples & Northwest Cherries available now for a limited time only.  We are literally in the very last days of Northwest Cherries being available!  Make sure you get some during your next grocery trip.  We're going to share some tips for freezing them starting next week…. fun contest coming at ya too 🙂

Connect with Superfresh on Facebook & Instagram to enjoy more pics of the exciting Apple Harvest (did I mention that it started TODAY! eeek!) & of course all sorts of ideas on how to enjoy the apples, cherries & pears that Domex Superfresh Growers so proudly farms for your family.
More fun with #freshproduce & industry introductions coming at ya!  Thanks for being the best fans and followers of all time.
Eat your veggies… and your apples, pears & cherries, too!
xoxo Produce Mom
Sign up here for our NEW weekly newsletter if you want more fun recipes, cooking tips, and more!
OR  Text "TPM" to 66866 to sign up!