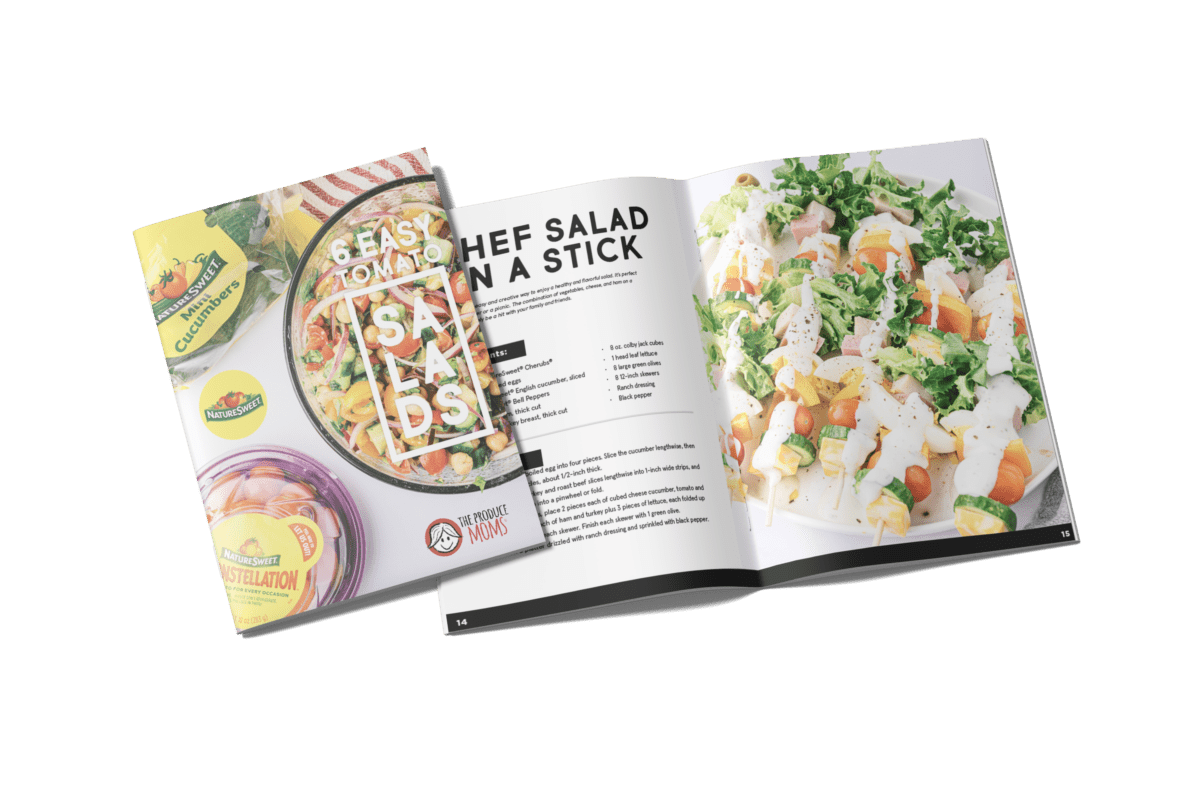 We can't wait for you to download this 6 Easy Tomato Salad Recipes eBook. Each tomato salad recipe is super simple to create in your kitchen with ingredients that are easily accessible.
Salad recipes are supposed to be simple, easy and no fuss. That's exactly what you'll receive with these simple tomato salad recipes. We've partnered with our brand partners at NatureSweet® to compile these recipes into a fun eBook that also shows you how to build a perfect salad. Once you learn how to build a perfect salad, you will never have to eat a boring salad again!
We believe every salad starts with a good base, followed by added protein, a little crunch, creaminess and of course…tomatoes! Whether you choose to go with any of the NatureSweet® varieties (Cherubs®, Glorys®, Constellation®, Comets™ or Twilights®) you know your tomato salad is going to be perfection.
You have probably seen NatureSweet® tomatoes in the produce section of your local grocery store. Their packaging is as recognizable as the great taste.
Related: Behind the Tomatoes: NatureSweet® Is Doing it Right
The Tomato Recipes you'll find in this eBook:
Chickpea Avocado Salad
This salad is a fantastic combination of creamy avocado and hearty chickpeas, creating a flavorful and nutritious meal. The chickpeas provide a great source of protein as well as a crunchy texture, while the avocado gives the salad a creamy and light flavor. Plus, the color and flavor of the Constellation® tomatoes bring this salad to life!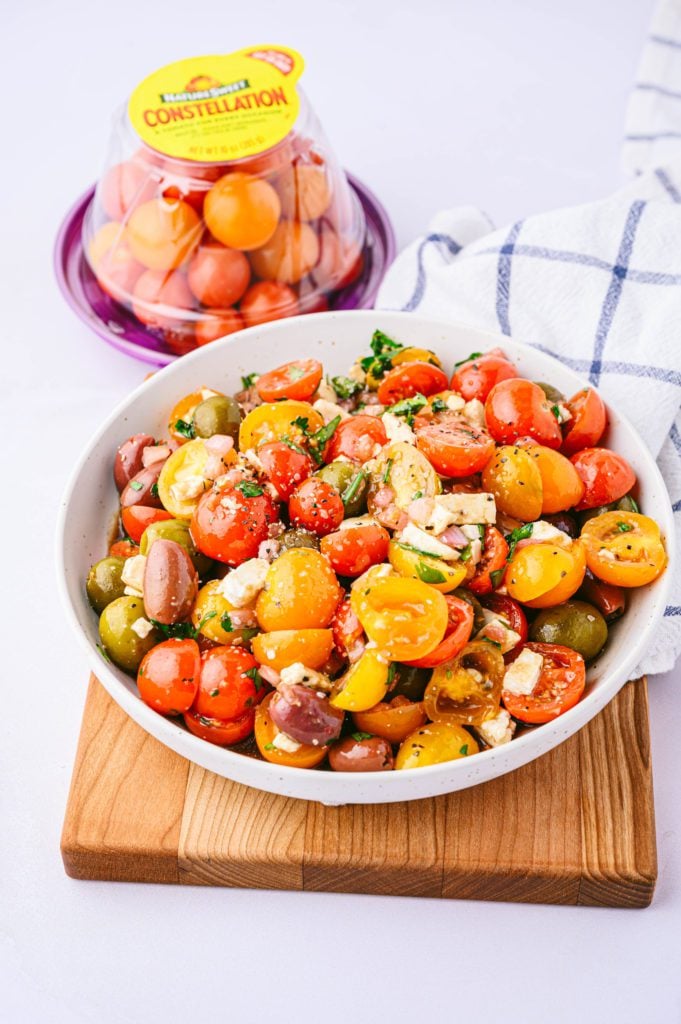 Feta Tomato Salad
This delicious Feta Tomato Salad is a simple yet flavorful dish that is sure to be a hit at your next gathering! Bursting with tasty tomatoes, salty feta cheese, delicious olives, and a zesty vinaigrette, this salad is sure to be a crowd pleaser.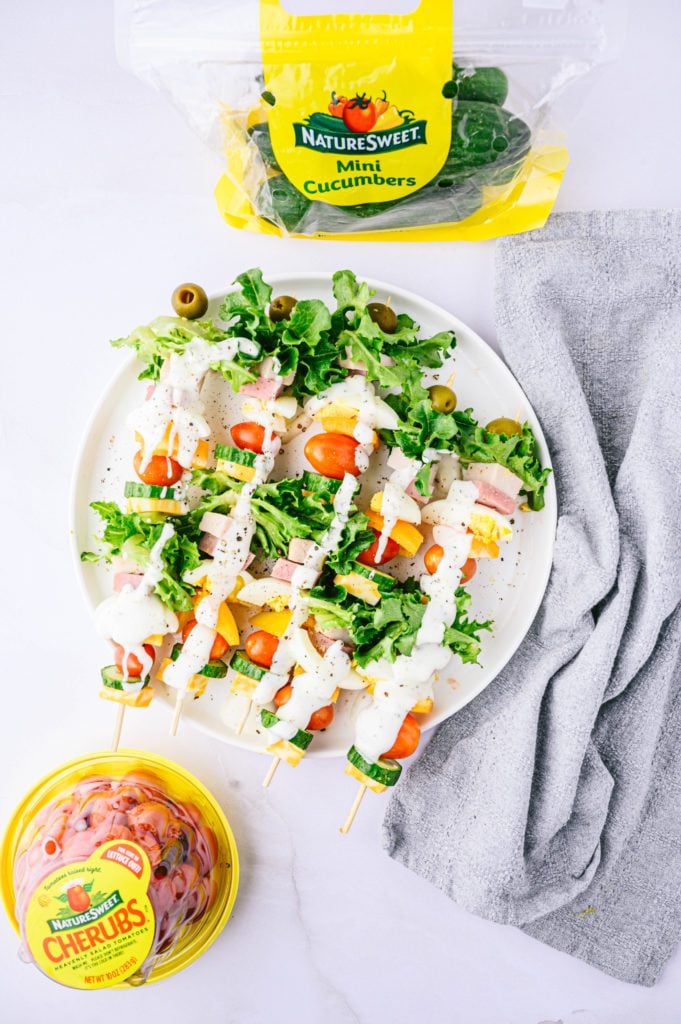 Chef Salad on a Stick
This dish is an easy and creative way to enjoy a healthy and flavorful salad. It's perfect for a light dinner or a picnic. The combination of vegetables, cheese, and ham on a skewer will surely be a hit with your family and friends. Everything is better on a stick!
BLT Broccoli Slaw
This dish is a delicious, crunchy, and healthy twist on the classic BLT sandwich. It's a great way to enjoy a classic sandwich without the added carbs and calories of bread.
Cucumber Pasta Salad
Made with orecchiette pasta, English cucumber, tomato, onion, dill, mayonnaise, vinegar, honey and salt, it's sure to be a hit with everyone. The fresh vegetables, herbs and creamy mayonnaise provide a delightful combination of tastes and textures.
Cucumber Tomato Salad
This delicious and refreshing cucumber tomato salad is a great way to add some color and flavor to any meal.
We hope that you enjoy these delicious tomato recipes as much as we do! They are perfect for meal prep or sharing at your next backyard BBQ, sharing with co-workers at a potluck or simply feeding a crowd on a budget.
NatureSweet® Tomatoes: The Perfect Tomato for a Salad
Innovative, delicious tomatoes are only possible because of the people who grow them. And to NatureSweet®, these aren't nameless, faceless workers who live to pick tomatoes. They're individuals with passions, goals, and families who live rich lives outside the rows of vines. NatureSweet ®is doing what's right not for their profit margin, but for the people who power every aspect of the company.
The NatureSweet® growers don't cut corners. They don't look for cheap alternatives or easy shortcuts. They're innovators with quality and flavor in mind. If a better outcome is possible, NatureSweet is willing to try something new — even when the path to success is harder or more expensive.
Want more tomato recipe inspiration? We have you covered here.

Related eBook: Arts and Crafts with NatureSweet® Tomatoes