3-Ingredient Pineapple Whip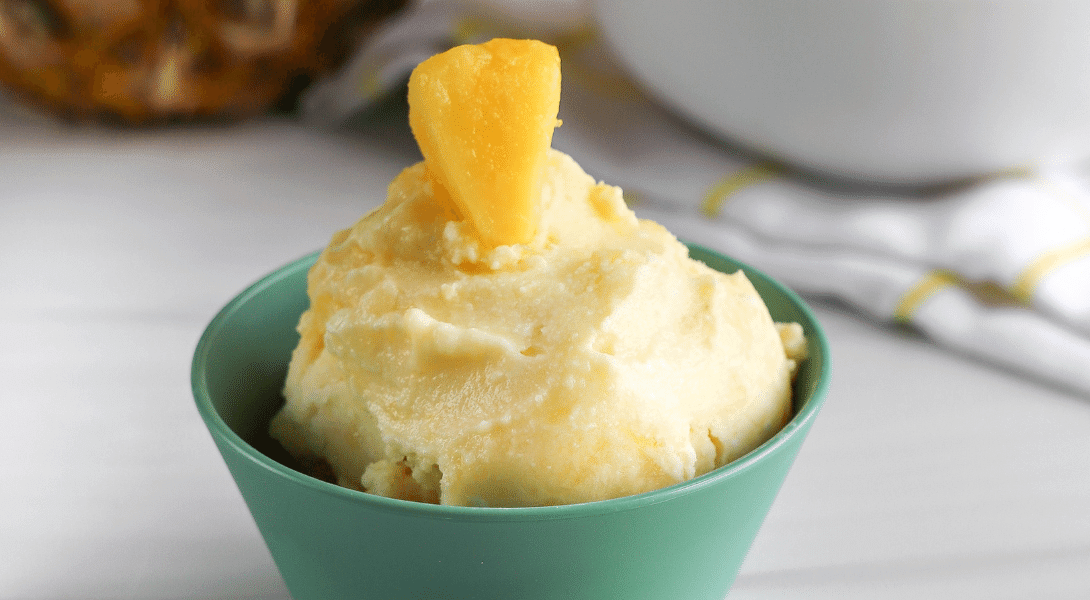 Forget seasonal, everyone know a good pineapple whip is a hit year round!
Your kids will love this creamy freeze with breakfast, during school, or as an afternoon snack. Best of all, it's easy to whip up and serve! It requires just three ingredients, which you might already have in the kitchen.
How To Make Pineapple Whip
Necessary equipment: food processor or blender
Ingredients: pineapples, coconut milk, and orange juice
1. Combine pineapple, coconut milk, and orange juice in a blender or food processor and blend until smooth and airy, 2-3 minutes.
2. Freeze until ready to eat.
This tasty treat straight out of a tropical vacation. But there's no need to board a plane to find it. It's easy to make in your own kitchen! For the proper consistency, you'll also need a food processor or blender to whip it together.
This Pineapple Whip doesn't contain any added sugar. Rather, its delightfully sweet flavor comes from the combination of pineapples, coconut milk, and orange juice, all of which contain their own natural sugars.
Using coconut milk rather than regular dairy milk makes this recipe dairy-free, too. These ingredients also load this recipe with nutrients like vitamin C and antioxidants, both immune system boosters that will give your kids a healthy snack they can get excited about.
Serve pineapple whip it with a spoon to scoop up every last bit. If you plan to take your Pineapple Whip to go, pack it in a thermos along with an ice pack to keep it cool inside the lunchbox.
is Pineapple Whip the same as dole whip?
There are different variations to this classic sweet treat, but yes, these are technically the same. The Dole Whip, made popular by its Disneyland cult following, is the same soft serve treat, but has more ingredients. This version has less sugar, and the same great taste!
RELATED: Beach-Inspired Recipes
Ingredients
1

lb

frozen pineapple

1/2

cup

canned coconut milk

1/2

cup

orange juice
Instructions
Combine pineapple, coconut milk, and orange juice in a blender or food processor and blend until smooth and airy, 2-3 minutes.

Transfer to a storage container and freeze until ready to eat.
Nutrition information is automatically calculated, so should only be used as an approximation.
Like this? Leave a comment below!
Mixing Up Your Whip
Our Pineapple Whip is a treat your family won't get tired of — especially because you can swap out the flavor to keep it interesting! Instead of pineapple, try blending peach slices or mango chunks into this whip. Get even more creative and try combinations like strawberry and kiwi slices. The variations are as limitless as your imagination!
But the flavor doesn't have to stay in this treat – it can be on it, too! Try sprinkling some steel-cut oats or coconut flakes on top for added flavor and texture. Ask your kids for suggestions and find the best toppings and flavor combinations together!
Did this Pineapple Whip bring some sunshine to your day? What are your favorite flavors or combinations? Let us know in the comments below or tag us in your pineapple pics on Instagram @theproducemoms!