Fresh and Sweet Mexican Apple Salad
Jan 31, 2023, Updated Jun 16, 2023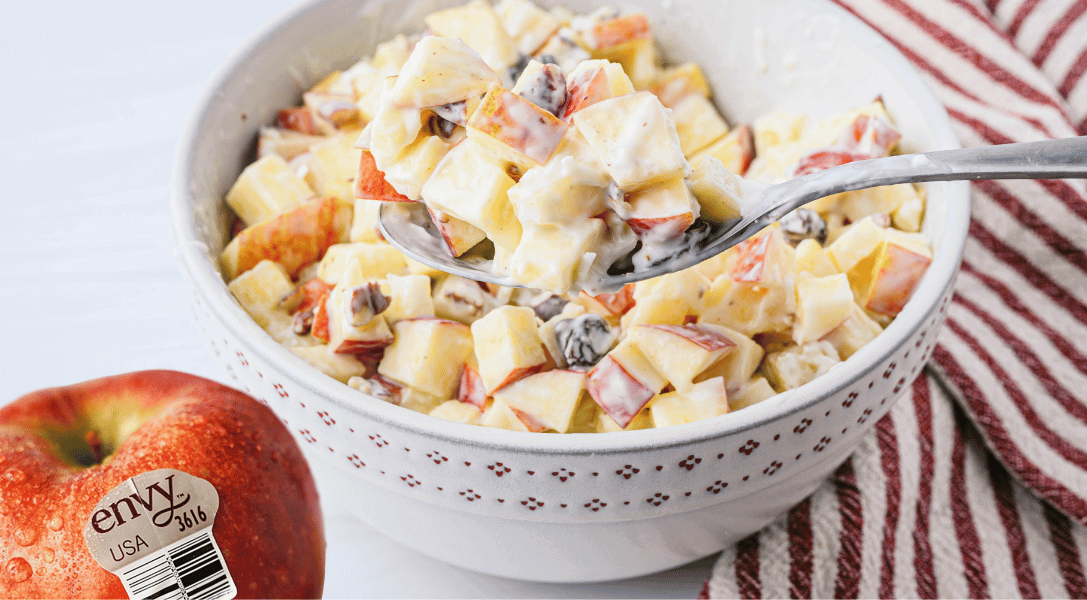 Apples, pineapples, raisins, and pecans coated with a tangy yogurt dressing for a creamy, sweet, and refreshing Mexican Apple Salad (ensalada de manzana). You can make this easy recipe ahead of time as an easy side dish or dessert with any meal. Oh, and one more thing — you may want to make extra (this one disappears quickly)!
It is believed that this recipe is the Mexican version of the famous Waldorf salad.
Take our word, this will soon become one of your family's favorite recipes!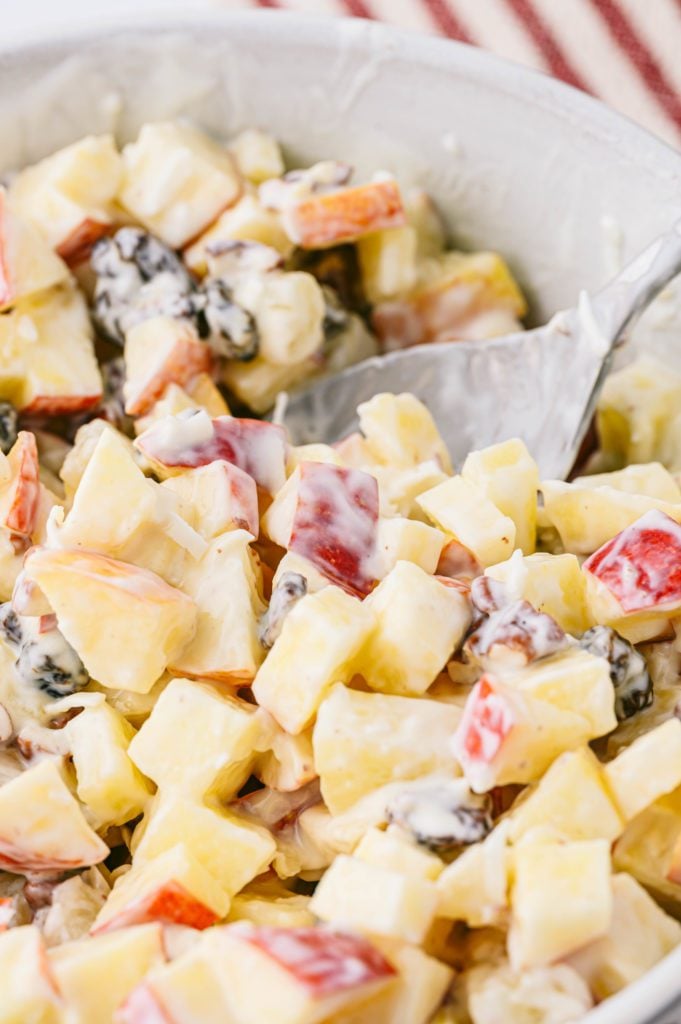 Mexican Apple Salad is sponsored by Envy™ Apples.
Minimal prep work, easy, affordable, nutritious, and the cherry on top: variations to serve this Mexican classic as a dessert or side dish. And it's naturally sweet without added sugars.
Imagine the silence at the table as everyone enjoys your Mexican Apple Salad, even your kids.
Let's get started!
What Is Mexican Apple Salad?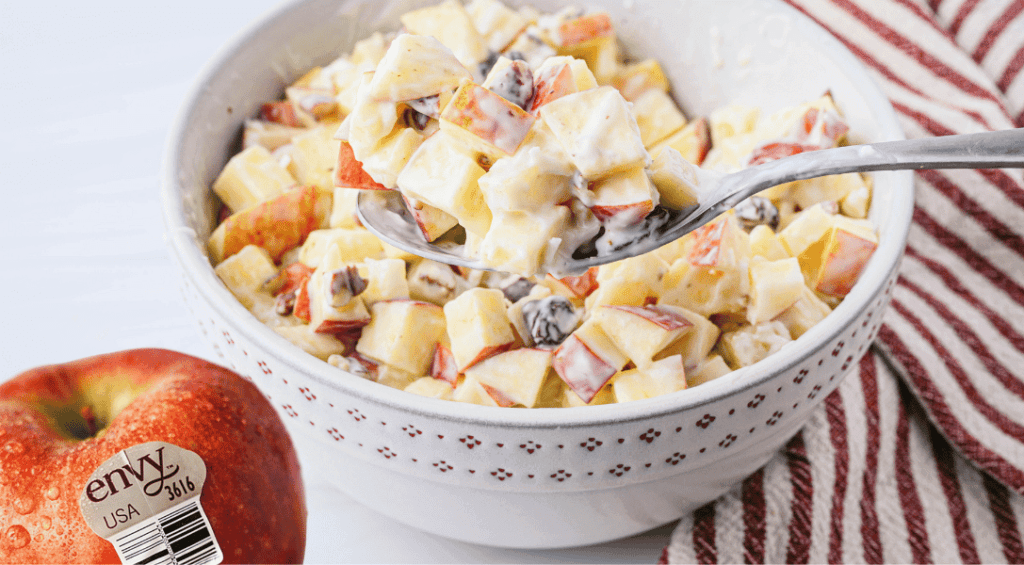 Mexican Apple Salad is popular in central Mexico throughout the year, and it is often enjoyed even more during the Christmas season. People just love the salad for its sweet and sour flavors. It pairs well with roasted meats like salty ham or turkey. It's usually served as a side dish but can also be dressed up for a light dessert.
It was originally made with mayonnaise and plated with lettuce for a more savory, salad-type of side. Each household in Mexico has its own variation of ingredients for this salad. For example, some people like to add carrots or cream cheese. We used Envy™ apples, pineapples, and coconut for just the perfect amount of sweetness without crossing into dessert territory.
Is This a Waldorf Salad?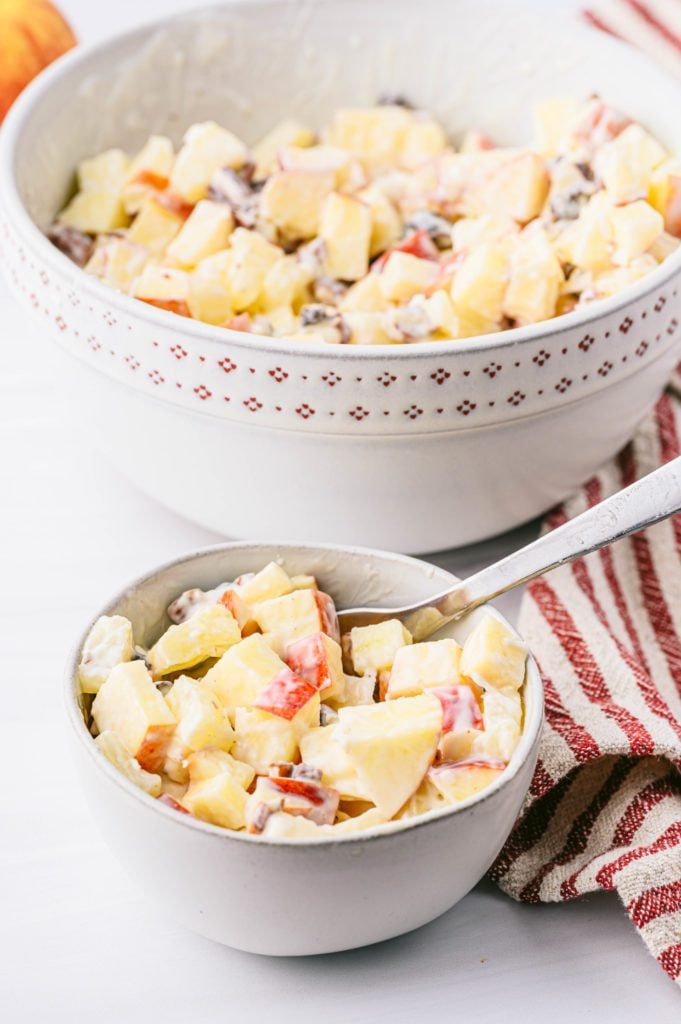 Although Mexican Apple Salad sounds similar to Waldorf salad, there are a few differences.
A Waldorf salad is made with apples, grapes, and walnuts over a bed of lettuce and served with a mayo-based salad dressing. Some people choose to add chicken or ham for some protein. The fruit gives it a hint of sweetness but let's be honest, this salad could never be considered a dessert.
Mexican Apples Salad uses alternate ingredients — pecans instead of walnuts, raisins instead of grapes, and Mexican cream and yogurt instead of mayo. This is where the true difference shines. Mexican Apple Salad is more versatile because you can eat it as a dessert, or as a salad. And using the right apples makes all the difference. Let's get into why Envy™ Apples are perfect for this recipe.
What Variety of Apple Is Best for Salad?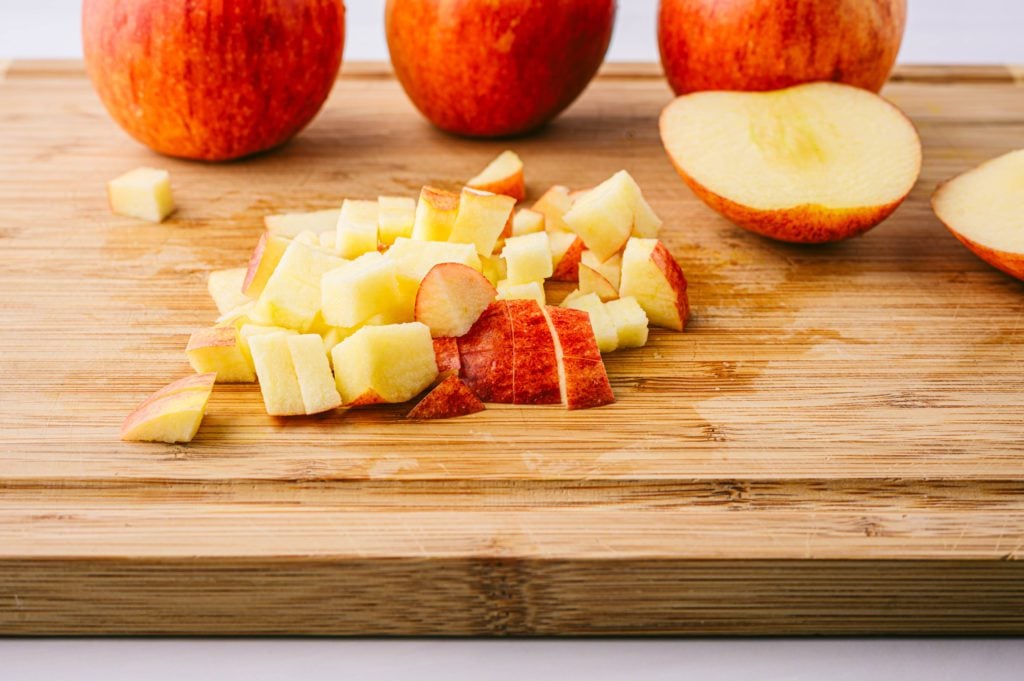 Have you tried an apple for the ultimate apple experience? They use natural, world-class growing methods for a superior farm-to-market taste. Sweet, crunchy, aromatic, and crisp, there's a reason they say it's "the ultimate apple experience". Find Envy™ apples near you for the best Mexican apple salad side. You'll be so glad you did!
Now let's make this salad!
Ingredients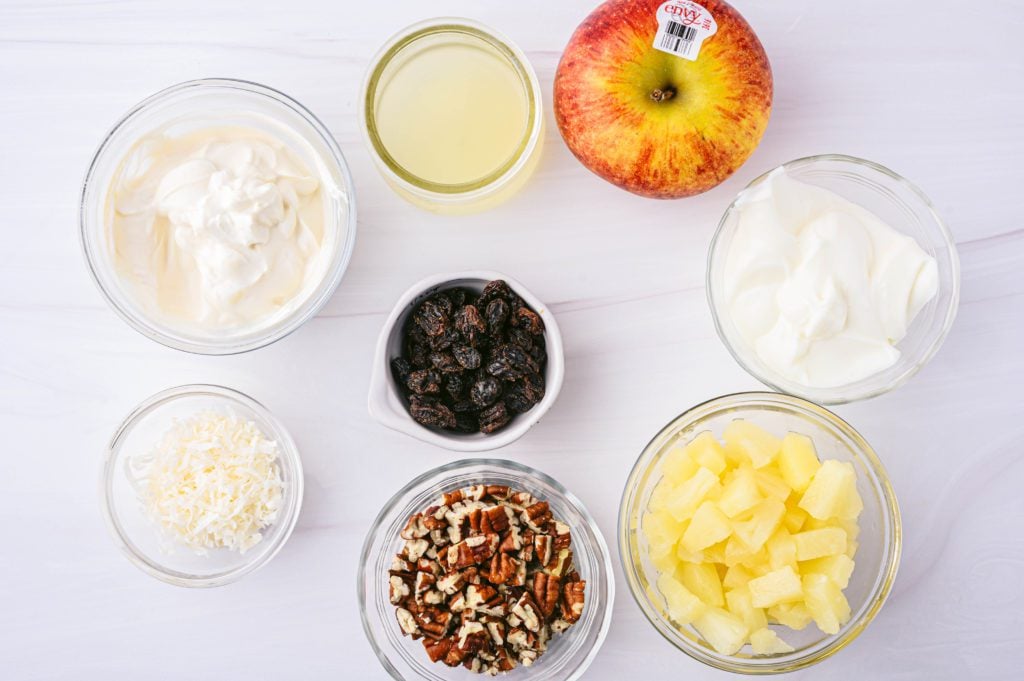 Here's what you need:
Envy™ Apples
Known as the ultimate apple experience for their naturally sweet taste and crisp crunch. And it stays white longer after it's cut. It's ideal for a make-ahead side dish.
Pecans
Infuse your salad with a sweet, nutty, and buttery flavor from pecans. They have more depth of flavor than walnuts which pair well with the fruit and dressing.
Raisins
When raisins are eaten in moderation, they can help with digestion, increase iron in your body, and possibly help prevent cavities1. They soften as they soak up the dressing. Plus, they taste incredible!
Coconut Flakes
Sweetened coconut flakes have sugar added to them and then are cut into flakes before they're slowly dried out. Because they're cut, coconut flakes are bigger than shredded coconut for a unique added crunch.
Pineapple
Canned pineapple tidbits are stored in their own juice for an extra juicy, sweet, and tart taste. Buy the tidbits to cuts down on the prep work for your salad. We use the juice from the can, so make sure to save it!
Yogurt
The fermentation process of making yogurt gives this dish a tangy, sour taste to balance the sweet and tart ingredients in your salad. Yogurt helps get the creamy consistency for your dressing as well.
Mexican Crema
Crema is tangy like sour cream, but it has a thicker consistency and richer flavor. Look for it in the dairy section of your grocery store, near the sour cream.
A modern take on this classic holiday recipe adds condensed milk to the dressing. Between the Envy™ apples, pineapples, and coconut, it really isn't necessary. If you want to cut back on sugar, leave out the condensed milk. You won't even miss it — promise.
Now let's get chopping!
How to Make Mexican Apple Salad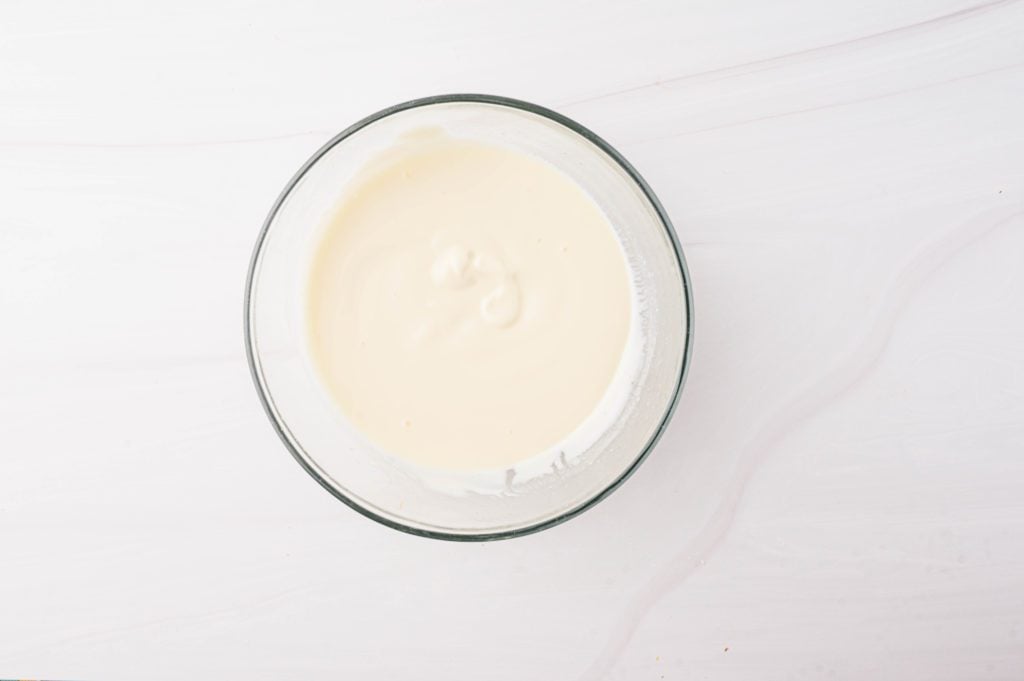 Step 1
Whisk pineapple juice, yogurt, and crema until smooth and chill in the fridge.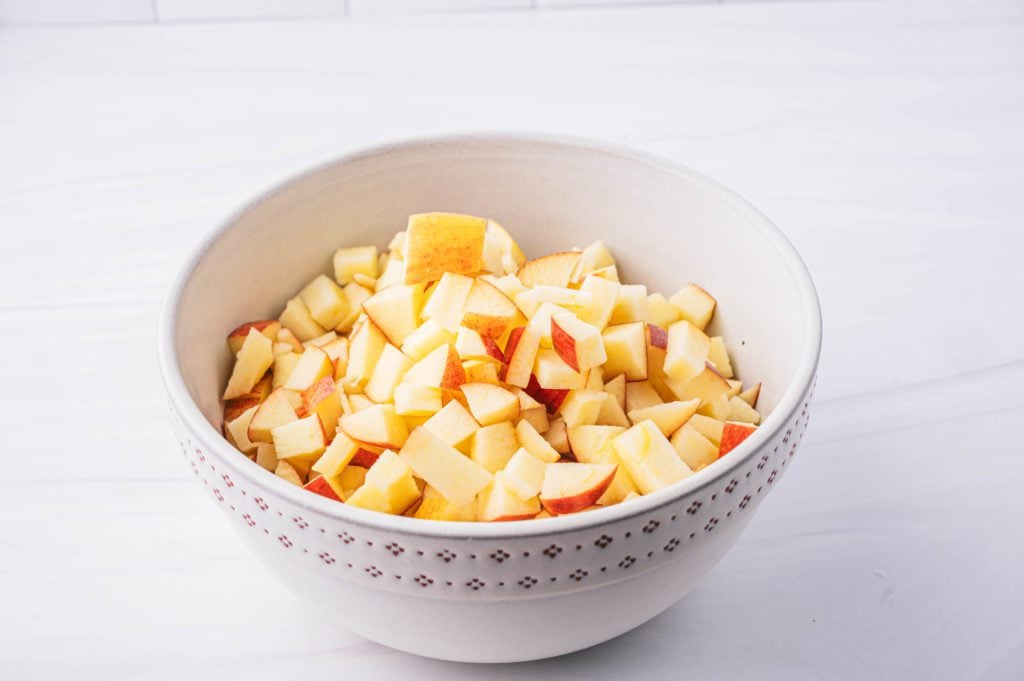 Step 2
Dice your Envy™ apples and add them to a large mixing bowl.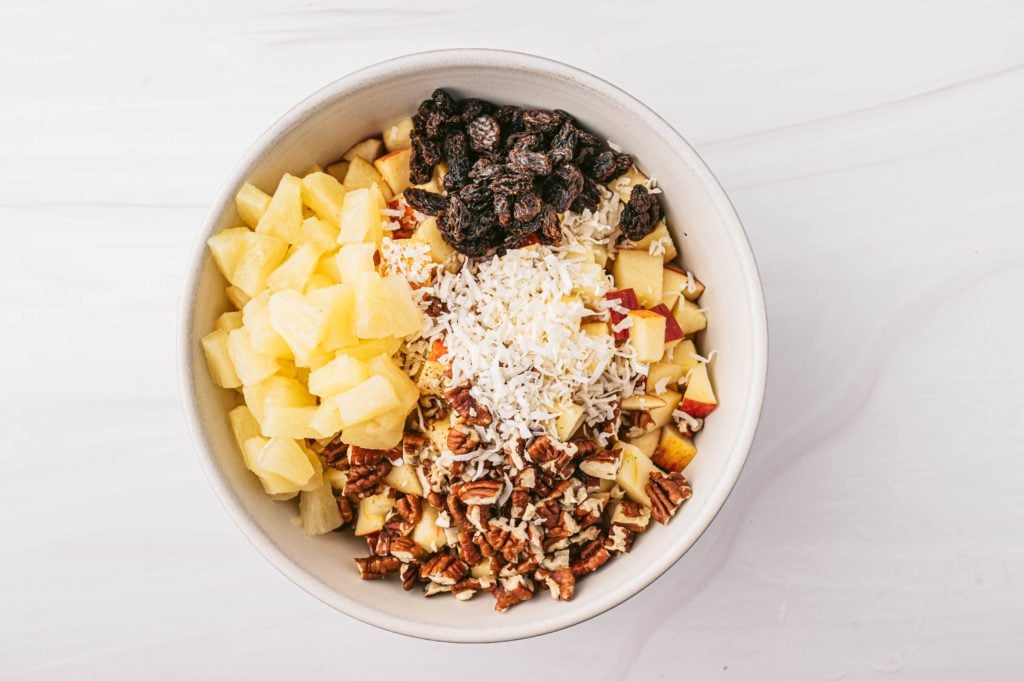 Step 3
Add pecans, coconut, pineapples, and raisins to the large mixing bowl with the Envy™ apples.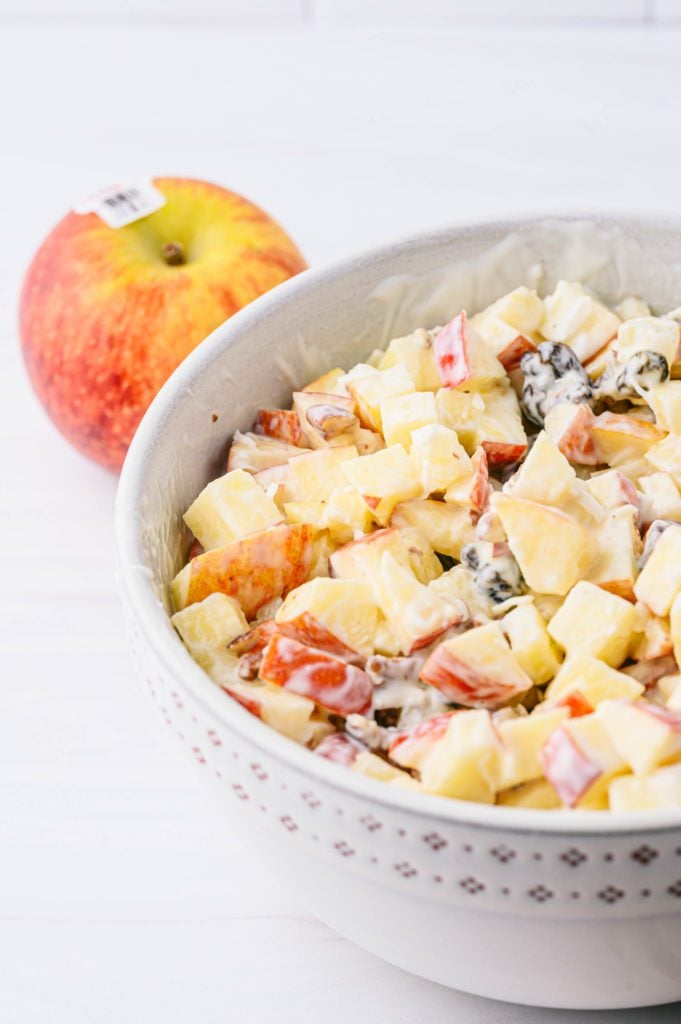 Step 4
Add dressing and toss the salad to mix the ingredients.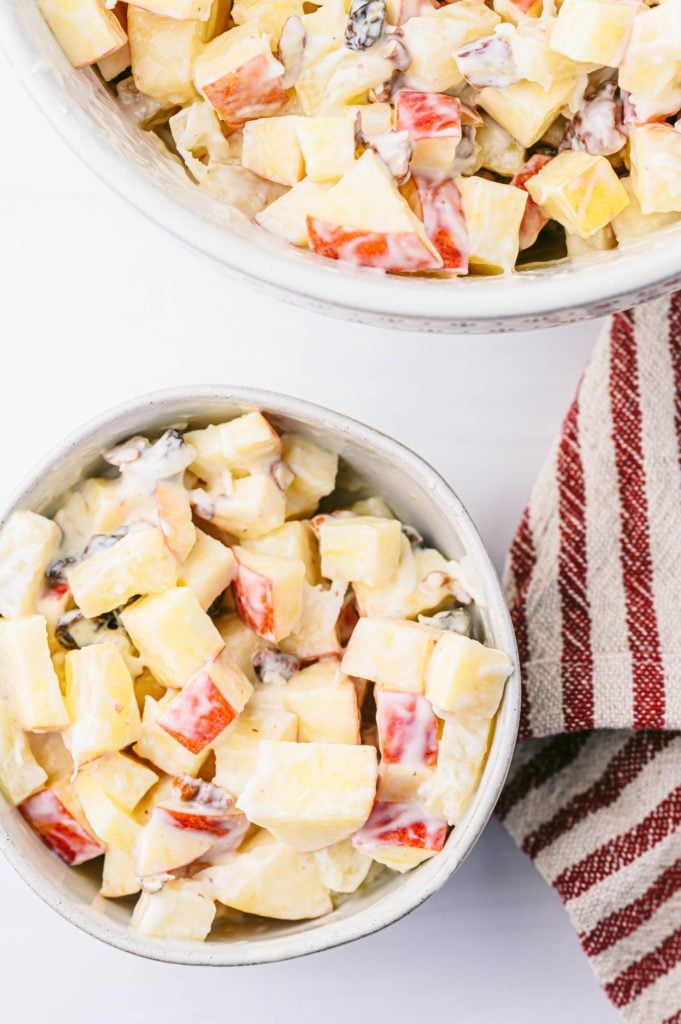 Step 5
Serve or refrigerate until ready to eat.
How to Store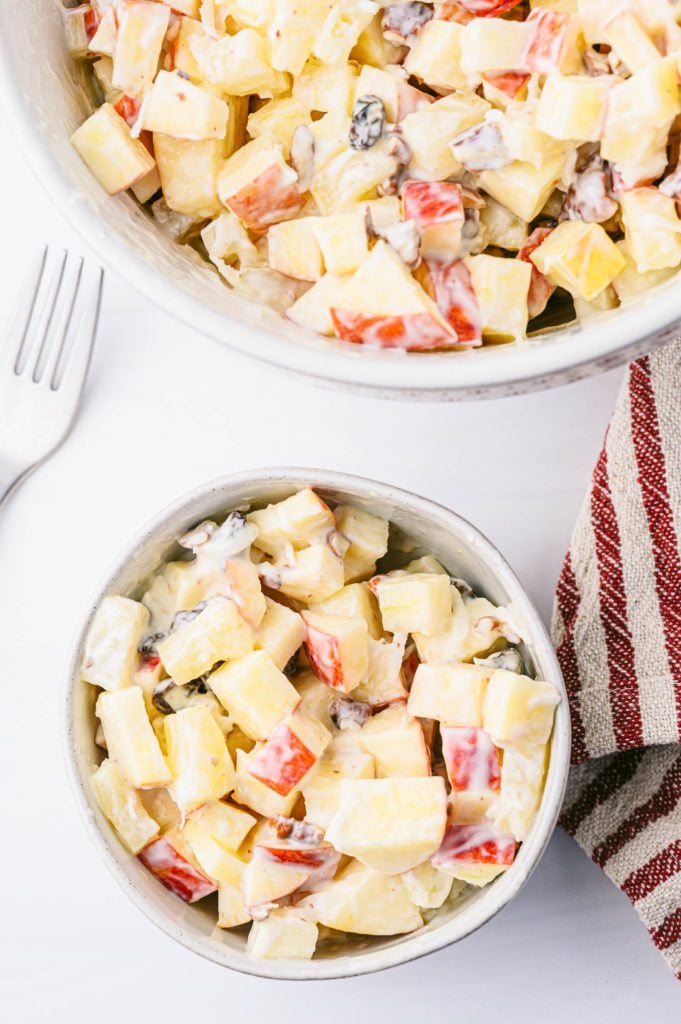 Store your Mexican Apple Salad for up to 3 days in an airtight container in the fridge. If you make your salad ahead of time, it allows time for the fruits, raisins, and nuts to marinate in the dressing. Remember to leave the pecans out and add them just before serving so that they're still crunchy.
Freezing isn't recommended because the apples become mushy.
Just as families add their favorite ingredients in Mexico, you can too! Here is some inspiration.
Tips and Ideas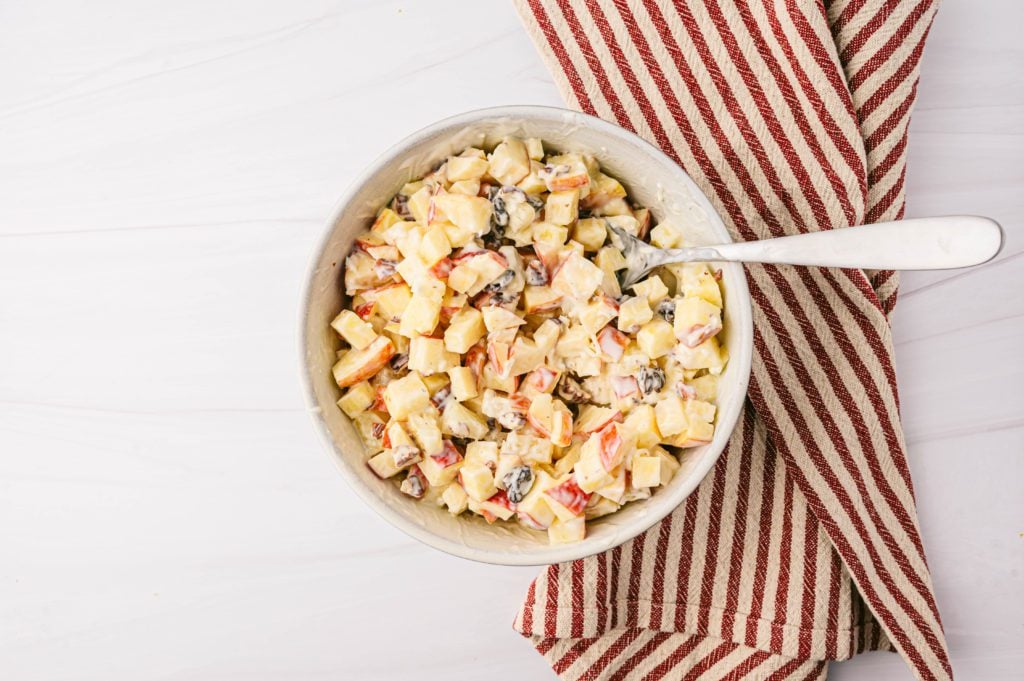 Use coconut or key lime

flavored yogurt

to boost the flavors in your apple salad.

Add some

sweetened condensed milk

if you want your salad to feel more like a dessert. Envy™ apples are naturally sweet so we really don't think condensed milk is necessary for a general side dish.

Make your own

Mexican crema

by adding 1 Tbsp of fresh lime juice and a pinch of salt to plain sour cream and let it sit for 20 minutes. (Yes, it's that easy.)

Use sweetened

coconut flakes

to balance out the tangy tartness of the salad.

Leave the skin on your apples when you chop them for easier prep, natural sweetness, and festive red color throughout your salad. For an extra pop of bold red color add a few

maraschino cherries.

Add

pecans

just before serving to keep the crunchiness.
Do You Hear That?
The sound of crisp apples, toasty pecans, and crunchy coconut flakes as your family eats this new recipe. And don't forget about your nephew who has creamy yogurt dressing dripping down his face. Sometimes silence (especially when it's because of the food you've prepared) can be the best compliment. Your family is sure to request Mexican Apple Salad all year.
More Recipes
Jewish Apple Cake

– cinnamon-covered apples in a homemade cake for the ultimate dessert
About Envy™ Apples
Envy™ apples are beautiful with their bright red color…naturally gorgeous. Not to mention their sweet and sophisticated flavor. They are the perfect apple for your year round apple dishes! They have a delightful crunch, and we want everyone to Bite and Believe for themselves. Learn more by visiting envyapple.com.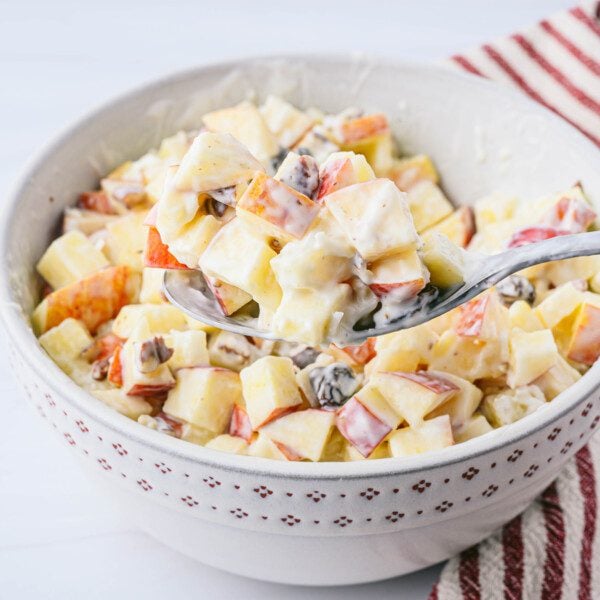 Mexican Apple Salad
Crunchy, creamy, tangy, and sweet all in one bite when you make Mexican Apple Salad. With options to sweeten things up or keep it as is, serve this recipe as a side or dessert at your next gathering. A great make-ahead recipe.
Ingredients
Mexican Salad
8

Envy apples

diced

1

cup

pecans

chopped

1/2

cup

raisins

1/4

cup

coconut flakes

1

(20 oz.) can

pineapple tidbits in juice
Dressing
Reserved pineapple juice

(see notes)

1

cup

vanilla yogurt

1

cup

Mexican crema
Instructions
Add the reserved pineapple juice, yogurt, and crema to a medium-sized bowl. Use a whisk to mix the ingredients together until you have a smooth, creamy dressing.

Chill your dressing in the refrigerator until you're ready to add it to your Mexican salad.

In a large bowl, add the chopped salad ingredients — apples, pecans, coconut, pineapple tidbits, and raisins.

Get your yogurt dressing from the fridge and pour it over your bowl of salad ingredients. Use tongs to mix the salad until the ingredients are evenly coated with the dressing.

Grab a fork and dig in or keep it in the fridge until ready to serve.
Notes
You only need one 20oz can of pineapple tidbits. Save the juice to make the dressing and pour the pineapple tidbits right into the salad bowl.
Nutrition
Calories:
606
kcal
|
Carbohydrates:
81
g
|
Protein:
9
g
|
Fat:
32
g
|
Saturated Fat:
5
g
|
Polyunsaturated Fat:
6
g
|
Monounsaturated Fat:
10
g
|
Cholesterol:
34
mg
|
Sodium:
295
mg
|
Potassium:
804
mg
|
Fiber:
13
g
|
Sugar:
50
g
|
Vitamin A:
502
IU
|
Vitamin C:
19
mg
|
Calcium:
245
mg
|
Iron:
2
mg
Nutrition information is automatically calculated, so should only be used as an approximation.
Like this? Leave a comment below!