This post is sponsored by Pro Citrus Network. 
Time to pop that champagne bottle! Give your day some extra sparkle with this MandaRosa Mandarin Mimosa. Made with freshly-squeezed MandaRosa mandarins, this delightful drink beats typical mimosas with fizzy, fruity flavor. 
Enjoy this drink with brunch, after dinner, or anytime you want to relax with a light, fresh beverage. It's perfect for baby showers, wedding showers, or weekend brunch with friends.
How To Mix a MandaRosa Mandarin Mimosa
Making your own mimosa is simple — and upscaling it into a MandaRosa Mimosa is easy, too! This recipe only requires two ingredients: Champagne (or Prosecco or sparkling wine) and MandaRosas. 
The variety of bubbly you pick doesn't make too big of a difference in this recipe. Most bubblies or unflavored varieties of sparkling wine will taste just fine. However, the variety of orange you choose does matter!
2

oz

Freshly squeezed MandaRosa juice

4

oz

Champagne or sparkling wine
2

oz

Freshly squeezed MandaRosa juice

4

oz

Champagne or sparkling wine
Add MandaRosa juice to a champagne flute and add champagne or sparkling wine. Garnish with a wedge of MandaRosa.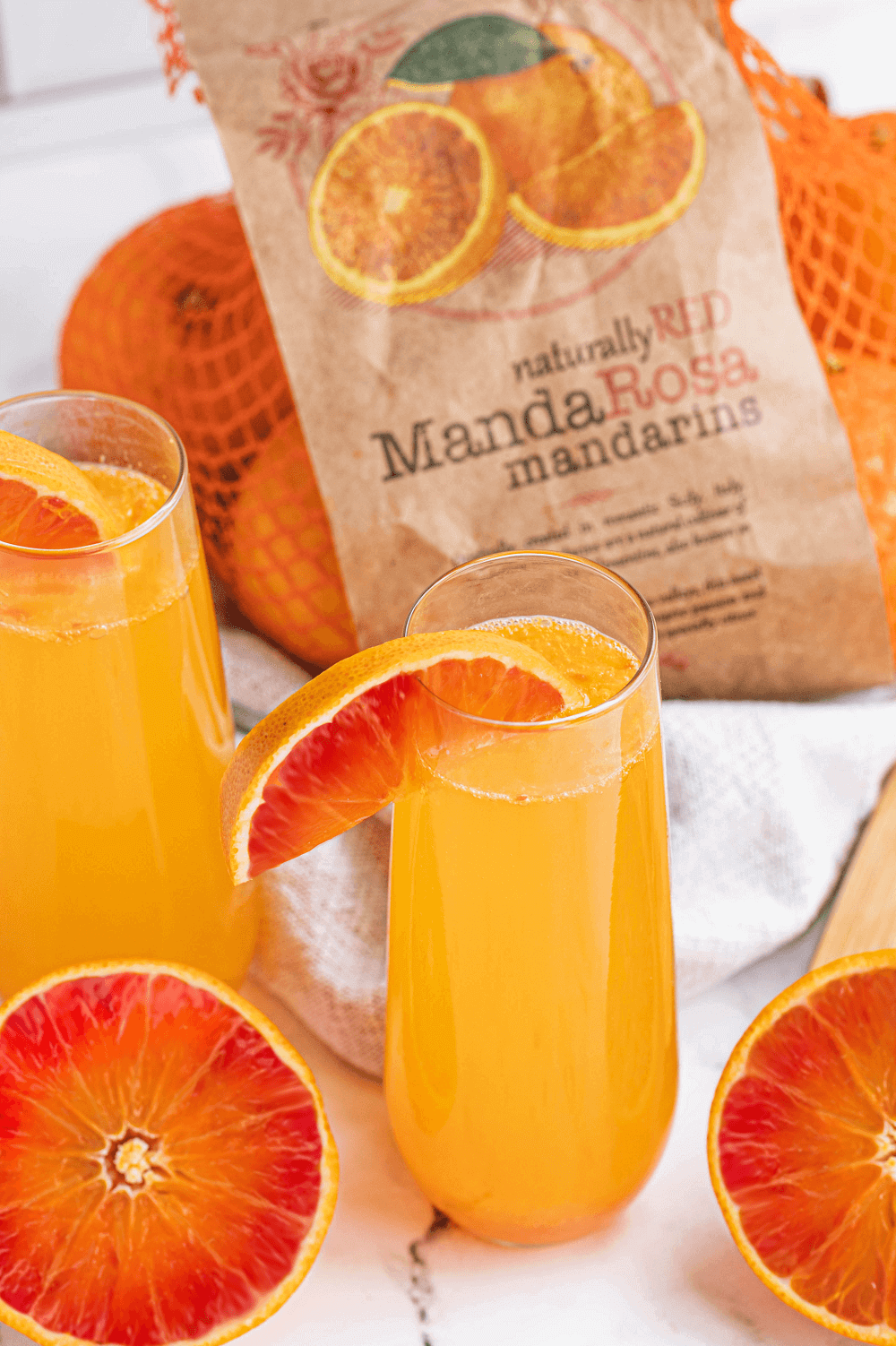 We use deliciously sweet MandaRosas in this recipe – but not just for their flavor! A MandaRosa may look like a typical Mandarin orange from the outside, but slice it open and you'll find rosy red flesh. They'll lend their sweetness and luxurious ombre hue to your mimosa. 
Making a MandaRosa Mandarin Mimosa is simple: just halve and juice your MandaRosas, add champagne to your glass, and top it off with juice. When the MandaRosa juice and sparkling wine mix they'll begin to fizz, so remember not to fill your glass all the way to the top or you'll end up with an overflowing mimosa and a sticky mess to clean up. And of course, garnish your mimosa with a juicy MandaRosa slice!
A Memorable Mimosa With MandaRosas
So just what is a MandaRosa, exactly? It's a crossbreed of the blood orange and the clementine that combines the best of both delicious citrus varieties! Featuring sweet, juicy citrus flavor and beautiful color, the MandaRosa is a treat you won't want to miss. But these specialty oranges are hyper-seasonal and only available for about a month each year, so find them in your local produce section before they disappear in March!
The MandaRosa inherits more than just color from the blood orange: it's also filled with anthocyanins, the most powerful antioxidants known in nature. They provide a boost to your immune system, making them an important nutrient during cold and flu season. Anthocyanins are also known to reduce blood pressure and improve your metabolism, helping your body maintain a healthy weight.
If you want to learn more about MandaRosas, check out our guide here or listen to Episode 136 of The Produce Moms Podcast!
With eye-catching shades and tongue-tingling flavors, this mandarin mimosa will quickly become a brunch standby and a must-have for your guests. Tell us all about your mimosa experience in the comments below or tag us on Instagram @procitrus and @theproducemoms.