Today on Indy Style, The Produce Moms founder Lori Taylor shared indulgent pear recipes, a decedent strawberry bread, and love-themed party trays to help you have a pear-fect Valentine's Day!
USA Pears from the Pacific Northwest are currently in season, making right now one of the best times of year to purchase pears. When you purchase pears at the grocery store, they likely won't be ripe yet. Ripen them at room temperature. To know if your pears are ripe and ready to eat, check the neck. Gently press on the pear's neck with your thumb. Once it yields to light pressure it is ripe and ready to eat.
Get tips for picking pears at the grocery store here. 
Pear Valentine's Day Card – "We Make a Good Pear"
Pears are affordable, elegant, and make a great homemade Valentine. Stick two pears in a bag with a tag stating "we make a great pear" and you're done! How cute is that?!
Chocolate-Dipped Pear Bouquet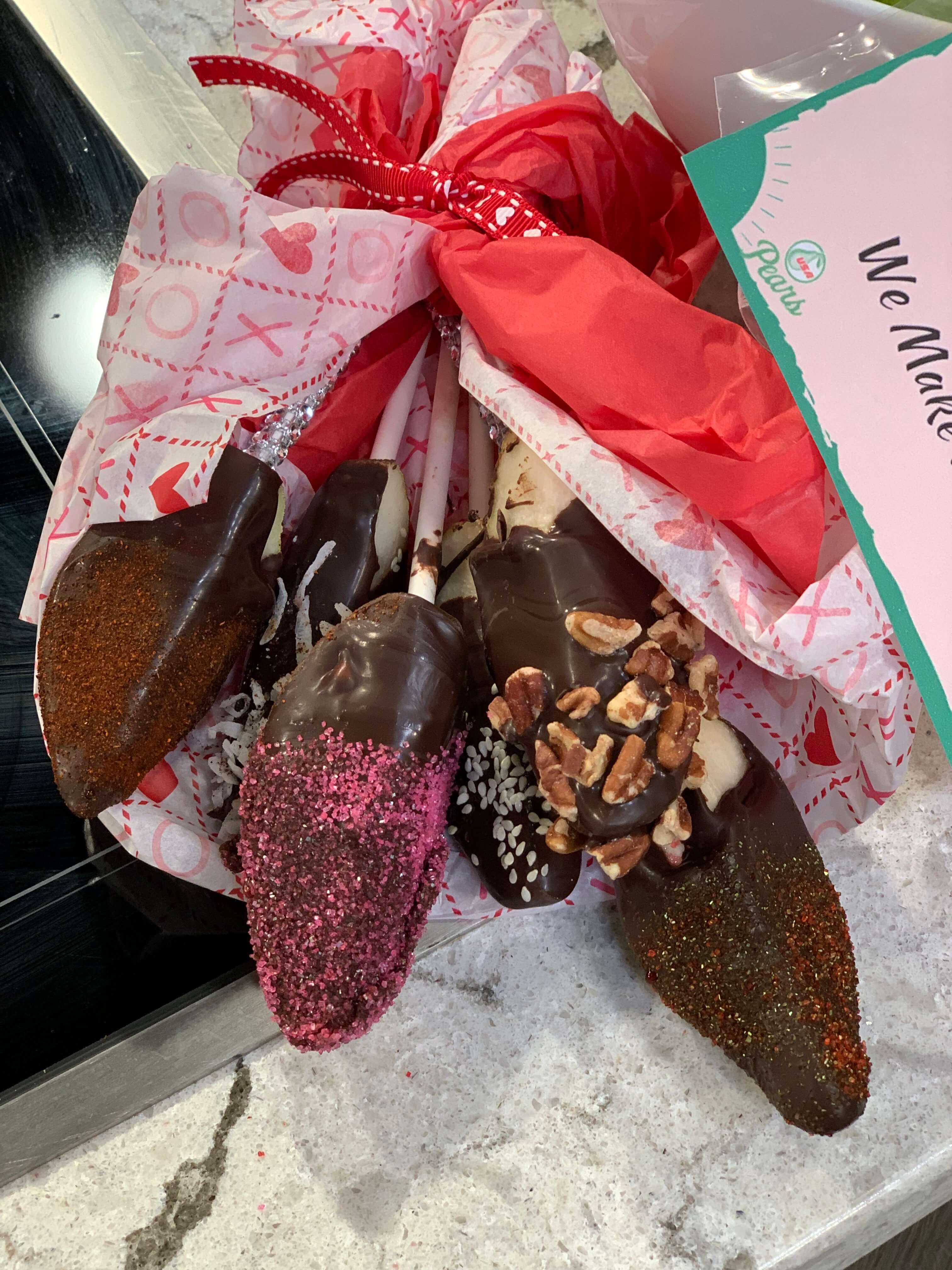 Want to take your pear Valentine's Day treat to the next level? Gift a bouquet of chocolate-dipped pears. Use the recipe below, just be sure to skewer your pear slices before you dip into chocolate and then arrange the pear skewers into a fabulous bouquet once the chocolate has had time to set.
Chocolate-Dipped Pears
Ingredients
2 USA

Red Anjou pears

(about 1 pound)

1 teaspoon Fruit-Fresh® Produce Protector

8 ounces dark chocolate (60 to 70% cacao), chopped
Options for Sprinkling
Finely chopped pistachios or other nuts

Flaky sea salt

Shredded coconut

Chile powder

Curry powder

Sesame seeds
Directions
Chopped colorful dried fruit, such as apricots, cranberries, or goji berries

Fill a medium saucepan with about 1 inch of water and bring it to a simmer over medium-high heat. Line a baking sheet with wax paper.

Halve, core, and stem the pears and cut each one into 16 wedges. Sprinkle with the Fruit-Fresh and toss the pears gently to coat evenly. (This will prevent the cut pears from browning for several hours.) Arrange the pears on the prepared baking sheet and place it next to the stove.

Place the chocolate in a medium stainless-steel bowl and set the bowl over the pan of simmering water. (Make sure the water doesn't touch the bottom of the bowl.) Once the chocolate begins to melt, stir until melted and smooth, about 3 minutes. Remove the chocolate from the heat.

Immediately begin dipping the wide ends of the pears in the chocolate, coating about half the length. Allow the excess chocolate to drip back into the bowl and place the dipped pears on the wax paper. Working quickly before the chocolate dries, sprinkle with your choice of the optional garnishes. Refrigerate, uncovered to allow the chocolate to set, about 1 hour.

Once set, cover loosely with plastic wrap and keep the pears in the refrigerator until served. Enjoy them within the day.
*Recipe courtesy of USA Pears
Pear Moscow Mule
If you have an overripe pear sitting in your fruit basket, don't throw it out! Instead, turn that baby into an absolutely delicious cocktail for you or your sweetie!
Note: This recipe makes 1 cocktail, and about 11/2 cups pear simple syrup (enough for 12 cocktails)
Ginger-Pear Simple Syrup Ingredients
¾ cup water

¾ cup brown sugar

1 large ripe or overripe USA Pear, chopped

4 quarter-size slices ginger

1 cinnamon stick
Cocktail Ingredients
2 ounces vodka

1 ounce Ginger-Pear Simple Syrup

1 ounce fresh lime juice

Club soda

1 USA Pear slice

1 cinnamon stick

1 rosemary sprig
Directions
To make the simple syrup: In a medium saucepan, bring water, the brown sugar, pear and ginger to a simmer over medium-high heat, stirring until the sugar is dissolved. Decrease the heat to a gentle simmer for 30 minutes. Remove the pan from the heat and allow the syrup to cool to room temperature. Strain the syrup through a fine-mesh sieve. Refrigerate until well chilled. (It will keep in the refrigerator for at least 10 days.)

To make the cocktail: Fill a copper mug or cocktail glass with ice. Add the vodka, simple syrup, and lime juice and stir. Top with enough club soda to fill the glass. Garnish with the pear slice, cinnamon stick and rosemary sprig and serve.
*Recipe courtesy of USA Pears
Quick and Easy Strawberry Glazed Bread
This bread is more like a cake. It's sweet and the strawberries give it a beautiful red/pink hue, making it perfect for Valentine's Day. This bread could be made with any fruit, but we think strawberries are a great choice for Valentine's Day! If you're feeling particularly festive, this bread can be made in a heart-shaped pan instead of a loaf pan.
Bread Ingredients
¾ cup granulated sugar

½ cup milk

½ cup oil

1 large egg

1 tsp vanilla extract

2 cups all-purpose flour

2 tsp baking powder

¼ tsp salt

2 cups diced strawberries
Glaze Ingredients
2 cups powdered sugar

2 TBS melted butter

⅓ cup finely diced strawberries

½ tsp vanilla extract

1-2 TBS heavy cream or milk (optional)
Directions
Preheat oven – 350 degrees

In medium bowl, stir together sugar, milk, oil, egg and vanilla.  

In a separate bowl combine the flour, baking powder and salt.  Add the dry ingredients to the wet ingredients and stir until just combined

In a small bowl, toss together the strawberries and 2 TBS flour to coat the strawberries.  Fold the floured strawberries gently into the batter.

Pour the batter into a greased 9X5 pan.  Bake for 50-55 minutes

To make glaze, combine the powdered sugar, melted butter, diced strawberries and extract into small bowl.  Mix until smooth

Once the bread is cool, spread the glaze on top of the bread.  Slice and serve.
Recipe adapted from Taste of Lizzy T
Valentine's Fruit & Veggie Trays
Show your love with a colorful fruit or veggie party tray. It's a healthy Valentine's snack that the whole family can snack on. Here are three fun ideas to get you started.
Heart-Shaped Veggie Tray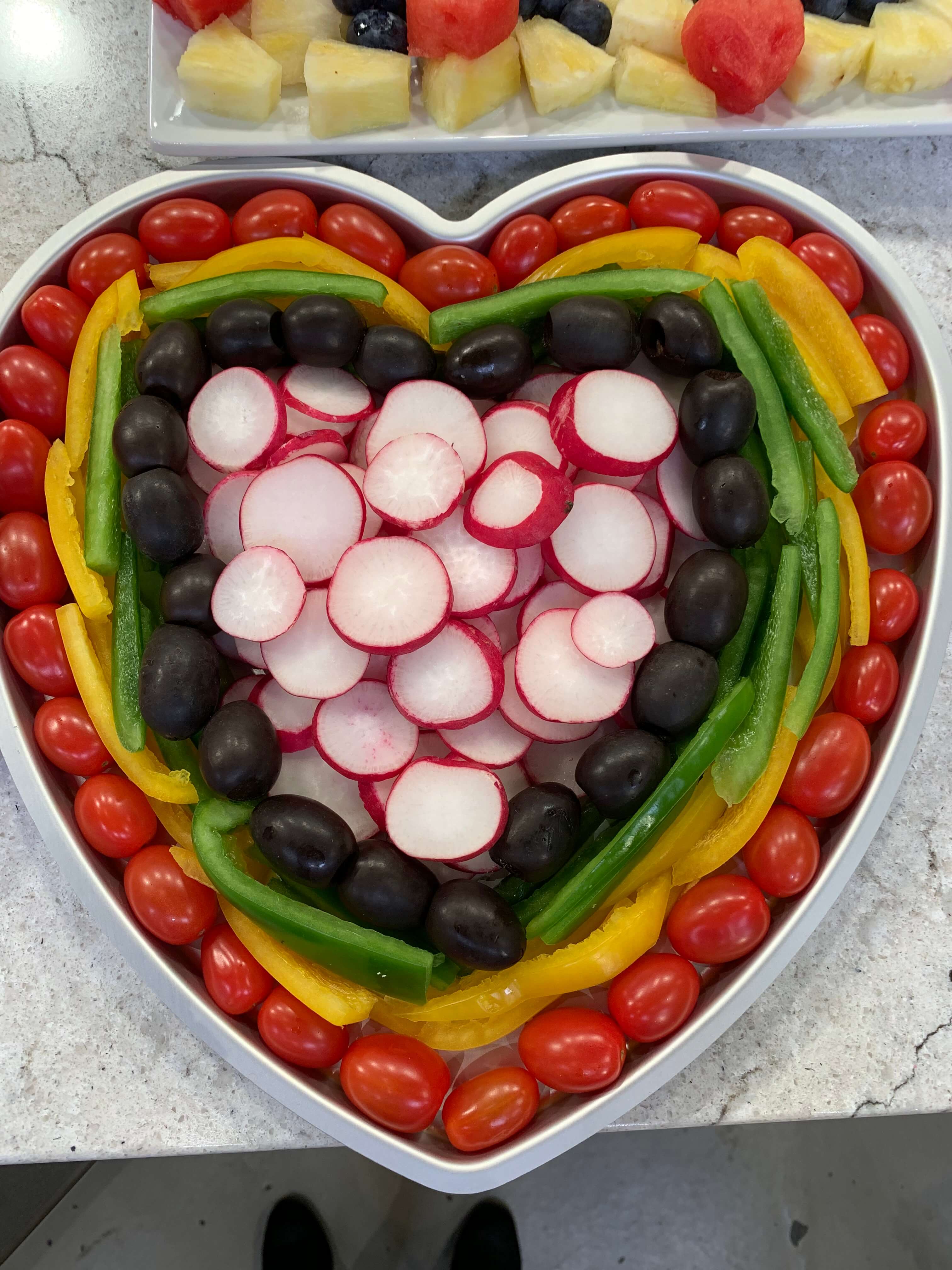 Ingredients
yellow bell pepper

green bell pepper

radishes

cherry tomatoes

Olives
Directions
Thinly slice all vegetables.

Arrange on serving platter with the radish heart in the middle.

Serve with vegetable dip and enjoy.
View the full post here. 
XOXO Fruit Tray
Ingredients
Watermelon

Pineapple

Blueberries
Directions
Chop the pineapple into small chunks.

Use a heart-shaped cookie cutter & press into slices of watermelon.

On a serving platter, arrange the blueberries so they spell "XOXO". Fill in around the blueberries with the pineapple chunks. Place the heart-shaped watermelon pieces around the edge of the platter.
View the full post here. 
Heart-Shaped Fruit Tray
Ingredients
Raspberries

Oranges

Blueberries
Directions
Arrange fruit in a heart-shape, beginning with raspberries on the outer edge, then orange slices, and then blueberries in the middle. Use a heart-shaped pan, if you have one, to help keep the shape in place.
Thanks for watching! We hope you have a pear-fect Valentine's Day!